X
Looks like you are a new visitor to this site. Hello!
Welcome to Hope For Film! Come participate in the discussion, and I encourage you to enter your email address in the sidebar and subscribe. It's free! And easy! If you have any suggestions on how to improve this website or suggestions for topics please don't hesitate to write in to any of the blogs.
You can also follow me on Twitter or Facebook.
(If you keep getting this message, you probably have cookies turned off.)
By Jim Cummings
This is part three of a four part post.  Part One.  Part Two: The Problem With Piracy.
Many of our peers seem to have rifts in their thinking about the digital revolution, that our future is uncertain, but that considering the negatives might distract from the steadfast pursuit of our work and thus lessen our chances of success. Does considering the reality of our own deaths prevent us from pursuing our lives or living them to the fullest? Of course not, so let's stop deceiving ourselves that the death of the industry is not a real problem that deserves real answers. [...]
by ornana films
Over three years ago we started having conversations delving into the story that ended up on screen at South by Southwest in March and is now on Vimeo in full, for free. Between those points, we spent thousands of hours working through this story to turn it in to a film. However, I think the more interesting part is not what we did, but what we didn't do. [...]
Sundance Institute Artist Services Program Expands Self-Distribution Opportunities
to Filmmakers Supported by Six Additional Organizations
The Bertha Foundation │ BRITDOC │ Cinereach │ Film Independent Independent Filmmaker Project │ San Francisco Film Society
Artist Services Announces Collaboration with REELHOUSE, VHX, VIMEO and TUGG, Offering Filmmakers Additional Platforms and Tools
Los Angeles, CA — Keri Putnam, Executive Director of Sundance Institute, today announced that the Institute's Artist Services program – which provides Institute artists with exclusive opportunities for creative self-distribution, marketing and financing solutions for their work – has expanded to include selected films supported by one foundation and five nonprofit organizations. Additionally, these organizations will join with Sundance Institute in continuing to shape the program and the services it offers. [...]
2012 VIMEO FESTIVAL + AWARDS PROGRAM GATHERS THE GREATS TO EXPLORE WHAT'S NEXT FOR CREATIVE VIDEO
Vimeo®, an operating business of IAC [NASDAQ: IACI], today announced its program for the 2012 Vimeo Festival + Awards, featuring conversations with industry leaders; educational workshops for beginners, enthusiasts, and professionals; and a wide range of video screenings. Vimeo also released the complete list of Awards judges and opened up shortlist voting to the public.
"There has never been a better time to be creator," said Jeremy Boxer, Director of the Vimeo Festival + Awards. "The Internet has created a leveled playing field, so that now everyone can fundraise, shoot, edit, and distribute their projects. What's next for online video? Well, that's what we will be exploring at this year's festival with the help of our awesome speakers. We have designed the festival to have something for everyone from any level of experience. Now that the barrier to entry has come crashing down perhaps we can find new creators with ideas yet to be seen and encourage so many others to start using their imagination so they too can start to create."
Festival highlights include:
Attendees can participate in a variety of workshops that cater to all ability levels — including:
The event will kick off with the Vimeo Awards show, held on June 7 at NYU Skirball Center, where Vimeo will recognize the best videos online by revealing the 2012 winners. The show will combine innovative projection, staging, sound, and sensory-reactive technologies with live performances and special surprises.
The world keeps getting better and better — at least in terms how we can create better work and get it seen. Today, has brought some more good news.
Blake Whitman, Vimeo's VP of Creative Development, announces Vimeo's New Music Store:
In addition to being Vimeo's VP of Creative Development, I also make videos. Something that I've been struggling with for a while now, is how to find music that I can legally use in my videos. I search and search and search every music related site on the net and it ends up taking WAY too much of my time. And even when I find that needle in the haystack, figuring out how to actually use the song (legally that is) is a whole other story. Do I contact the musician? The label? Do I need an attorney and who's going to pay for that?!
So we had an idea. Wouldn't it be great to create a place on Vimeo to easily discover, license and download music? Well, the obvious answer is OF COURSE, but we wanted to make sure it would be easy and intuitive to use. So we decided to create Music Store, a music library powered by two great curated music providers, Audiosocket and the Free Music Archive. The library allows anyone to search tracks by lots of different criteria and provides license agreements right there on the site. You can purchase and/or download music easily and then throw it in an editor and start editing!
Check the key features:
• Over 45,000 songs
•Three types of licenses: 1) Creative Commons licenses which are free (yes free), 2) Personal use, Non-commercial, web-use licenses for the casual user which are $1.99 per track; and 3) Commercial, web-use licenses for professional users which are $98 per track.
•Searchable by over 100 features like tempo, mood, theme, genre and instrumentation
Vimeo's mission is to inspire and empower video creators. Vimeo Music Store is just another step in our effort to help people make better videos! Check it out here: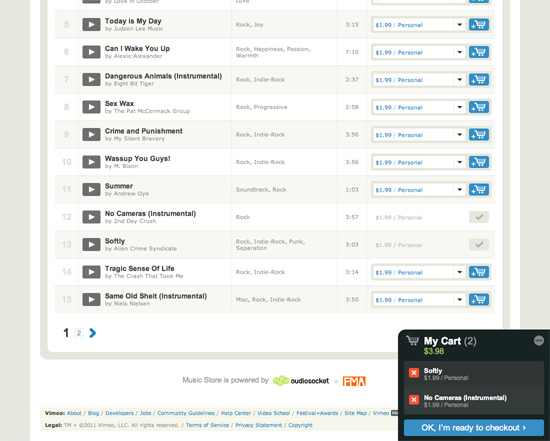 Tweet

Three months ago, Vimeo reached out to me & Brian Newman, inviting us to have a conversation offering our perspectives on the state of the film business. Brian is a smart and engaging guy. Me, on the other hand…. Well, if you have an hour come join us here. If you just have ten minutes, you can check out Vimeo's view of the highlights below:
Making it Happen (Highlights) from Vimeo Festival on Vimeo.