X
Looks like you are a new visitor to this site. Hello!
Welcome to Hope For Film! Come participate in the discussion, and I encourage you to enter your email address in the sidebar and subscribe. It's free! And easy! If you have any suggestions on how to improve this website or suggestions for topics please don't hesitate to write in to any of the blogs.
You can also follow me on Twitter or Facebook.
(If you keep getting this message, you probably have cookies turned off.)
By Rahul Gandotra
A few days ago I shared a sampler that allowed people to watch my film for free with a dear friend. Just to make sure the sampler worked and she could put it on her website, I followed up and got this response from her:
"I got everything and it works. I was just not sure that this [your film] is what you actually want to be giving away for free." I paused and asked myself, "Yes, why the hell are you doing this?" – momentarily ignoring all the months of research I had done.
I replied, "Long story. For now, just share the sampler and let people see the film for free". This post is about that "long story".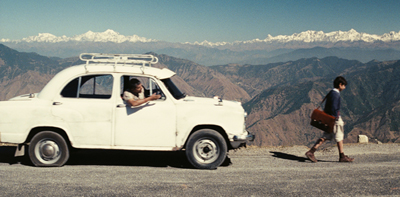 My film "The Road Home" is about a boy who escapes from his boarding school in the Himalayas to get back to his parents in England. As you might imagine, I poured my sweat and soul into making it. And given I didn't want this film to be seen only by friends and family, I worked equally hard submitting the film to festivals and trumpeting from the rooftops of Facebook about each screening.
But I was left with a sour taste in mouth after my festival run. Why? Because I got invited to some festivals where I saw 30 people in a 500-seat theatre watching my film. All the while I'd continue to get Facebook messages and emails asking, "Hey when can I watch your film?" I'd reply, "Well it was playing in your city on this date." And the common refrain I would hear is, "Why didn't you email me?" [...]
I don't know about you, but I am pretty astounded by all the opportunities before us for Direct Distribution. If you recall, I have listed 32 different Platforms and Tools that filmmakers can now utilize. One such tool is the MoPix.
I am excited that the Truly Free Film Community is coming together to try inform each other of what works (or doesn't) in this plethora of riches. Today, one of the producers from the great experiment in both Free & Crowdfunding, The Tunnel, is here to tell you about the mobile & tablet App building tool MoPix. Ladies & Gentlemen, Enzo Tedeschi:
Distributing The Tunnel as an iPad app using MoPix.
In making and distributing The Tunnel, my co-producer Julian Harvey and I have broken a few traditions. In fact we kinda threw out the playbook, from crowdfunding by selling off the frames of the film, to direct-distributing as much as possible, as globally as possible, and as close to a day-and-date release as possible. Our theory was simple – if our audience could find our film simultaneously on as many platforms as we could muster, the film would have its best chance at success. And one global platform that seems to be growing in audience at a rapid rate is the iPad.
Pricing up the development of a custom mobile app in Australia was discouraging. At $10,000 – $20,000 AUD to get it done properly, that was simply not going to happen on our paltry budget.
We were only a few weeks out from release when we heard about MoPix – and we got excited. These guys had built a platform for iPad, iPhone, and Android that would enable us to create an app to distribute The Tunnel directly via the App Store.
Talking to Ryan Stoner at MoPix, we were able to get in during their beta stage, and in a matter of weeks we had a custom-branded app that did everything we needed it to. The Tunnel was now going to be the first Australian film ever to be , and we were going to be able to do it alongside our other release platforms.
The process from our end was actually quite painless, and involved cropping a few images to size and sending those and the video assets over to MoPix. An iPad app came out the other side.
The benefits for us seemed obvious – the film was presented in a very slick way, completely branded so that it felt like OUR product, not theirs, and we could circumvent the pain that just about every indie filmmaker knows – trying to get our film into the iTunes store. The feature set was simple, but had everything it needed to feature an equivalent to our DVD extras. It also let us add a really slick behind-the-scenes photo gallery, which gave us a point of difference from all the other avenues in which the film was available.
If you think about the marketing and distribution of your film in the long term – which we always try to – App updates also create a way for you to keep your audience active. Soon, we'll be updating the Tunnel app to include in-app purchases. This feature is great for two reasons. First, it enables us to keep selling content to our audience who have already purchased the app. Someone who has already put money on the table for your film is far more likely to keep buying, than someone who hasn't invested at all. Secondly, when we push out the update, the act of downloading it to see what features have been added creates another interaction with our audience. It's another small part of the ongoing conversation we've been having with our fans since the beginning – even before we had a film.
And while we're on the subject of marketing – another thing that an app can do for you brilliantly is combine your marketing and distribution into one.
For our next project, we'll be going back to MoPix to create an app that, unlike The Tunnel, is free to download. The audience will still need to buy the film in order to watch it, but we will create a free app with compelling media-rich content which basically serves as marketing material for the film, which will then be accessible via the in-app purchasing mechanism. Once again, if you can get your audience engaging with your 'brand' – your film – they are much more likely to part with their hard-earned.
I will say though, that being in the beta stage, it's not a perfect solution just yet. It would be cool to see some more platforms integrated, like logging into GetGlue while they are watching The Tunnel on their iPad. But knowing how switched on the guys over at MoPix are, I'm sure they're working on it. For now the ability to tweet a photo from the gallery, for example, or post it on Facebook directly from the app works great.
MoPix are currently still looking for films for their beta slate – and even though we haven't set the world on fire with sales of our app just yet, we've sold more than enough units for the endeavour to have paid for itself. All in all it has been very worthwhile.
You can learn more about The Tunnel at www.thetunnelmovie.net
The Tunnel App Store link – itunes.apple.com
Facebook – www.facebook.com/thetunnelmovie
Twitter – @thetunnelmovie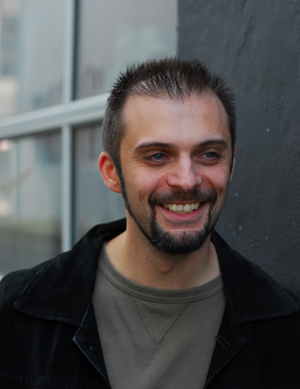 Enzo Tedeschi is co-founder of Distracted Media along with Julian Harvey. Together they wrote, produced and edited The Tunnel – a project whose innovative approach has seen it hit international cinema screens despite being crowdfunded and given away for free online.

Before Distracted Media, Enzo co-produced and edited the controversial independent feature documentary Food Matters in 2008, a film which is still enjoying success around the globe, having now sold over 200,000 DVDs. He produced and cut the epic World War 1 period film Ghosts of War, and the award-winning short The Last One with director Carlo Ledesma.

As an ASE Award nominated editor, Enzo has worked on numerous television series, documentaries and award-winning short films. Recently he edited and oversaw the post-production path on Channel Nine's observational documentary series AFP for Zapruder's Other Films.
The world keeps getting better and better — at least in terms how we can create better work and get it seen. Today, has brought some more good news.
Blake Whitman, Vimeo's VP of Creative Development, announces Vimeo's New Music Store:
In addition to being Vimeo's VP of Creative Development, I also make videos. Something that I've been struggling with for a while now, is how to find music that I can legally use in my videos. I search and search and search every music related site on the net and it ends up taking WAY too much of my time. And even when I find that needle in the haystack, figuring out how to actually use the song (legally that is) is a whole other story. Do I contact the musician? The label? Do I need an attorney and who's going to pay for that?!
So we had an idea. Wouldn't it be great to create a place on Vimeo to easily discover, license and download music? Well, the obvious answer is OF COURSE, but we wanted to make sure it would be easy and intuitive to use. So we decided to create Music Store, a music library powered by two great curated music providers, Audiosocket and the Free Music Archive. The library allows anyone to search tracks by lots of different criteria and provides license agreements right there on the site. You can purchase and/or download music easily and then throw it in an editor and start editing!
Check the key features:
• Over 45,000 songs
•Three types of licenses: 1) Creative Commons licenses which are free (yes free), 2) Personal use, Non-commercial, web-use licenses for the casual user which are $1.99 per track; and 3) Commercial, web-use licenses for professional users which are $98 per track.
•Searchable by over 100 features like tempo, mood, theme, genre and instrumentation
Vimeo's mission is to inspire and empower video creators. Vimeo Music Store is just another step in our effort to help people make better videos! Check it out here: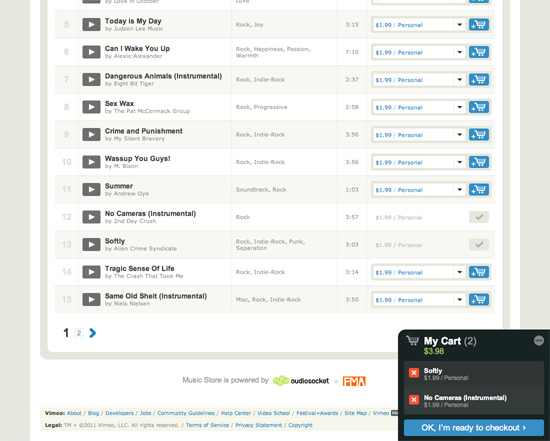 Tweet

Prescreen was featured on our MUST READ list of the New Platforms. Sheri Candler also did an overview for the community on this site. Now they are launching. Their press release is below, but to understand just what they are doing, watch this short video before.
Are you excited? I'm excited.
Prescreen Debuts as a Social Movie Discovery Platform
Prescreen will embrace a curated daily email service to leverage the social web to give movies blockbuster exposure on an indie budget
SAN FRANCISCO, CA – September 14th, 2011 — Prescreen, an innovative movie marketing and distribution platform, will officially launch today to give filmmakers and distributors an alternative to traditional advertising and distribution channels – through the mass marketing of curated content that is then shared by users through social media.
Prescreen offers users the ability to subscribe to a daily email alert, view trailers and rent movies to stream on demand, as well as earn rewards and discounts for sharing movie information on their social networks. Their daily email service highlights one movie per day, enabling their featured films to reach a wide audience.
Prescreen also delivers a Prescreen Performance Report to each filmmaker and distributor whose movie is featured on Prescreen. The report offers aggregated analytics and demographics about the audience for each featured film.
How it Works:
• Consumer subscribers receive an email alert featuring one new movie each day.
• Users watch the movie trailer for free and can purchase a rental to view the entire movie to stream on demand for up to 60 days.
• Users can earn discounts and rewards by sharing the film through their social networks using Facebook, Twitter, etc.
• Prescreen aggregates the purchasing data, protecting the privacy of each user, and delivers valuable demographic and analytic information back to filmmakers and distributors for future marketing and distribution efforts.
Prescreen's intuitive marketing report includes all of the relevant information from the purchasers, allowing the content owner to use the detailed information to make informed decisions about continued distribution and marketing efforts. Prescreen allows content owners to maximize profits by marketing and selling via the Prescreen platform.
"Movie goers are increasingly consuming premium content through new digital channels including downloads, streaming, and video on demand (VOD), generating new revenue streams for the movie industry," said Shawn Bercuson, CEO and Founder of Prescreen. "Prescreen will help movies of all shapes and sizes receive the love they deserve by leveraging the social tools that exist today to market and distribute movies more efficiently."
One of Prescreen's first films will be Kino Lorber's "The Robber;" a story of a champion marathoner who leads a double life as a serial bank robber, sprinting between heists and escaping from police in epic chase sequences. The film was directed by Austrian director Benjamin Heisenberg and features a riveting central performance by Andreas Lust (Revanche).
"Prescreen has developed an exciting and innovative digital platform for film distribution, and we are happy to be one of their first content providers," said Richard Lorber, CEO of Kino Lorber. "We have one of the largest, most essential libraries in the United States and with Prescreen's curatorial team so committed to high quality cinema it was a natural fit. In this rapidly changing digital distribution landscape, increasing market penetration means thinking outside the box –which is exactly why we're working with them."
Prescreen is now accepting full-length feature film applications on a variety of topics and genres. To submit, visit: prescreen.com/submit. To sign up for the daily email service, visit: prescreen.com
About Prescreen
Prescreen is a movie marketing and distribution platform that helps filmmakers and distributors efficiently reach audiences they otherwise would not have the ability to reach, and identify which audiences would provide maximum opportunity for continued growth and revenue. Prescreen offers users the ability to subscribe to email alerts, view trailers and stream movies on demand, as well as earn rewards for sharing movie information on their social networks. Visit prescreen.com for more information.
Tweet

A couple years back I was asked to give the Keynote Address at PowerToThePixel's Annual Cross-Media Forum. It is not an exaggeration to say that the people I met and the knowledge they shared blew my mind. I saw the potential for immersive culture. I witnessed the growth of a community of visionaries. I had my hope restored for the culture, art, and society.
If there was one film related event each year that I most want to attend, it is PowerToThePixel. Get ready because it is around the corner, and as today's press release (below) indicates, this year's edition is going to be 1000% pure awesome.
POWER TO THE PIXEL ANNOUNCES LINE-UP FOR ANNUAL CROSS-MEDIA FORUM & PROJECT SELECTION FOR THE PIXEL MARKET
London, 13 September 2011
The fifth edition of The Cross-Media Forum 11-14 October, from leading global cross-media company Power to the Pixel, features a world-class line-up of speakers and industry experts.
His first time speaking in the UK, Jeff Gomez CEO Starlight Runner (Pirates of the Caribbean, Halo, Avatar) will present the keynote for the conference on 11 October. Additional talks come from Digital Emmy award-winning filmmaker Katerina Cizek; Christopher Sandberg, Founder of Emmy-awarded TV and new media production company The company P; Creative Director Digital at Aardman, Dan Efergan; Michel Reilhac, Executive Director of ARTE France Cinéma as well as Tero Kaukomaa, producer of the much-anticipated Finnish project Iron Sky, amongst others. The Cross-Media Forum is held in association with the BFI London Film Festival.
The conference covers the latest trends in audience behaviour and new business models in the cross-media and transmedia space. It is followed by The Pixel Market, a one-of-a-kind marketplace dedicated to financing international cross-media properties.
Chosen from nearly 100 applicants, 25 producer-led teams take part in one-to-one business meetings with potential partners and financiers from across the media industries. Project stories extend across media platforms including film, broadcast, gaming, online, interactive, publishing, live event, mobile/tablet. Selected projects include Cloud Chamber produced by regular Lars von Trier collaborator, Vibeke Windelov; Fort McMoney, a new project from David Dufresne, writer of multi-award-winning web documentary Prison Valley; Swandown, a collaboration from award-winning artist/filmmaker Andrew Kötting and author Iain Sinclair; Unspeak being produced by award-winning cross-media company Submarine, directed by film director, producer and long-time collaborator of Richard Linklater, Tommy Pallotta.
Nine of the teams go forward to The Pixel Pitch Competition on 12 October, backed by French/German broadcaster ARTE to compete for the £6,000 top prize. Projects are presented to a jury of international commissioning executives, decision-makers and financiers in front of an audience of Power to the Pixel delegates. The Pixel Pitch presents a unique opportunity to hear how cross-media projects are financed, and by whom.
The winner of the ARTE Pixel Pitch Prize will be announced at an evening awards ceremony on 13 October.
The Cross-Media Forum receives over 800 international delegates each year and is seen as an essential part of the calendar for anyone interested in exploring creative business and digital change.
"The Cross-Media Forum has built a global reputation to be the place where creators, financiers and entrepreneurs can discuss innovative ideas and business practices in a unique collaborative environment," said founder Liz Rosenthal.
"World-class experts will share their latest findings on new ways to tell stories, engage audiences and grow successful cross-media story properties.
"The Pixel Market is the only dedicated cross-media market and showcase in the world where you can meet commissioners and financiers from the film, broadcast, games, mobile, interactive, publishing and online worlds who are committed to investing in cross-media properties. We're very excited about the high quality of projects and talent
showcased in this year's selection and look forward to facilitating new synergies and partnerships across industry silos."
The Pixel Market is supported by the Media Programme of the European Union. Additional support from BFI, Skillset Film Skills Fund, ARTE, Telefilm Canada, TorinoFilmLab
Costas Daskalakis, Head of MEDIA programme unit at EACEA said: "Cross-media projects have attracted a lot of attention over the last few years. MEDIA is happy to support events such as The Pixel Market so that they also attract funding. The MEDIA programme has developed an overall strategy to support cross-media projects including training, financial support for development, markets and distribution."
Dan Simmons, Head of Film (Acting) Skillset said: "The impact of digital and new technology continues to be a funding priority for Skillset under the UK's film skills strategy 'A Bigger Future 2'.
We have funded Power to the Pixel since its inception five years ago. Events such as The Pixel Lab and The Pixel Market are powerful opportunities for cross-media professionals – spanning different sectors of the creative industries – to network with leading digital pioneers; developing new business and transmedia opportunities in an international environment."
Carolle Brabant, Executive Director Telefilm Canada said: "We're excited to support cutting-edge events like Power to the Pixel. Today, Canadian producers, broadcasters and distributors need to be more innovative to ensure that their content is properly showcased, viewed and distributed around the world. At the same time, opportunities abound with many new cross-media platforms enabling consumers to engage with the work of Canadian creators in new ways."
Michel Reilhac, Executive Director of ARTE France Cinéma said: "Although the field of transmedia is fairly new and still inventing itself as we speak, the Power to the Pixel event allows all people involved in the art of storytelling to evaluate where we are, who does what. It is the focus event that allows us all to check what our current issues are, what's new that's been accomplished and how our new challenges in the field of participative storytelling evolve. It is the one invaluable occasion in the year where people involved and interested come together and share projects, knowledge and experience."
PIXEL MARKET PROJECTS including
PIXEL PITCH FINALISTS & PIXEL PITCH JURY
PIXEL PITCH FINALISTS
1. Process: Cause & Affect (CAN) Non-fiction: Online | film | installation | mobile
Producer: C J Hervey | Executive Producer: James Milward
An interactive documentary and transmedia project that profiles groundbreaking artists who create beautiful works of art using computer code.
2. Cloud Chamber (DEN) Fiction: Online | mobile | TV
Producer: Vibeke Windelov | Director: Christian Fonnesbech | Writer: Darin Mailand-Mercado
A science drama inspired by space. Players collaborate to uncover the story of a young scientist who has risked her sanity and betrayed her father in order to save humanity from itself.
3. Jezabel (FR) Fiction: TV | online | mobile | radio | print | live event
Producer: Eric Pellegrin | Director: Julien Bittner | Writer: Julien Capron
A series about a 19-year old student who posts a song on YouTube – the song soon becomes a big hit. After a producer offers her to launch her career, Jezabel will be torn between two worlds: show business in Paris and the decadent student parties in her city, Lille. How will she handle her fame?
A story about growing up, falling in love, finding your way.
4. Lost and Sound [working title] (UK) Non-fiction: TV | online | app
Producer: Kat Mansoor | Writer/Director: Lindsey Dryden
An exhilarating and moving creative experience about the great human love affair with music, through the prism of deafness. It weaves a character-driven narrative – following three people's re- discovery of music after deafness – with an extraordinary adventure through the science of sound, revealing how music reaches us through the ears and brain when neither work ordinarily.
5. Love & Engineering [working title] (FIN) Non-fiction: Film | TV | online | mobile
Producer: Kaarle Aho | Writer/Director: Tonislav Hristov
Digital geeks looking for analogue love. One claims to have hacked love, can he help lonely engineers find real happiness?
6. My Little Songs (FR) Non-fiction: TV | online | apps | books | games
Producer: Deborah Elalouf | Director: Edith Louis
Tim, aged 7, has discovered a mysterious magic piano. No sooner does he play, than a variety of characters pop up from the piano to create animated and interactive musical cartoons. Nursery rhymes initiated by Tim will be the starting point of adventures for Tim as well as the viewer/player.
An opportunity for young children to discover foreign languages through a fun trip!
7. Tomorrow We Disappear (USA) Non-fiction: Film | Condition ONE | interactive | online | installation
Producer/Interactive Director: Jimmy Goldblum
Since 1978 Delhi's magicians, puppeteers and acrobats have called the tinsel slum, the Kathputli Colony, home. Last year the government issued relocation permits to the colony residents; the slum is to be bulldozed, cleared for development. Experience the last remnants of a culture borne out of folk traditions and moulded by poverty.
8. We R Democracy (BEL) Non-fiction: Online | apps | games
Producers : Matthieu Lietaert, Jamie Balliu, Nicolas Sauret
Co-Directors/Co-Creators: Matthieu Lietaert & Fritz Moser
Have you ever wanted to shape tomorrow's globalisation? Here is your chance: Become an online lobbyist in Europe! Get to know the hidden part of democracy, meet key protagonists and build your own lobby network. Play a game-like experience that's also influencing the real world around you!
9. The First Zombie (CAN|UK) Fiction: online | book | film
Producer: Jeff Norton
A lonely zombie, fresh from the grave, struggles to get back the family life he once took for granted. Sometimes even the living dead deserve a second chance.
ADDITIONAL MARKET PROJECTS
10. "100″ (UK) Non-fiction: Feature film | online | apps | TV | live events
Producer: Jessica Levick | Director: Sam Blair
A hypnotic study of the art of sprinting, this startling documentary – made in partnership with adidas – reveals the hopes and struggles of London's grassroots athletes on the eve of the 2012 Olympics.
11. The Ark Experiment (AUT) Non-fiction: Feature film | online
Producer: Michael Seeber | Director: Sepp R. Brudermann
The end is near, but don't worry we will guide you through it!
12. The Awra Amba Story – Utopia in Ethiopia (FIN/UK) Non-fiction: Online | mobile | broadcast | live events
Producer/Director: Paulina Tervo | Co-Director: Serdar Ferit
A multi-platform, multimedia project about a utopian village in Ethiopia including an interactive 360° web documentary, a feature-length film and an interactive exhibition.
13. The Cat Time Stories (CRO) Fiction: TV series | interactive | app | online
Producer: Helena Bulaja | Writer: Nada Horvat
The Cat Time Stories relates the everyday adventures and experiences of cats and their friends, through blending the worlds of 33 stories about the adventures and experiences of slightly humanized, but thoroughly feline characters. They hunt for treasure, displease their human "masters", go shopping, worry about their appearance, avoid dogs, get stuck in the top branches of a tree and do everything which takes up the busy agenda of a cat's day. One of them even discovers he can fly…
14. Conspicuous (USA) Fiction: FB apps incorporating stills | text | news
Producer: Mike Knowlton | Writer/Director: Hal Siegel
A suburban mum discovers her husband is having an affair. In the aftermath, she becomes a private detective. It's Weeds meets artist Sophie Calle.
15. Facelessbook (ITA) Non-fiction: Feature film | book | TV | installation | online | print | podcast
Producer: Alessandro Borelli | Director: Sergio Basso
A cross-media platform conceived as a role-playing game: a serious game to understand what it means being on the run, to identify with a refugee, in the world of today.
16. Fort McMoney (CAN) Non-fiction: Online | gaming | TV | print | mobile
Producer: Philippe Lamarre | Director: David Dufresne
A web documentary with gaming. A unique social experience.
Welcome to Fort McMoney, the biggest power project in the world.
17. LoveTrips (AUT/POL) Non-fiction: Feature film | TV | online | mobile/tablet | print
Producer: Filip Antoni Malinowski | Director: Carlo Pisani
LoveTrips tells the stories of people that have to travel to keep their love alive.
18. Mirages (BEL) Non-fiction: TV | online | mobile | iPad | live events
Producer/Director: Patric Jean | Transmedia Producer: Barbara Levendangeur
Science and scepticism require that we look for natural and empirical explanations for all phenomena. Mirages is designed as a transmedia documentary experience which investigates how we often convince ourselves to believe and overlook the facts (of any kind).
19. Pas de Deux (SWE) Fiction: Film | book | live event | online/social networks | radio
Producer/Co-Writer: Anna Nevander | Co-Writer: Signe Kjellman
A devoted opera singer lives a consuming passion with an inconstant photographer and looks for divine love in her friendship with a young priest, who ends up trying to rape her.
20. The Revolution Will Not Be Tweeted (FR) Non-fiction: Live event | online platforms | feature film
Producer: Emilie Blezat | Director: David Dusa
TRWNBT investigates how far the internet can go to found a new civil society, how the power of social media influences social change. An educational project, a think/do tank, a dialogue platform and a visual representation of the way the internet empowers citizens and articulates a rapidly changing world.
21. Ruby Skye P.I.: The Haunted Library (CAN) Fiction: online/social networks | TV/VoD | mobile/tablet | books | live events
Producer/Writer/Showrunner: Jill Golick | Producer: Susan Nation | Director: Kelly Harms
A cross-media, live-action, comedy-mystery series designed especially to engage young audiences growing up in the digital generation. Stubborn, smart, determined and a little too quick to jump to conclusions, 15-year old Ruby makes a lot of unfortunate choices in her pursuit of truth, justice and, well… personal curiosity.
22. Seasons Project (FR) Non-fiction: TV | online | games | smartphone app
Artistic Producer/Co-Creator: Chloé Jarry Co-Creator: Antoine Bamas
Seasons Project launches a large citizen investigation into the evolution of the seasons in Europe.
23. Shankaboot – Unlocking The Power of Social Media (LEB) Fiction: Online | social networks | mobile apps
Producer: Katia Saleh | Director: Amin Dora | Lead Writer: Bassem Breish
Fresh from dodging disaster on the streets of Beirut, Suleiman causes havoc across the Middle East when he convinces four friends in different Arab countries to launch a bogus political campaign on Facebook. but, when their virtual revolution spills over into the real world, the armchair freedom-fighters are forced to face the consequences.
24. Swandown (UK) Non-fiction: Feature film | installation | live events | TV | online
Producer: Lisa Marie Russo | Director: Andrew Kötting Writer: Iain Sinclair
Swandown is a documentary, travelogue and odyssey of Olympian ambition. A poetic film diary about encounter and culture. It is also an endurance test and pedal-marathon.
25. Unspeak (NETH) Fiction & non-fiction: online HTML5 cloud & integrated social media | interactive
Producer: Femke Wolting | Directors: Tommy Pallotta & Geert van de Wetering
Unspeak is a style of political language that smuggles persuasion into description by renaming politically sensitive subjects. A radical and at times poetic collage of found footage, media sound bites and voice over, the series unveils the mechanisms behind Unspeak and encourages the viewer to listen closely, as well as editing and distributing their own Unspeak clips.
Confirmed international jurors (with more to be announced):
JULIE ADAIR Director of Online (Europe, Middle East, Africa), Walt Disney Company (UK)
NUNO BERNARDO Producer & CEO, beActive (PORT)
GUILLAUME BLANCHOT Head of New Media & Video Games, CNC (FR)
ROSA BOSCH Producer & MD, B & W Films (SPA/UK)
MORGAN BOUCHET Director Transmedia & Social Media, Orange (FR)
PETER CARLTON Head of European Division Warp Films (UK)
NICK COHEN Managing Partner & UK Head, MediaCom Beyond Advertising (UK)
LOC DAO Head of Digital Content & Strategy, NFB (CAN)
REBECCA DENTON Senior Producer, Original Series & Development Turner Broadcasting (EMEA) (UK)
LIZZIE FRANCKE Senior Production and Development Executive, BFI Film Fund (UK)
JEFF GOMEZ CEO Starlight Runner (USA)
BEN GRASS Managing Director Pure Grass Films (UK)
DIGBY LEWIS Director of Content & Digital Development, ShineVu (UK)
RAY MAGUIRE Former President (UK, Nordic & Ireland) Sony Computer Entertainment (UK)
IAN McCLELLAND Senior Vice President of New Media RTL Group (LUX)
MICHAEL MORRIS Co-Director Artangel (UK)
MICHEL REILHAC Executive Director ARTE France Cinéma (FR)
CHRISTOPHER SANDBERG Founder & CCO, The company P (SWE)
VIDA TOOMBS Head of Content Europe, VBS.TV | Vice (UK)
About Power to the Pixel:
Power to the Pixel supports the film and media industries in their transition to a digital age. The company specialises in new ways for content creators and businesses to create, finance and distribute stories and engage with audiences across multiple platforms.
Headed by Founder & CEO Liz Rosenthal and COO & Producer Tishna Molla, the company's London team has a wealth of experience and expertise across film and cross-media development, production and finance, and is linked to a unique network of the leading thinkers, practitioners and innovators who are developing new business and creative opportunities around the world.
Specialising in new ways for content creators and businesses to create and finance stories and engage with audiences across multiple platforms, Power to the Pixel's core activities are:
• Providing consultancy to international media organisations, content creators and companies
• Designing innovative in-house company training programmes and bespoke initiatives
• Producing international forums, events and labs centred around cross-media, IP and business
• Facilitating the exchange of ideas and the building of international partnerships between media professionals and between industries
The company's understanding of the challenges and opportunities of digital change means Power to the Pixel is an essential bridge between the visionary, the pioneering and the practical.
Power to the Pixel's clients and partners include: ARTE; BAFTA; BBC, BBH; Berlin Film Festival; BFI; Cannes Film Festival (Marché du Film); EAVE; EU MEDIA Programme; Edinburgh Film Festival; IFP; Nordisk Film & TV Fond; UK Film Council