X
Looks like you are a new visitor to this site. Hello!
Welcome to Hope For Film! Come participate in the discussion, and I encourage you to enter your email address in the sidebar and subscribe. It's free! And easy! If you have any suggestions on how to improve this website or suggestions for topics please don't hesitate to write in to any of the blogs.
You can also follow me on Twitter or Facebook.
(If you keep getting this message, you probably have cookies turned off.)
I wrote my first piece for the NY Times the other day — and it's up now! I was fortunate enough to be asked to be the lone male voice in the "Room For Debate" on How Can Women Gain Influence In Hollywood. It's an excellent discussion and a great group of commentators. It's also a question that action is not taken on enough.
My piece begins:
Mainstream mass-market film culture is stuck in a deep rut. When making money is the top priority, people produce work and hire people who keep them in power. Call it risk mitigation or cowardice, the lack of women in Hollywood comes from the same root.

Industries are like people: they change only when the pain of the present outweighs the fear of the future. [...]
Okay, read it if you want to.  I don't want to make any demands.  There are some more important things to do — I understand.  I just needed to get all the press together in one place.  I wanted to send it to my Mom.  So here it is.  I am sure I am missing some, so let me know if you find any more.
Don't want to overwhelm anyone, but since there's been so much demand….
I went to NYU Film Undergrad with the idea I was going to be a director. I got a scholarship, and the school encouraged me, but I felt that my destiny as a director was to be but a hack. I could get things going, but I was just regurgitating others' ideas (ah, if only that was enough to stop most…). Sure, imitation is a path to learning, but I was impatient too. If I couldn't be brilliant, I at least wanted to be around brilliance. I pivoted. [...]
Can we move beyond product placement for a collaboration between those that fund the production and those that create stories?  Can it be done without compromising the integrity of the work.  Steve Wax and I wrote a blog discussion about this last year and I recently stumbled across this video of Steve and I.
This June COLLABORATOR will have two special screenings here in New York City before its July theatrical release.
The first is June 18th at the IFC center, and the second is on June 19th at the Museum of the Moving Image in Astoria, Queens.
Hal Hartley will be there to present on the 18th, and Martin Donovan, David Morse, and Ted Hope will be there to answer your questions on both nights.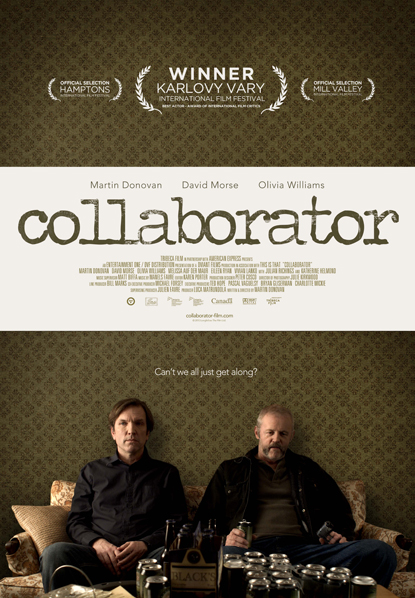 June 18th
IFC Center
7pm
Buy tickets online.
June 19th
Museum of the Moving Image
Buy tickets online.
Find out more about Collaborator on Prescreen.
Collaborator premiered at the Karlovy Vary Film Festival in the Czech Republic, winning several awards including best actor for David Morse.
Read director, writer, and star, Martin Donovan's thoughts on creating Collaborator.
Check out Collaborator's Facebook page, and find more information about the film and its upcoming release from Tribeca Film on VOD, iTunes, Amazon, VUDU on June 19th here.
And read about previous coverage of Collaborator on Hopeforfilm here, here, and
here