X
Looks like you are a new visitor to this site. Hello!
Welcome to Hope For Film! Come participate in the discussion, and I encourage you to enter your email address in the sidebar and subscribe. It's free! And easy! If you have any suggestions on how to improve this website or suggestions for topics please don't hesitate to write in to any of the blogs.
You can also follow me on Twitter or Facebook.
(If you keep getting this message, you probably have cookies turned off.)
I am not sure cell phones have really helped because I used to be able to always be on set.  When cell phones came along, the producer was always on the phone.  Sure schedules used to be done by hand.  Nothing was wireless.  But what was it that helped make movies more efficiently or creatively?  What were the big advances that I can recall?  Did they all actually help? Did some hurt? [...]
SUPER opens in 10 theaters today in UK. We are out on DVD come August 1. Please don't wait for that, run to see it on the big screen NOW. Thanks!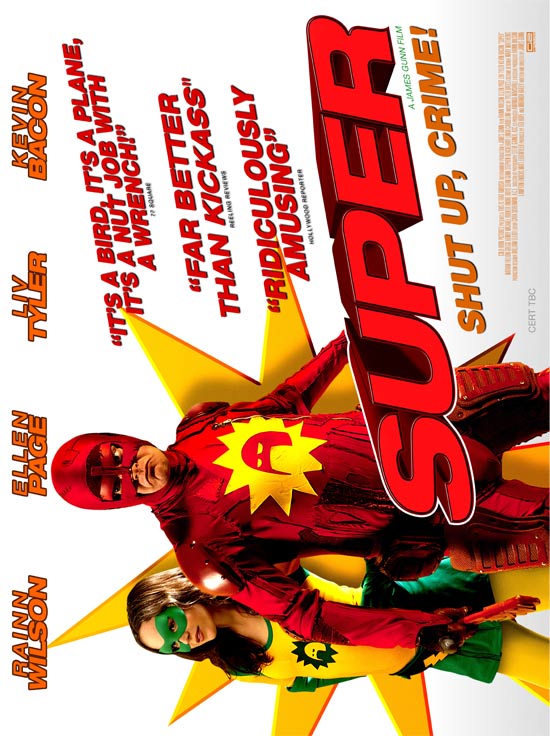 Tweet

Why wait until you see my latest film? You can get the iPhone app now for free. Our official one, produced by PUNY (the geniuses behind our great title sequence) is available for iPhone, Android, and Facebook. Get it here. If you have the gene where you need to be totally complete, there's even more you can get right here.
Don't you love this modern life? You aren't a movie unless you have an app, and the really cool films have two!
Tweet

I have a lot of films that I want to check out this month, but I have already seen the one film that really matters. Without a doubt, I can tell you that it is the way to spend your money. The rest of the films might as well give up now. You know I have some complaints of films as of late, but I like to take my remedy straight, no rocks or filters. Cinema, pure and unbridled. You know what I am talking about?
You know when you go to the movies and that jerkhead cuts in line? Don't you sometimes wish you could smash his friggin' face in? With a ten pound wrench? Don't do it. Don't sell drugs either. Or molest children. Or even put on a costume and attack those that do such vile acts.
You know when you go to the movies and everything seems incredibly programmed and test-marketed? You know how you are starting to really hate that? You know how sometimes you watch a film and wish you were living back in the days when occasionally you could see something that felt like it burst from an unbridled mind that didn't give a fuck what anyone else thought and it was just going to go there no matter what? Wouldn't you just love to have that type of movie back?
SUPER is a blood-splattered comedy that will make you cry real tears. SUPER is a film that will have you saying WTF! more than once. SUPER is filled with the sort of go for broke committed performances that will have you worshiping the ground that these thespians grace. SUPER is the shrieking plea in your ears all these years to finally let the lunatics run the asylum. Go ahead, drink the kool-aid. All it takes to be a superhero is to say you've had enough. Shut up, crime.
I am not going to lie. I produced this film. But what I produced (with MIranda Bailey) is 100% James Gunn, our writer, our director, our resident mad man. We have had incredible screenings of SUPER everywhere. No one can be lukewarm about this film. It opens on Friday April 1st (no fooling) and you want to make sure you are there.
It is not for the faint of heart or those who don't like to have a bit of blood with their humor. Or want their entertainment sanitized of non-PC content. This ain't that, but it is a blast. I promise you that. Several blasts as a matter of fact.
Just about this time two years ago, I was frustrated by how engineered all films felt to me. Even the indie work I was seeing felt devoid of the sort of unbridled craziness that initially lead me to fall in love with cinema. I wanted a return to jaw dropping moments and moments of questionable intent. Where had all the WhatTheFuck gone in film? Could film still be made from what appeared to be a wonderfully warped mind? Haven't we had enough of the beautiful minds by now?
Simultaneously I was pondering what the psychological effects on society our national obsession with super heroes was having. If the high esteem we deem upon supermodels was undermining some women's self-worth, what did the pinnacle we placed costumed crime fighters on do to a man's perception of masculinity. Let's be real, superheroes and war are our two top exports — there's gotta be a connection, right?
I started scouring the development pipelines for a project that might do justice to both. I was coming up empty-handed, but had heard tales of just such a morsel by a filmmaker whom I admired that had almost gone into production years earlier for a whopping cost of $25M. Then I saw Rainn Wilson tweet that he "and james_gunn were going out with a low-rent f'd up Watchmen" — and I pounced. One year after we went out for financing, we premiered it at Toronto, where it was the first film sold in what later proved to be the tipping point out of a three year down market downturn.
This is one time where I have distributors who, despite some extreme stuff, have no fear of what this film is. Our poster and trailer truly represent the work as we intended. It's been an amazing experience, and I am thrilled to bring to you, my film friends. It opens on Friday, April Fools Day, and I would love your dollars and support.
Watch the SUPER trailer.
Check SUPER out on facebook
Follow @SUPERthemovie on twitter.
Watch the Crimson Bolt patrol the streets of Austin.
Read one of the many good reviews for SUPER!
Rock your block out to the SUPER soundtrack at http://bit.ly/Superitunes
You can't be a movie without an app. Check out the app for SUPER.
Yesterday around this time I participated in a podcast with Rex Sikes. It's about a one hour interview almost entirely about SUPER. You can hear all the secret details about every and any aspect? How did it we put it together? How did we keep it together? How did it fit together? It was a fun talk. And it available for free right here: http://bit.ly/dybBsU.
Tweet

Perhaps the greatest contribution the AmerIndie scene has made to film culture has been the demystification of the filmmaking process. It once was a very closed-door operation, and as a result shut out many people from joining by sheer intimidation.
The Studios are evidently very concerned about opening it up further, since so much of the hype/sell is about control (and the timed release) of information. Reports have been in the media about contracts prohibiting Twittering from set. I have also heard about other stars being contractually required to Twitter a few times each week.
Now granted I think that anarchy never gets a fair shake, but I also believe that a community is also about responsible behavior. And adults don't really need that defined for them: they know it whey the are in it. I am really excited by the possibility of looking into a movie process by the Twitter Feeds of the cast & crew. We have one for the movie SUPER that we are shooting right now.
Okay perhaps seeing into the operations of this endeavor might send the folks in the white suits off to every indie film shoot. Blood. Drugs. Potty talk. We have got it all. But hey, I'm encouraging it.
I sent this letter out to the cast and crew after the second day of filming, and we are now finishing up our third:
First off, let me just say: WOW! I was told that this was impossible but you are all proving it otherwise. It's been a short prep with a tremendously ambitious schedule, and we've been making the days (54 set ups today!) and everyone has such a great attitude and spirit. I am loving this film, this crew, this town, this total experience. Thank you.

Secondly though, let me tell you that by working on the film SUPER you are participating in only part of the experience. You now have the chance to get

inside the minds

of the cast, crew, director and producers — thanks to the miraculous and free broadcast platform know as Twitter.

Did you know that our star Rainn Wilson is one of the leading Twitter communicators? Over 1.6 Million people receive his daily tweets. Mr. Gunn is no slacker himself in that department with over 20,000 receiving his feeds. And both these guys are really funny.

Me, I use twitter primarily to try to figure out where our film business is going and to try to point it in the direction I want. Everyone on it use it to promote and spread the news, music, and information they want. Hey, even some folks I know have found their significant others on it.

And know what? I found this project on Twitter when Rainn posted about it. This movie would not have happened because of it.

Registering is free. Just go to

http://twitter.com/

, select a screen name, and start selecting some people to follow. Or take my advice and write some tweets before you follow them, but really do what you want to do. You can find interesting people to follow by looking at whom your friends follow and clicking on them to follow.

But here is where I think it gets really interesting: I have set up a SUPER group where I list the feeds of everyone involved in the making of the movie. I would like to add your Twitter Feed to the group. So if you join, email me and tell me what your Twitter name is and I will add you to the list.

You can also find all the other Super folk there to follow.

It will give you and the world a new perspective into the film. I am encouraging you to do this, because I have had a lot of fun doing it, and I think we will all learn from doing it. And I think it will be really cool to show the world SUPER from the inside out. But we need your help.

I do request your confidence and discretion though. There are some things we may like to not reveal to the general public, like how the story goes or how things look, and we hope you can respect that, and after all you've read your contract and know what you can and can't do any way, right?

Anyways, thanks for working with James, Miranda, Lampton and all of us on this film. Together, we can make something really great that we will all be proud of. Let's spread the word about what we are doing here.

THANKS AGAIN!

Ted

Any way check out the feed and you can see what it is like to be on set, sort of…