X
Looks like you are a new visitor to this site. Hello!
Welcome to Hope For Film! Come participate in the discussion, and I encourage you to enter your email address in the sidebar and subscribe. It's free! And easy! If you have any suggestions on how to improve this website or suggestions for topics please don't hesitate to write in to any of the blogs.
You can also follow me on Twitter or Facebook.
(If you keep getting this message, you probably have cookies turned off.)
By Scott McMahon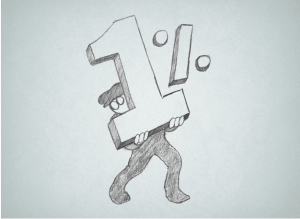 Filmmakers, what comes to mind when you think of 1%?
The "Occupy Wall Street" movement perhaps?
1% Milk?
Hmm … maybe …
1% RULE OF THE INTERNET
(From Wikipedia, because it's fact)
In Internet culture, the 1% rule is a rule of thumb pertaining to participation in an internet community, stating that only 1% of the users of a website actively create new content, while the other 99% of the participants only lurk. [...]
By Sheri Candler
Originally published on www.thefilmcollaborative.org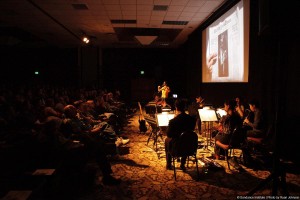 There is a lot of talk in independent film circles about the need to "eventize" the cinematic experience. The thought is that audiences are increasingly satisfied with viewing films and other video material on their private devices whenever their schedule permits and the need to leave the house to go to a separate place to watch is becoming an outdated notion, especially for younger audiences. But making your work an event that can only be experienced in a live setting is something few creators are exploring at the moment. Sure, some filmmakers and distributors are adding live Q&As with the director or cast, sometimes in person and sometimes via Skype; discussion panels with local organizations are often included with documentary screenings; and sometimes live musical performances are included featuring the musicians on the film's soundtrack, but what about work that can ONLY be enjoyed as a live experience? Work that will never appear on DVD or digital outlets? Not only is there an artistic reason for creating such work, but there can be a business reason as well.
In reading a New York Times piece entitled "The one filmmaker who doesn't want a distribution deal"  about the Sundance premiere of Sam Green's live documentary The Measure of All Things, I was curious to find out why a filmmaker would say he never plans for this work to show on streaming outlets like Netflix, only as a live event piece. I contacted Sam Green and he was kind enough to share his thoughts about why he likes creating for and participating with the audience of his work and why the economics of this form could be much more lucrative for documentary filmmakers. [...]
I would like to go to the site of one of the many organizations dedicated to supporting filmmakers and easily find links to a list of foreign sales agents.
For that matter, I would like to be able to find such links to US Distributors, Worldwide Distributors, Distribution Case Studies, Funders, Agents, Crew, Platforms, Legal Documents, Production Forms, Tech & Equipment Recommendations, Recommended Best Practices, Expert Opinions, Ideas & Inspiration, Recommended Reading — and that's just off the top of my head.  You know, I would like it to be clear that that these organizations were driven to help filmmakers, and not just "furthering their brand". [...]
Part One: The Stuggles You Are Facing and How You Can Cope
By Jon Reiss
Since the collapse of the traditional distribution for filmmakers in 2007 we as a community have been struggling to figure out new solutions of how to monetize our work – in other words:  how to make money from our content and create a sustainable living.  In this two part series I will reformulate and address some of the problems we are facing – but also present some potential solutions for independent filmmakers.   These thoughts come from a creating a series of new presentations on Artistic Entrepreneurship over the past year that I presented at the recent SFFS A2E Workshop (http://www.sffs.org/Filmmaker360/A2E-Artist-to-Entrepreneur.aspx) and this spring's IFP Filmmaker Labs (http://www.ifp.org/programs/labs/).   I welcome your comments!
While there were a number of factors that caused an upheaval of the distribution landscape in 2007 and while there have been many positive signs of improvement, filmmakers and all artists still face an enormously changed market for content.
[...]
It's nice to get people talking and thinking.  Even better when you get them acting.  My post this morning has been doing a bit of it all.  Thanks for spreading.  And joining in.
I like this thread that started by Lindy Boustedt on Facebook.  I like their ideas and energy and want to help.
I like Ann Rutledge's response to it too, and look forward to taking her up on her offer to help solve the capital problem.
I got this email from Sheri Candler and am responding with the color text below.  Sheri's numbering are hers, and don't apply directly to my points.
Ted,

I am writing this to you when I really should be working on other things. Some of those other things I get paid to do, and some I do because I hope in the future it will lead to getting paid or getting paid more money. This is kind of the way I see "opportunity," it is something you make or something you grab, not something you are waiting to be given. We all have to work for our opportunities, but they don't exist equally for everyone.  I have benefited greatly by being white, male, middle class, english-speaking, and having had a good education.  I was also fortunate to arrive in New York when I did.  True, we can't wait; we must act.  But it will never improve unless we accept that we also have to work towards justice and equal access. [...]