X
Looks like you are a new visitor to this site. Hello!
Welcome to Hope For Film! Come participate in the discussion, and I encourage you to enter your email address in the sidebar and subscribe. It's free! And easy! If you have any suggestions on how to improve this website or suggestions for topics please don't hesitate to write in to any of the blogs.
You can also follow me on Twitter or Facebook.
(If you keep getting this message, you probably have cookies turned off.)
If you read this blog, you know I am a champion of mission check. You might now be wondering a bit about mine. A year or so ago, I reported to you that when asked to consider a project I responded:
"I am taking a hiatus from producing any projects for the time being.  Instead, I am trying to advance an independent film infrastructure that can truly support a diverse and ambitious film — in it's broadest & most innovative definition — culture, one where the artist and their supporters are direct beneficiaries of the work they generate, where risk is both rewarded & encouraged, & audiences are active participants in the community.  I am running Fandor in hopes I can help the progression move quicker & others may navigate the paradigm shift to abundant, accessible content more smoothly & less painfully."
Only of course then I did not say Fandor, did I? But [...]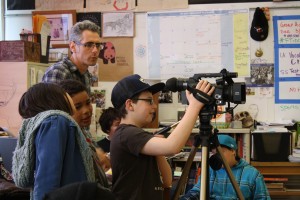 By Joanne Parsont
In a world saturated with screens and immersed in media, it is not just advisable to teach young people about film, it's imperative. We all recognize the power of film to both inform and transform, and what better place to make that happen than inside a classroom (or inside a theater full of kids), where students are primed to be enlightened and inspired? As young people have become round-the-clock media consumers and creators, it has become that much more important for teachers to use media effectively in the classroom, for filmmakers to learn how to talk about their work in an educational context, and for students to be exposed to media professionals.
At the San Francisco Film Society, we've been working in the educational community for more than two decades, and it is some of the most gratifying work we do. As we've steadily built up our Education programs over the last few years, we've been trying to find a way to share that work—and the experience and resources we've cultivated—with the greater film and education communities outside the local Bay Area. So we are really excited about the great new web portal we just launched: FilmEd.
FilmEd. is [...]
by Stephen Eyer
For the past five years, my wife and producing partner, Daneen Akers, and I have been working full-time on a social documentary film called Seventh-Gay Adventists (http://www.sgamovie.com) about three gay and lesbian members of a conservative church and their challenge to reconcile their faith and sexuality. We spent the last year on the road traveling with the film in the U.S., Canada, and Australia at film festivals, churches, and community centers. Our last major festival screening will be on Dec. 5th as part of Frameline's Encore series (http://www.frameline.org/now-showing/events/frameline-encore-seventh-gay-adventists) in San Francisco. Although we've been asked at filmmaker gatherings before if we're selling marijuana on the side to make rent, we've actually been making enough to both pay for our expenses and fund the film primarily through cultivating an engaged and motivated grassroots community that believe in this film.
The following are 10 things we learned about how to sustain yourself as a filmmaker while making films that can have a positive impact on the world. [...]
The best things in life bring multiple rewards.  
If you can solve a problem by improving other things simultaneously, you know everyone is going to win.  Besides, we all have way too much to get done, that it only makes sense to kill two birds with one stone whenever humanly possible.  I think the San Francisco Film Society and I may have just accomplished this remarkable feat.  Let's see [...]
Let's say you were one of Twitter's initial hires.  The IPO has made you a multi-millionaire.  Being in the Bay Area you've had a front row seat (courtesy of The San Francisco Film Society) how strategic film investments at critical times can make great cinema live (BEASTS OF THE SOUTHERN WILD, FRUITVALE STATION, SHORT TERM 12, TEST, and so on).  You have an idea that if contribute a bit here and there you can help bring the Bay Area Cinema Renaissance into being.  Now you are trying to figure all you need to know about investing in film.  Where are you at? What more do you need to know? [...]
I don't think we can get a clearer marker that times have fully changed in the Film Biz than James Schamus leaving Focus Features.  And this is a curve that is not in a positive direction.
With his bow tie no longer the Focus brand, we can firmly say that the corporate suits see no business in art. James made money from beauty, found gold by reaching higher, [...]