X
Looks like you are a new visitor to this site. Hello!
Welcome to Hope For Film! Come participate in the discussion, and I encourage you to enter your email address in the sidebar and subscribe. It's free! And easy! If you have any suggestions on how to improve this website or suggestions for topics please don't hesitate to write in to any of the blogs.
You can also follow me on Twitter or Facebook.
(If you keep getting this message, you probably have cookies turned off.)
By Jacob Kornbluth (See Part One HERE).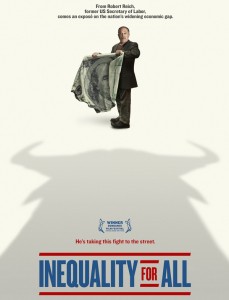 So there I was. I had totally given up on my film career in LA, and gone to live in Berkeley, CA. In trying to put together a fiction film, I had met Robert Reich and become friends with him. Reich and I had started making short videos together, they were successful, and I had begun thinking about how to make a film about what had happened to the American economy and the Middle class. But I had no idea where to start.
The first thing I did was try to get some sense of who was making films in the Bay Area. [...]
By Jacob Kornbluth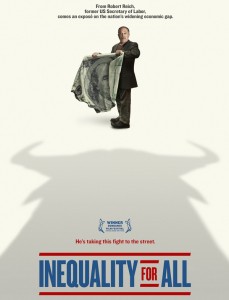 My first documentary, INEQUALITY FOR ALL, opens theatrically on September 27th in the top 25 markets.  This is an extraordinary release for a doc, and I couldn't be any more proud of the film.
As I go from film fest to film fest, people ask me all the time – when did you get the idea for the film?  The strange but true answer is this: I got the idea for the film when I gave up on the film industry.  [...]
What would Variety, Hollywood Reporter, IndieWire, The Wrap, MovieCityNews, Filmmaker Magazine & Deadline report if a single film company took the following awards at Sundance this year?
Narrative Grand Jury Prize
Audience Award For Narrative Film
Best Directing of a Narrative Film
Best Directing of a Documentary Film
Special Jury Award For Documentary Film #1
Special Jury Award For Documentary Film #2
I can't help but think they would announce the arrival of a powerhouse.
Well, allow me the pleasure of breaking such an announcement. [...]