X
Looks like you are a new visitor to this site. Hello!
Welcome to Hope For Film! Come participate in the discussion, and I encourage you to enter your email address in the sidebar and subscribe. It's free! And easy! If you have any suggestions on how to improve this website or suggestions for topics please don't hesitate to write in to any of the blogs.
You can also follow me on Twitter or Facebook.
(If you keep getting this message, you probably have cookies turned off.)
Evolving out of a recent presentation and interviews with members of 

Film Independent

, leading distribution strategist Peter Broderick has written an important set of guidelines for anyone seeking to negotiate a distribution deal for their movie. Shorter versions of this post have also run on 

IndieWire

 and Film Independent, and we're happy to run the complete post here in three parts on Hope For Film. Read PART THREE BELO
W.

PART ONE HERE

. And

PART TWO HERE

.
6 CRITERIA FOR DISTRIBUTION PARTNERS
Find distributors who are effective and honest. They should have track records that demonstrate this as well as raves from other filmmakers who have worked with them.
Find distributors who are flexible and will help you to implement your customized distribution strategy rather than requiring you to fit into a one-size-fits-all approach to distribution
Find distributors who are willing and able to be partners. Some companies are only interested in being masters. [...]
Evolving out of a recent presentation and interviews with members of 

Film Independent

, leading distribution strategist Peter Broderick has written an important set of guidelines for anyone seeking to negotiate a distribution deal for their movie. Shorter versions of this post have also run on 

IndieWire

 and Film Independent, and we're happy to run the complete post here in three parts on Hope For Film. Read PART TWO BELOW.
PART ONE HERE

. And PART THREE Next Week.
KEY STEPS TO TAKE
Identify the main distribution avenues in North America and overseas. In the United States there are ten:
film festivals

theatrical

semi-theatrical (single special event screenings on a campus, in a museum, or at a theater)

cable VOD

television

educational

retail DVD

direct DVD (from the filmmaker's website)

retail digital (iTunes, Amazon, Hulu, Netflix, etc.)

direct digital (downloads and streams from the filmmaker's website)
Overseas, the main avenues are television and digital, with limited potential for theatrical and DVD distribution. [...]
Evolving out of a recent presentation and interviews with members of Film Independent, leading distribution strategist Peter Broderick has written an important set of guidelines for anyone seeking to negotiate a distribution deal for their movie. Shorter versions of this post have also run on IndieWire and Film Independent, and we're happy to run the complete post here in three parts on Hope For Film. Read PART ONE BELOW. PART TWO Friday. And PART THREE Next Week.
You've finally finished your film and have just received your first distribution offer. Now what?
Negotiation is an essential but little understood part of dealmaking. To make fair deals with good distributors, there are mistakes you must avoid and steps you need to take.
I recently gave a presentation on the secrets of negotiating distribution deals to a full house of Film Independent members. My subsequent interview for the Film Independent newsletter evolved into this Bulletin. It supplements my Special Report on festival and dealmaking strategies. It is not a comprehensive guide to negotiating distribution deals but does highlight key dos and don'ts. [...]
You are in, and now you have all sorts of wonderful problems — the kind most filmmakers wish they could enjoy.  You know, you have to do all the things you have to do for a film festival.  I have tried to collect the various blog posts I have written or have found written by others that will really prepare you.  There's a lot more to be written.  But this is a good start: [...]
As always Peter Broderick's latest newsletter is a must read — this time it's about the documentary "Hungry For Change" and how the directors' incredibly success with the film is precisely because they gave it away for free, online. Once again, Peter's been nice enough to let me share the newsletter here with you. I can't recommend enough that you sign up for Peter's Distribution Bulletin.
The extraordinary million-dollar success of HUNGRY FOR CHANGE marks a new era of opportunities for independents. It illustrates how "free" can be used to achieve broad awareness, generate revenue quickly, and build a worldwide audience.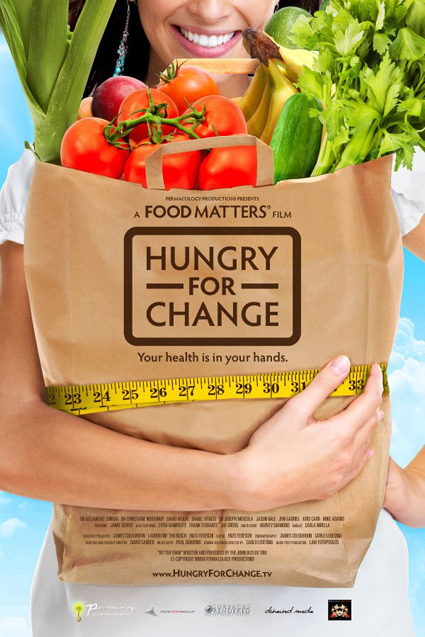 The release of HUNGRY FOR CHANGE was unprecedented. The film:
- premiered online (having never screened publicly before)
- was available worldwide
- was absolutely free (for 10 days only)
The results were remarkable:
- 453,841 views around the world during the 10 day premiere
- over $1.02 million in sales of DVDs and recipe books in the first 14 days
HUNGRY FOR CHANGE is a documentary that challenges the myths perpetuated by the weight loss industry and shows how to develop a healthy, lifelong diet. It is the second film by dynamic husband-and-wife team James Colquhoun and Laurentine ten Bosch, who I started consulting with in 2008 when they were beginning to distribute FOOD MATTERS, which went on to sell over 230,000 DVDs (see Distribution Bulletin #14). James and Laurentine are based in Australia but came to Los Angeles last week, where they told me the inside story of their historic "Free Worldwide Online Premiere."
James and Laurentine have learned how to tap the power of free. They've been experimenting with the possibilities of free for four years, first with FOOD MATTERS and now with HUNGRY FOR CHANGE.
FOOD MATTERS
Free Public Screenings – Instead of following the industry norm of charging organizations fees to hold screenings, the filmmakers took a risk and allowed anyone who registered to host a screening for free. The FOOD MATTERS website encourages the hosting of screenings:
"As part of our vision to provide life-transforming information that is accessible to all people, we are excited to allow free screenings of Food Matters around the globe."
The website provides a free screening resource pack, which includes handouts, posters, and other publicity materials. James and Laurentine believed that the cost of lost screening revenues would be much smaller than the benefit of positive word-of-mouth from a greater number of screenings, resulting in increases in visitors to the website, mailing lists sign-ups, and DVD sales.
Free, Dynamic Website Content – The filmmakers regularly added content to the FOOD MATTERS website, making it a valuable resource for their audience. This included videos that were freely available to all visitors to the website who registered, which simply consisted of inputting a name and an email address.
Free Online Screening – In December 2010, FOOD MATTERS DVDs were put on sale from the website for one week at half price. This resulted in 4600 sales, the best week in 2 1Ž2 years of sales. In October 2011, the filmmakers took a more radical approach with even better results. They allowed all comers to watch FOOD MATTERS for free for 8 days. This stimulated direct and indirect sales of 9800 DVDs, twice as many as were sold when it was offered at half price. Even more impressive, over 37,000 people joined the mailing list during this event.
As James explained, when you offer a film for free you get sign-ups from a good percentage of everyone who views the film. When you are having a sale, you only get the customer information from those who actually make a purchase. "For us, we're about creating a long-term relationship with our followers and not just selling to them," noted James.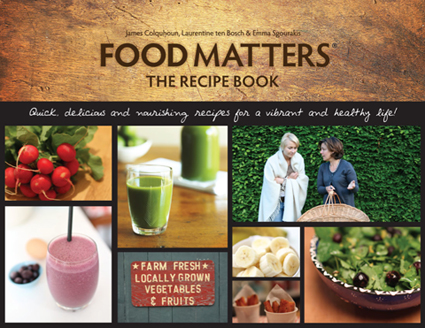 HUNGRY FOR CHANGE
After their successful experiments with free, particularly the online screening of FOOD MATTERS, James and Laurentine decided to go all the way with HUNGRY FOR CHANGE. They were aware of some films that had been released free online, such as Michael Moore's SLACKER UPRISING, but knew of no major ones that had premiered online.
Pre-Release Marketing – They chose the term FREE WORLDWIDE ONLINE PREMIERE and released the trailer for HUNGRY FOR CHANGE on March 1, 2012. This was followed by two more eblasts with additional video content, including the first 4 minutes of the film, during the 21 days leading up to the premiere. They also partnered with the experts featured in the film. These experts had their own followers and shared in both the promotion of the free online premiere and the revenues from sales they referred.
Global Reach – The Free Worldwide Online Premiere was an instant hit. On its first day (March 21st) there were 45,211 plays. Tens of thousands of people watched the film each day. The premiere ended with a bang with 58,292 plays on the final day (March 31st). Altogether there were almost half a million views from more than 150 countries across the globe in just 10 days. These are astonishing numbers for an independent film that had never been seen before, had no paid advertising, and was not available through any retail channels.
Subscribers – There were 229,000 sign-ups in 14 days, a significantly greater number than FOOD MATTERS had gained in the previous 4 years. James estimates that less than 30% of the HUNGRY FOR CHANGE sign-ups were FOOD MATTERS subscribers, which means that at least 160,000 were new subscribers, almost doubling James and Laurentine's already substantial online following.
Revenue – Everyone who viewed HUNGRY FOR CHANGE was given access to three special offers: the DVD for $34.95, the new recipe book for $49.95, or the DVD and the recipe book for $74.95. Each order came with free bonuses and free shipping. In the first 14 days, over 20,800 orders were placed totaling over $1 million in sales. Although most purchasers had already seen the film for free, many wanted to buy a copy for themselves or purchase it as a gift for family or friends.
Access – Beyond broad awareness, revenues, and sign-ups, there are other important benefits of free. It removes a major barrier between filmmakers and audiences. If the film is available at no charge, at least temporarily, it is accessible to everyone. From the beginning, James and Laurentine have been motivated by a strong desire to get their message out to more people. Free allows their films to be seen even more widely and enables them to build relationships with viewers.
Good Will – Another major benefit of free is good will, which has allowed the filmmakers to develop a truly interactive relationship with their audience. They talk directly to their followers who tell them what they want. This knowledge has enabled them to make and market films that meet their followers' needs and continue to be seen by more and more people.
—–
Taking free to a new level has also expanded awareness of James and Laurentine and created new opportunities for them. They are now writing a book for HarperCollins, which will be published this fall to coincide with the retail release of HUNGRY FOR CHANGE.
© 2012 Peter Broderick
Peter Broderick is a Distribution Strategist who helps design and implement customized plans to maximize revenues for independent films. He is also a leading advocate of crowdfunding and crowdsourcing, championing them in keynotes and presentations around the world. You can read his articles at www.peterbroderick.com
Tweet

By Peter Broderick
HopeForFilm has had the pleasure of hosting several of Peter Broderick's prior newsletters, but today's is extra-special, working as a continuation of Jennifer Fox's illuminating posts on MY REINCARNATION crowdfunding campaign. My filmmakers mistakenly think of the crowdfunding platforms for financial purposes, but as Peter points out, it works to build community, involve audiences, and generate publicity and a true sense of ownership.
MY REINCARNATION shows how a well-executed crowdfunding campaign can be used to maximize distribution. In addition to enabling the funding of the theatrical rollout, the campaign increased awareness among core audiences, generated substantial press coverage, and facilitated partnerships.
I've known and admired the film's director Jennifer Fox for many years, and consulted with her on the distribution of her remarkable series, FLYING: CONFESSIONS OF A FREE WOMAN. As tenacious as she is talented, Jennifer has learned, during more than 30 years of independent filmmaking, that it's "change or die." After exhausting every familiar fundraising route from grants to pre-sales for MY REINCARNATION, she tried crowdfunding as a last resort.
Filmed over twenty years, MY REINCARNATION is a documentary about her teacher, the Tibetan-trained Buddhist master Chögyal Namkhai Norbu and "his Italian born son who refuses to accept the destiny he inherited from birth." Although the film was technically completed and being shown at international festivals, Jennifer still needed $100,000 to pay the bills she'd amassed finishing the film after a producer defaulted on that amount.
MY REINCARNATION became a crowdfunding milestone. Through a 90-day campaign, Jennifer and her team raised $150,456, three times the official goal of $50,000. 518 backers gave an average donation of $290, more than any film had ever averaged on her crowdfunding platform, Kickstarter. The average was so high for two reasons. The film attracted two associate producers at $10,000 each (one of which was a group of 50 people living in China). The campaign also offered valuable one-of-a-kind rewards, such as a hand-painted Tibetan chest and a unique statue of the deity Vajrapan, which were available to contributors who gave between $2,500 and $7,500. Contributions were received from 32 countries and more than two-thirds of the money came from abroad.
There is much to be learned from this crowdfunding success. Jennifer contributed seven articles to Ted Hope's Indiewire blog detailing her 42 crowdfunding tips. They should be required reading for anyone planning a serious crowdfunding campaign. Here are two of the essential lessons:
==> Build a strong team that can put in the necessary time and effort. While filmmakers should be centrally involved in a crowdfunding campaign, they need a substantial amount of help to maximize the effort. Jennifer spent 50% of her time on the 90-day campaign. She had three teammates – a staff member who spent 50% of her time on the effort and two part-time women (compensated by a percentage of the money raised). They handled key tasks including adding fresh content to the website, managing outreach to organizations, and expanding the mailing list.
==> Make a detailed budget for the campaign. This should include the site fee (Kickstarter charges 5% if you meet your goal, IndieGoGo charges 4% if you meet your goal and 9% if you don't); the payment processing fee (3-5%); the cost of creating, acquiring, and shipping rewards; and any staffing fees. There are also likely to be some defaults in contributors' payments (Jennifer's were 2%). If you use a fiscal sponsor, which allows donations to be tax-deductible, there will be an additional fee of 5-7% (IndieGoGo waives its fee if you use one of its partner fiscal sponsors). Jennifer estimates that the total costs of her campaign will be between 20 and 25% of the money raised. It would have been higher if she had been compensated for the enormous amount of time she devoted to the campaign.
MY REINCARNATION is now playing in theaters around the U.S. It opened theatrically in New York City in October, five months after the crowdfunding campaign concluded in late May. It has already been shown or booked in 40 theaters, and was in its seventh week in New York when this went to press. It will surely play 60-70 cities through next April and Jennifer is hoping to reach 100. Erin Owens of Long Shot Factory is booking the film theatrically.
The crowdfunding campaign of MY REINCARNATION facilitated its distribution in ten key ways. The campaign enabled Jennifer's team to:
==> 1- BUILD AWARENESS AMONG CORE AUDIENCES. Jennifer believes the key to Kickstarter success is a strong, reachable core audience. MY REINCARNATION has two sets of core audiences. One is centered on Namkhai Norbu's 8,000+ students around the world (they are connected via a listserv and many also meet in local groups). This audience also includes other Buddhists, as well as spiritual, new age, and yoga groups. The second core audience is centered on Jennifer's fans and supporters, who she has nurtured over many years and films. This audience also includes documentary lovers and independent filmmakers.
==> 2 – GROW A NETWORK OF SUPPORT. This network consisted of all of the contributors to the Kickstarter campaign plus people who were unable to help financially but contributed their time and effort. These supporters helped by blogging and eblasting. The most active ones were recognized online on the Donors Wall and onscreen in the film's end credits.
==> 3 – ACCELERATE EFFORTS TO BUILD PARTNERSHIPS. Jennifer explained that the crowdfunding campaign "got us into outreach mode early." Her team made a major effort to develop partnerships with organizations, including Tibet House and the Tibet Fund.
==> 4 – GENERATE SIGNIFICANT PRESS COVERAGE. During the campaign Jennifer shared her crowdfunding tips in her seven-part series. When the campaign ended with such spectacular results, she and her teammates widely distributed a press release and got significant coverage. Jennifer also wrote an article for The Huffington Post.
==> 5 – EXPAND AND REFINE THEIR MAILING LIST. Over the years Jennifer had developed a personal mailing list of 6000 names. Her team worked hard to expand this list of individuals and organizations, starting with California and New York and then moving on to other states. Jennifer's list has now grown to almost 10,000 names.
==> 6 – IMPROVE THE FILM'S ONLINE PRESENCE. The team started with a solid website which they expanded with fresh content and videos, including outtakes of the film. They utilized user-contributed content through the website's "share your story" section. They also made excellent use of the film's Facebook page, which attracted many people from around the world.
==> 7 – RELEASE THE FILM THEATRICALLY. $15,000 from the crowdfunding revenues seeded the theatrical rollout. Jennifer harnessed the excitement created by the Kickstarter results to find the additional money needed for theatrical from a combination of donors and loans.
==> 8 – BOOST INTEREST AMONG DISTRIBUTORS. Erin from Long Shot Factory explained that many of the exhibitors she approached were already aware of the film. She cited the Kickstarter results to show that there was already an audience for the film. The crowdfunding success also helped get the attention of festival programmers.
==> 9 – STIMULATE SEMI-THEATRICAL AND EDUCATIONAL DISTRIBUTION. Following theatrical, MY REINCARNATION will have a strong semi-theatrical release during which nonprofits and universities will arrange special event screenings. Jennifer is also perfectly positioned to do her own educational sales based on the relationships her team has built with groups and organizations.
==> 10 – FACILITATE TELEVISION, DVD, AND DIGITAL DISTRIBUTION. The increased awareness of the film will foster DVD and digital sales, as well as boost the viewership for its POV televisions premiere. The DVD, which is not yet available, is already viewed as a collectible.
As MY REINCARNATION makes clear, a successful crowdfunding effort can jumpstart a film's distribution. It accelerates everything that will eventually be done to foster distribution, including making a trailer, reaching out to possible partners, building a network of support, generating press awareness, and refining the mailing lists and web presence. Instead of waiting until the film is nearly done and trying to do all of this in the weeks or months before its release, crowdfunding can give filmmakers a year or two head start.
A crowdfunding campaign can also provide invaluable information and feedback, enabling filmmakers to better define their core audiences, determine the best avenues to reach them, and refine the positioning of their films.
When MY REINCARNATION'S Kickstarter campaign reached a tipping point, things began to snowball. They raised $60,000 during the final five days of the campaign. Jennifer's team has been able to maintain the momentum from the campaign into the theatrical release and should be able to continue it through the next stages of distribution.
Filmmakers should design their crowdfunding campaigns to power their distribution. While their short-term goal is to raise money, their ultimate goal should be to create a long and vibrant life for their film.
© 2011 Peter Broderick
Peter Broderick is a Distribution Strategist who helps design and implement customized plans to maximize revenues for independent films. He is also a leading advocate of crowdfunding and crowdsourcing, championing them in keynotes and presentations around the world. You can read his articles at www.peterbroderick.com
One of my top motivations to make movies was to change the world. It still is true today. Often when I tell people that I want to make movies that either change the world, change cinema, or finance those revolutions, they often think I am joking. But I am quite sincere. To sort of quote the legendary producer Walter Wanger "Film is the world's ambassador."
I was not surprisingly thrilled to get Peter Broderick's latest newsletter, and to find it not just on this subject, but with real info precisely on films that HAVE CHANGED THE WORLD. Peter has kindly agreed to allow me to share it here with you, provided you all NOW sign up for Peter's Distribution Bulletin, here.
SPECIAL REPORT: HOW FILMS CAN CHANGE THE WORLD
Three new studies assessing the impacts of An Inconvenient Truth, The End of The Line, and Waiting For "Superman" finally prove Sam Goldwyn wrong. The Hollywood mogul famously declared, "If you want to send a message, use Western Union." These reports highlight the real world results these films sparked and provide a new framework for evaluating the impacts of documentaries and features.
In the past, there was little research or rigorous analysis of powerful films such as Fahrenheit 9/11, Sicko, Super Size Me, and Food, Inc. Instead they were evaluated primarily on anecdotal information and subjective impressions. The appearance of these three new studies finally provides the research and analysis filmmakers need to better understand how to ignite social change.
An Inconvenient Truth, The End of The Line, and Waiting For "Superman" were each made to avert a looming crisis: global warming, the collapse of the world's fisheries, and the failure of America's public education system.
This Special Report includes exclusive coverage of the studies of An Inconvenient Truth and Waiting For "Superman," along with a concise analysis of The End of The Line report.
THE END OF THE LINE – A Social Impact Evaluation
This exemplary report documents the significant changes The End of The Line produced, highlights the importance of brand partnerships, and provides useful lessons concerning social media and coordination with partners.
The film was described by The Economist as "the Inconvenient Truth about the impact of overfishing on the world's oceans." Produced in the UK by the invaluable Channel 4 BRITDOC Foundation and financed by the Esmee Fairbairn Foundation, this beautifully designed report is the product of an 18-month study, which used qualitative and quantitative analysis, focus groups, and media analysis. It concludes that the film had a major impact on public awareness of overfishing–directly on viewers and indirectly on nonviewers through the huge amount of press it generated. The report estimates that the PR value of this media coverage was £4,186,710, more than four times the budget of the film.
The study also concludes that the film helped create "a tipping point in corporate policy" that spurred a number of corporations to switch to sustainable sources of fish. The upscale grocery chain Waitrose sponsored the film's release and promoted it in their stores, giving customers postcards about film and the importance of buying sustainable fish. The classy Prêt A Manger chain of sandwich shops totally changed its fish buying policy after its founder saw the film.
When I interviewed the visionary Jess Search (CEO of BRITDOC and co-creator of the report with her colleague Beadie Finzi) about the report, she shared her belief that businesses are "engines of change." Top-down change (requiring legislation and/or elections) and bottom-up change (requiring widespread grassroots involvement) are very difficult to achieve, but if you can persuade corporate decision-makers that the change you are seeking is in their interest, hundreds of thousands of consumers can be affected.
The study features a brilliant graphic that illustrates the complementary and interlocking partnerships filmmakers need to build with foundations and philanthropists, NGOs and advocates, policymakers, the media and brands. The report shows how much difference a film can make – expanding public awareness of an urgent issue, changing consumer behavior, altering corporate policy, and providing advocates with an effective tool.
To read the rest of Peter Broderick's Special Report visit here.
© 2011 Peter Broderick
Peter Broderick is a Distribution Strategist who helps design and implement customized plans to maximize revenues for independent films. He is also a leading advocate of crowdfunding and crowdsourcing, championing them in keynotes and presentations around the world. You can read his articles at www.peterbroderick.com

Tweet