X
Looks like you are a new visitor to this site. Hello!
Welcome to Hope For Film! Come participate in the discussion, and I encourage you to enter your email address in the sidebar and subscribe. It's free! And easy! If you have any suggestions on how to improve this website or suggestions for topics please don't hesitate to write in to any of the blogs.
You can also follow me on Twitter or Facebook.
(If you keep getting this message, you probably have cookies turned off.)
guest post by Brian Godshall
I know how important music can be to your projects.I wanted to point out some new developments in the music business that may prove advantageous for any upcoming media you are producing. You may already be aware of some of these and some may be new to you. I hope this information is helpful. After you've taken a look at this, if you have any questions, please feel free to contact me.
1. Putting brands together with music and indie films I have been working on some ideas and connections to put together a brand or brands with music and indie films. Specifically I am proposing that an advertiser can pay for some or all of the music rights in an indie film in exchange for co-promotional opportunities. If you have questions or are interested in this concept, please contact me directly. [...]
The world keeps getting better and better — at least in terms how we can create better work and get it seen. Today, has brought some more good news.
Blake Whitman, Vimeo's VP of Creative Development, announces Vimeo's New Music Store:
In addition to being Vimeo's VP of Creative Development, I also make videos. Something that I've been struggling with for a while now, is how to find music that I can legally use in my videos. I search and search and search every music related site on the net and it ends up taking WAY too much of my time. And even when I find that needle in the haystack, figuring out how to actually use the song (legally that is) is a whole other story. Do I contact the musician? The label? Do I need an attorney and who's going to pay for that?!
So we had an idea. Wouldn't it be great to create a place on Vimeo to easily discover, license and download music? Well, the obvious answer is OF COURSE, but we wanted to make sure it would be easy and intuitive to use. So we decided to create Music Store, a music library powered by two great curated music providers, Audiosocket and the Free Music Archive. The library allows anyone to search tracks by lots of different criteria and provides license agreements right there on the site. You can purchase and/or download music easily and then throw it in an editor and start editing!
Check the key features:
• Over 45,000 songs
•Three types of licenses: 1) Creative Commons licenses which are free (yes free), 2) Personal use, Non-commercial, web-use licenses for the casual user which are $1.99 per track; and 3) Commercial, web-use licenses for professional users which are $98 per track.
•Searchable by over 100 features like tempo, mood, theme, genre and instrumentation
Vimeo's mission is to inspire and empower video creators. Vimeo Music Store is just another step in our effort to help people make better videos! Check it out here: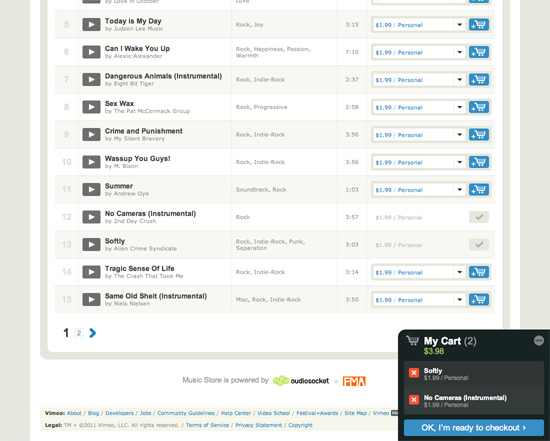 Tweet

Music is a big deal for every filmmaker. But every Producer also knows that come music clearance time, money is running out, nerves have been scraped raw, and it is a hell of a lot of work and time to get the clearances in place. And usually you can not get paid until you complete delivery, and that includes delivery of the music licenses.

Those dedicated, music-loving souls whom do the clearances are one of the many unsung heroes of the film biz. I have had the pleasure of working with Brian Godshall on several of my films, and he is one of the really great ones. Today, he extends his generosity to share some of the latest developments of where the film and music world meet.
You know how important music can be to your projects. So we know you want to know all the new developments in the music business that may prove advantageous for an upcoming media you are producing. You may already be aware of some of these and some may be new to you. After you've taken a look at this list, if you have any questions, please feel free to contact me.
1. As of 6/10 Rumblefish makes available some music of theirs for free/cheap to video makers for you tube productions; www.friendlymusic.com; You can pick from 400,000 songs for $1.99 per video – they developed an app to make it easy and cheap to use music on websites, etc. rumblefish.com;
2. Per music blog/website Digital Music News– 4/29/11 — music focused Facebook deal – businesses can now reward visiting customers with free Mp3s – thanks to Facebook check-in incentive system created by Neurotic Media; neuroticmedia.com;
3. Mix Match Music allows music fans to make their own mixes of master recordings that are available through this site. Perhaps this may be a valuable tool to promote the music in your next project. mixmatchmusic.com;
4. Branding – some of the major record labels are joining up with an entity which has something to promote, such as a film, and a "sponsor" through a branding effort. The sponsor will then pay for the music download when a fan of the project goes onto the site and wants to download new music. target="_blank">hipdigitalmedia.com;
5. Per Digital Music News 8/25/11 – ReverbNation – has just launched "promote it" a Facebook-based ad platform that offer customized targeting, landing pages, and far deeper interactivity reports. ReverbNation is one of several companies to use the updated Facebook ad platform. Perhaps this can be used in your next music based project. reverbnation.com;
6. Shazam – It all started in 2002 – even before the advent of smartphones – Shazam launched a simple service designed to connect people in the UK with music they heard but didn't know. Since then, Shazam has come of age and moved beyond music discovery and has now evolved into one of the world's most recognized mobile consumer brands. The launch pad to our success has been our core music recognition technology that enables anyone with a mobile phone to identify music that is playing – even under noisy conditions – wherever they are, simply by Shazaming it. The clip is run through our database of more than 10 million tracks (extending back to the '50s) to find an exact fingerprint match. shazam.com;
7. Just for fun you may want to check out THE BEATLES who granted use of their music to the site whymusicmatters.com; Their 2 minute video promotes the legal use of music. There are also short films with music from, among others, Louis Armstrong, The Jam, Kate Bush and Sigur Ros.
8. The President of NMPA Calls for Blanket Licensing of Mechanical and Sync Rights – The article below basically talks about how the Harry Fox Agency/NMPA are in discussions with the record labels and digital companies to revise legislation pertaining to some of the synch (film, TV and other visual media) uses of music. It may result in faster and more economical fees being charged to the producers of such audio-visual media. This was reported on various websites such as Billboard and indie-music.com.
June 16, 2011 By Ed Christman (@edchristman), New York
At the National Music Publishers Association's annual meeting yesterday (June 15), president and CEO David Israelite urged members that now is the time to create U.S. blanket-licensing solutions for digital music service providers seeking mechanical and synchronization rights.
He said that music publishers are facing "three big challenges:" they have to continue to fight copyright theft and infringement; they have to help legal digital sites to prosper; and they have to make sure that publishers get their fair share of that prosperity.
But he said that prosperity could remain elusive if the industry continues to license the way it has been. "If you look at the challenges of the industry," the way we license doesn't work: it is broken."
As a solution, Israelite said that now is the time to revisit the SIRA Act (Section 115 Reform Act) of 2006, which never made its way successfully through Congress to become the law of the land.
He urged that legislation be crafted that would create designated agents to act on behalf of all music publishers for synch and mechanical rights. He said that it didn't have to be one agent, it could be a small number similar to the set-up of ASCAP, SESAC and BMI. As long as they agents were competitive and publishers had the right to align with any one of the appointed agents they so chose, and could switch if they wanted to, that would fill the void.
Otherwise, he warned, the music industry would lose out on creative business models, which might never launch because of the complicated licensing situation. Moreover, Israelite noted that the reform would only be in circumstances where the user requires blanket licenses. Publishers could still cut individual deals in situations that make sense.
He cited the Youtube litigation as a situation warranting some kind of mass synchronization vehicle. In that litigation, music publishers and other entertainment rights holders including Viacom are seeking to overturn a court decision in favor of the website. That decision said that when user-generated video's containing copyrighted materials are uploaded to Youtube by users other than the rights owners, the site is protected by the fair-use provision provided by the safe harbor element of the Digital Millennium's Copyright Act.
But what if Youtube conceded and wanted to be properly licensed? "We wouldn't be able" to provide them with an easy solution for mass synchronization licensing, he said. That's why its time to revisit the SIRA Act.
He made the point that in revisiting the SIRA Act, other music publishing issues might also be resolved. For example, music publishers don't think it is fair that they get only 9 cents from a $1.29 list-priced downloaded song while the master rights owners get 81 cents.
Later, Israelite told Billboard that the NMPA was working with record labels and digital companies on how to draft such legislation. "We are far along in concept, but there is nothing on paper yet," he said. The industry won't even reach out to Congress until everything is negotiated and ready to go. "This shouldn't be controversial [legislation]," he said. "We will all come together to support it."
Earlier, U.S. Immigration and Customs Enforcement (ICE) Director John Morton opened the meeting with a keynote address that began with the admission: "I am here because I feel your industry is under assault from IP thieves and counterfeiters,'" Morton said. "We haven't done enough about it." But that has changed with the current Obama administration he said.
Among the steps the administration has taken is the creation of an IP Center in Arlington Va., which includes not only ICE staffers but personnel from Interpol and other agencies from countries like Canada and Mexico.
In one of its more controversial actions, ICE has been targeting infringing websites and seizing the assets.
As a result he said a lot of other sites came down just because they thought we were going to go after them. When ICE started putting seizure banners on sites, it had an unanticipated reaction. Even more people went to visit the sites to see the seizure banners. What ICE started doing was putting up educational messages about copyright infringement.
Ken Feinberg, the managing partner of Feinberg Rozen lawfirm, gave the other keynote address. He was appointed the special master of the administration of payout from the pending-and-unmatched funds. So far, $161 million has been paid out, to over 1,200 music publishers, he reported to NMPA members.
He called the pending-and unmatched settlement that he administered unusual because very rarely is he presented with a negotiated solution on the front-end.
There was one big problem, he conceded. That occurred when he realized there were over 2,350 songs with "conflicts", where ownership claims in each of those songs added up to more than 100% ownership. But today, through privately held negotiations, that has been reduced to 52 conflicts, which he labeled a tremendous achievement.
Finally, beyond the settlement, Feinberg noted that while there are thousands of trade associations in Washington very few have more input than the NMPA.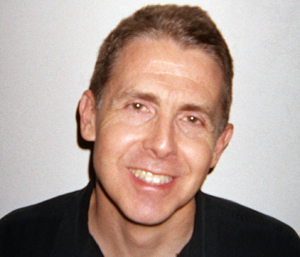 Brian Godshall has handled music clearances and/or licensing for over 15 years for many dozens of independent films including the more recent movies PLEASE GIVE and JACK GOES BOATING as well as past films such as TOWELHEAD, BORN INTO BROTHELS, GARDEN STATE, GUNNIN' FOR THAT #1 SPOT, KINSEY, THE NAMESAKE, SONGCATCHER and many others. He looks forward to new ideas and changes in the independent film industry. Email: info@bgoodshallclearmusic.com Web: bgodshallcleamusic.com;
Ted adds: "By the way, I don't usually give out this sort of blanket endorsements, but: HIRE THIS GUY. You won't be sorry. He's worth his weight (and rate) in gold.
Tweet

Just because you can do something, does that mean that you should. Do short term needs always outweigh long term goals? Does obtaining services for less than they are worth make you a good producer?
Last month Jordan Passman introduced us to his scoreAscore service, allowing filmmakers to connect with composers at prices they set. Today Jordan guest posts to expand on his vision to stop the marginalization of music in the film biz.
We fight for film music, and here's why:
"We won't be able to pay you but it'll be great exposure for your work!"
"This is an unpaid request."
"Ultra low budget, so no upfront fee"

There are an overwhelming amount of posts with these phrases in them on craigslist and others, and we need to stand together against them so they don't completely ruin music for film. Films have inspired some of the greatest music of all time (Psycho, Jurassic Park, UP, Pink Panther, Star Wars & Forrest Gump), and it is our duty to keep this moving forward!
When you break down the filmmaking process, it's easy to see why music gets so frequently marginalized. Music is a final thought. A composer is almost always the last one to join the creative team, and at that point filmmakers have already spent their budget on production, talent, editors, DPs etc. The filmmakers who are posting the above headlines on craigslist exemplify a major problem in this business. Often times, they already paid their DP, editor, actors, make-up artists…but now it's time for music, and they have no money put aside for a composer, yet they expect someone to do the job at no cost. It's like losing 500 dollars in blackjack, and then being upset over the two dollar charge for the valet who parked your car. The two dollar valet fee pays the overhead and the employees' time, but it hurts to spend that money when you're already in debt. I am confident that filmmakers still see the value in music for film, however, we need to remind them that it's crucial to compensate composers for their hard work.
Composers should not be a last thought, but rather a key aspect of a film, one that merits fair compensation. The composers I know put everything they have into every job they have. They always deliver their best, even when they know they are underpaid or even unappreciated. It takes hundreds of hours of focus and dedication to deliver a film score (writing, orchestrating, recording, producing, mixing, mastering, etc.), and yet it's sometimes expected to be done to perfection, with little to no budget! We're in a world where the perceived value of music is less and less, and people think it can be created instantly on a computer. But in fact it takes an incredible skill set to create a powerful score. How do we instill the value of music into this artform? The solution is to put the choice into the filmmakers hands.
Because I am passionate about solving this problem, I created scoreAscore.com. I am a firm believer that "what you spend is what you get", and my experience running scoreAscore has proved this theory. Like all other creative individuals, the best scores are produced by composers who feel valued and appreciated. Anyone who has worked with professional composers on a project with a luxurious budget knows what they do to enhance a film. I want to create a healthy and fair way for media producers to find music, and for composers to contribute to projects. scoreAscore allows filmmakers to name their price for their music. The mission of scoreAscore is to value composers' work, so that all camps are happy. We can't afford to lose the professional composers in this industry, and if we don't pay them deservedly, we will lose the magic that music brings to films.
– Jordan Passman
Jordan Passman launched scoreAscore.com in May 2010. Born and raised in LA, music has always been a huge part of Jordan' s life. In his early career, he worked in the entertainment industry throughout college (Creative Artists Agency, Warner Bros. Studios & Warner Bros. Records). After graduating from Pitzer College, Jordan joined the Film/TV Membership Department of ASCAP (American Society of Composers Authors and Publishers) in New York.
Tweet

I once had dreams that our movement away from an impulse buy based entertainment economy, over into one based on choice and commitment, would lead to greater demand and thus increased funding for diverse, ambitious work of quality. Sigh… It seems, though, that the planet I live on asks those of us who care about such things to do more for less. Unlike some, I think there is a surplus of immensely talented folk out there with great stories to tell in interesting ways. Unfortunately, it is really hard for most artists to do great work on their own. And that's where producers come in. So it's completely frustrating when we are trying to do more work, but there is far less funds available to work with. What are we supposed to do?
Fortunately, not only does the technology improve, but there are some people out there who keep coming up with good ideas for our benefit. Today, I have a new one of those for you, one that can help you produce good movies for less money: scoreAscore.
I am going to let xcoreAscore's founder tell you all about it:
I'm Jordan Passman, founder and CEO of scoreAscore.com. I created scoreAscore to connect professional music composers and quality media producers.
Why scoreAscore? There are big project owners who can pick up the phone and call one of the top film composer agencies to find what they need. On the opposite end of the spectrum, there are film producers scrounging through overwhelming music libraries looking for great music.
With our Name-Your-Price system, scoreAscore.com gives you original music in an easy-to-use, safe and efficient environment. Each composer is a professional who has been personally screened; some have even won Emmys and been nominated for Academy Awards.
We offer 24/7 access to composers and their music, with a mission to pair the next John Williams with the next Steven Spielberg. Our current clients include: Directors, Producers, Ad Agencies, Video Game Publishers, Trailer Houses, Music Supervisors and more! Check us out. Feel free to reach out to me directly at anytime.
Take 50 seconds to check out this animation, explaining how scoreAscore works: scoreAscore.com/learnmore.php
Happy Scoring!
Jordan Passman
CEO/scoreAscore.com
jordan@scoreAscore.com
Jordan Passman launched scoreAscore.com in May 2010. Born and raised in LA, music has always been a huge part of Jordan' s life. In his early career, he worked in the entertainment industry throughout college (Creative Artists Agency, Warner Bros. Studios & Warner Bros. Records). After graduating from Pitzer College, Jordan joined the Film/TV Membership Department of ASCAP (American Society of Composers Authors and Publishers) in New York.Tweet