X
Looks like you are a new visitor to this site. Hello!
Welcome to Hope For Film! Come participate in the discussion, and I encourage you to enter your email address in the sidebar and subscribe. It's free! And easy! If you have any suggestions on how to improve this website or suggestions for topics please don't hesitate to write in to any of the blogs.
You can also follow me on Twitter or Facebook.
(If you keep getting this message, you probably have cookies turned off.)
Maybe the grass is always greener, but lately that other side of the entertainment industry has been looking all sparkly and bright to me.  
Okay, pushing the boulder up the hill is such an exhausting task, your mind can't help but wander and consider maybe there are some upsides to letting it all crash and burn and then starting over.  What happened when the music business flamed out? They didn't die. Have they risen from the ashes, stronger and wiser, with new tools in their belt, a commitment to get it right this time? [...]
By Sheri Candler
Originally published on www.thefilmcollaborative.org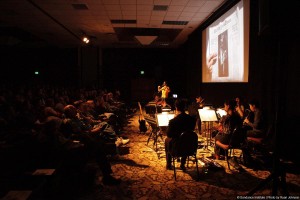 There is a lot of talk in independent film circles about the need to "eventize" the cinematic experience. The thought is that audiences are increasingly satisfied with viewing films and other video material on their private devices whenever their schedule permits and the need to leave the house to go to a separate place to watch is becoming an outdated notion, especially for younger audiences. But making your work an event that can only be experienced in a live setting is something few creators are exploring at the moment. Sure, some filmmakers and distributors are adding live Q&As with the director or cast, sometimes in person and sometimes via Skype; discussion panels with local organizations are often included with documentary screenings; and sometimes live musical performances are included featuring the musicians on the film's soundtrack, but what about work that can ONLY be enjoyed as a live experience? Work that will never appear on DVD or digital outlets? Not only is there an artistic reason for creating such work, but there can be a business reason as well.
In reading a New York Times piece entitled "The one filmmaker who doesn't want a distribution deal"  about the Sundance premiere of Sam Green's live documentary The Measure of All Things, I was curious to find out why a filmmaker would say he never plans for this work to show on streaming outlets like Netflix, only as a live event piece. I contacted Sam Green and he was kind enough to share his thoughts about why he likes creating for and participating with the audience of his work and why the economics of this form could be much more lucrative for documentary filmmakers. [...]
I feel most filmmakers are looking at this moment in time as an age of opportunity. But having gone through this revolution already in the music business, I feel compelled to tell you why right now we should be questioning everything.
There are countless comparisons between the music and film industries. On the critical side, both traditionally have had an extremely insulated network of good old boy executives who know little or nothing about the creative process, yet try to tell you how to make your art. Both have a history of obnoxious fat cats living in excess. Both still have an endless string of gatekeepers that have a stranglehold on the means of distribution, and who rarely showed much love for independent creators except with lip service at the cool film festivals.
But the internet revolution is changing all of that, so I decided to take the past 2 years away from my career as a music producer to make a documentary about this fascinating and often misunderstood subject that is near and dear to us in the creative world. The film is called 
Unsound
, and it uncovers the dramatic collapse of the music industry and its impact on musi­cians and creators of all kinds. 
The film reveals the larger story of how the unintended consequences of the internet revolution go well beyond the music industry, impacting creators of movies, books, software, journalism and more.
 Although there are so many positive changes in both the music and film industries, what is more interesting to me is what most people don't know. So I decided to take a more critical look in this film.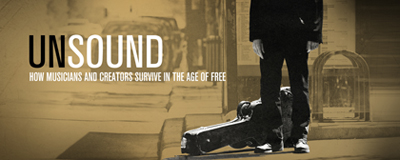 The music industry was perhaps the first to go through the digital transition. For better of for worse, the smaller file sizes of music made it a primary target for piracy over the much larger sizes of films. By watching the mistakes made by the music industry, and having a few years head start to prepare, the film business has really had an enormous advantage over the music business. But this does not mean all is well. [...]
By Roger Jackson and Klaus Badelt


Previously: Music for Movies, Expert Tips, Part I of II
This is Part II of Expert Tips from composer (and Kinonation co-founder) Klaus Badelt. Klaus has scored over 80 films. His work spans Hollywood blockbusters such as Gladiator, Pirates of the Caribbean, Catwoman, Poseidon, Rescue Dawn, 16 Blocks, The Recruit, K-19. And a ton of US and European indies, including documentaries, shorts and even video games.
11. Choosing a Composer
When seeking a composer, you're actually looking for a "filmmaker" to work on a dramatic collaboration — he just happens to be called the "composer." The worst thing you can do is to ask for demo music for a scene of your film from 5 different composers. Why? Because creating a score is collaborative and if you ask for demos you don't learn or experience collaboration with the composer. You're much better off asking for score examples from their previous films. But your main objective should be to find a composer you trust and like…with whom you can talk story first, music last. A good composer must be, above all, emotionally invested in the story you're telling. [...]
By Roger Jackson and Klaus Badelt

Previously: Whatever It Takes
Some directors believe that music is a full 50% of a film. And that there are fundamentally just 3 or 4 "true" creative inputs to the movie — the writer, the director, the composer…perhaps the editor. Whatever the numbers, movie music — that skillful combination of score and song — has the potential to turn a good story into an amazing audience experience. But how do you musically super-charge an indie film when you don't have the budget to hire a top composer?
I asked Kinonation co-founder — and prolific film score composer — Klaus Badelt.
Klaus has scored over 80 films. His work spans Hollywood blockbusters such as Gladiator, Pirates of the Caribbean, Catwoman, Poseidon, Rescue Dawn, 16 Blocks, The Recruit, K-19. And a ton of US and European indies, including documentaries, shorts and even video games.
Here's what Klaus has to say about making the very best — and most economical — music choices for a film.
1. Composer as Filmmaker
The director-composer relationship is that of two filmmakers. It's not about musical genres, or instruments. It's about driving the story and emphasizing characters and creating emotion. That's the role of music in film.
2. Script
Think about music (both score and songs) at the script-writing stage. Fundamentally, a filmmaker must decide what character development and story arc she wants from each scene. That is, how do you want the audience to feel about this episode? There should be a single, unambiguous answer. i.e. every shot in every scene must have a clear objective in moving the story forward. So thinking about the music at this stage– and making musical choices — actually helps propel and clarify the script-writing process. Deciding where the music in each scene starts — and where it fades — forces you to think with greater clarity about story shapes & arcs. [...]
guest post by Brian Godshall
I know how important music can be to your projects.I wanted to point out some new developments in the music business that may prove advantageous for any upcoming media you are producing. You may already be aware of some of these and some may be new to you. I hope this information is helpful. After you've taken a look at this, if you have any questions, please feel free to contact me.
1. Putting brands together with music and indie films I have been working on some ideas and connections to put together a brand or brands with music and indie films. Specifically I am proposing that an advertiser can pay for some or all of the music rights in an indie film in exchange for co-promotional opportunities. If you have questions or are interested in this concept, please contact me directly. [...]
The world keeps getting better and better — at least in terms how we can create better work and get it seen. Today, has brought some more good news.
Blake Whitman, Vimeo's VP of Creative Development, announces Vimeo's New Music Store:
In addition to being Vimeo's VP of Creative Development, I also make videos. Something that I've been struggling with for a while now, is how to find music that I can legally use in my videos. I search and search and search every music related site on the net and it ends up taking WAY too much of my time. And even when I find that needle in the haystack, figuring out how to actually use the song (legally that is) is a whole other story. Do I contact the musician? The label? Do I need an attorney and who's going to pay for that?!
So we had an idea. Wouldn't it be great to create a place on Vimeo to easily discover, license and download music? Well, the obvious answer is OF COURSE, but we wanted to make sure it would be easy and intuitive to use. So we decided to create Music Store, a music library powered by two great curated music providers, Audiosocket and the Free Music Archive. The library allows anyone to search tracks by lots of different criteria and provides license agreements right there on the site. You can purchase and/or download music easily and then throw it in an editor and start editing!
Check the key features:
• Over 45,000 songs
•Three types of licenses: 1) Creative Commons licenses which are free (yes free), 2) Personal use, Non-commercial, web-use licenses for the casual user which are $1.99 per track; and 3) Commercial, web-use licenses for professional users which are $98 per track.
•Searchable by over 100 features like tempo, mood, theme, genre and instrumentation
Vimeo's mission is to inspire and empower video creators. Vimeo Music Store is just another step in our effort to help people make better videos! Check it out here: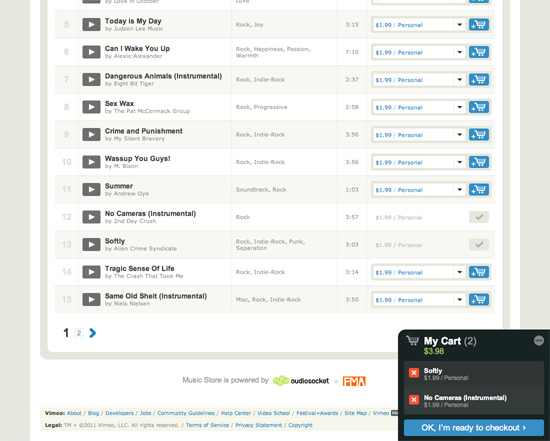 Tweet