X
Looks like you are a new visitor to this site. Hello!
Welcome to Hope For Film! Come participate in the discussion, and I encourage you to enter your email address in the sidebar and subscribe. It's free! And easy! If you have any suggestions on how to improve this website or suggestions for topics please don't hesitate to write in to any of the blogs.
You can also follow me on Twitter or Facebook.
(If you keep getting this message, you probably have cookies turned off.)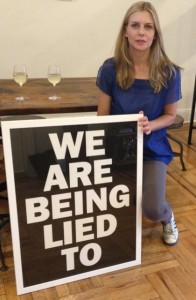 Filmmakers, you've been lied to. Film school has taught you to pitch the WHAT about your project — WHAT is the story, WHAT is the cast, WHAT are the target group for the film etc — but the WHAT is not the most important element when it comes to crowdfunding. The WHY is!  You see it comes down to your likability on camera.  'But I'm cool and I'm a great filmmaker' I hear you say. While that's good for you, that's not why people want to engage with your crowdfunding campaign.  [...]
Over the past years I directed two no(?)-micro(?)-low(?)-budget (what's the latest on who qualifies?) features and a dozen short films and almost every time I held open community meetings seeking the public's support.  I didn't think this was anything special but the producers on Free in Deed asked me to describe the rationale for running 'Open Call Info Sessions' to the community on low-budget projects instead of traditional 'closed-door auditions'.
[...]
By Rob Millis
Two changes in tech and finance are about to have a huge impact on independent film: crowdfunding and the JOBS Act.
We all know about Kickstarter and IndieGoGo, the crowdfunding platforms that have been helping independent creators launch projects. These platforms and others have already been hugely successful with DIY projects and direct-to-fan networking, yet even after years of growing popularity they haven't come anywhere close to their full potential.
Last year the Slated networking and fundraising platform joined the market as well. Slated offers a system geared toward film professionals seeking (or supplying) investment dollars. Unlike previous crowdfunding platforms, Slated's approach is less about DIY and more about professional partnerships. In short, they are taking crowdfunding to the next level. [...]
This past week, we've had a lot of input from filmmakers who have used the IndieGoGo crowdfunding platform. Filmmakers have been sharing techniques and best practices on what made their campaigns a success. It's a practice we hope will continue for all filmmakers, across all platforms, utilizing a wide range of tools. Let's figure this out, together.
Today is no exception. Although a lot has already been said on the subject, there is still more that can be added about how to make crowdfunding really work for your film.
A FEW MORE THOUGHTS FROM DAVID FINE, OF SALAAM DUNK (Los Angeles Film Fest)
Make sure the trailer for your film is strong
We waited to put up our Indiegogo page until we were all really happy with the trailer. For many it was the first thing they saw of a project that they had been hearing about from us for quite some time. I think asking for small donations from friends in the same breath as showing them the first thing they've seen of your project will create more donations.
Don't worry about setting your goal low
We were worried that people would see we got to our goal and stop giving. But they didn't. It's better for your $ and your morale to set a goal you think you can reach. That's how we left this experience feeling anyhow.
Make your crowdfunding efforts a way to boost team morale
Keep full control of our project through crowd funding has been a blessing. But honestly, a big part of the boost that we got from IndieGoGo was morale. I had been cutting the film for 9 months and we were not yet in a festival. Having people respond so positively to our trailer, so positively in some instances that they donated money, that felt great and really re-energized me at a time when I was running out of gas.
Tweet

We all one know how to do more with the very little we have. This is the year the indie film world turned to each other for help. And people responded. It is so exciting that we are working together to get the work done. Indie / Truly Free Film has never been more of a community!
In just the first half of this year, eleven films that raised money on IndieGoGo appeared in the world's leading film festivals. From Tribeca to Sundance, intrepid filmmakers learned the ropes about what it takes to make a splash in these festivals. This is the first in a series of posts are from the teams behind some of these films.
–Adam Chapnick, IndieGoGo
RIDING THE INDIEGOGO TRAIN STRAIGHT TO SXSW WITH HAPPY NEW YEAR
by Happy New Year Writer/Director K. Lorrel Manning & Actor/Producer Michael Cuomo
In January of this year, we received a call from the great Janet Pierson (Head Honcho of Film for SXSW) informing us that our film Happy New Year had been accepted into the Narrative Competition at the 2011 SXSW Film Festival.
Based on the critically-acclaimed Off-Broadway play, then an award-winning short film of the same name, Happy New Year tells the story of Sgt. Cole Lewis, a wartorn Marine who returns home after four tours of Iraq and Afghanistan to face his fiercest battle yet – the one against himself. The film is an entertaining yet hard-hitting look at the perils of PTSD (post-traumatic stress disorder).
We reviewed our budget and quickly surmised that we needed about $25K to not just make a decent splash at SXSW but have the additional funds to attend upcoming festivals as part of continued promotions. Though the news of our acceptance was huge, we were forbidden to publicly announce it for nearly 6 weeks. We had a group of investors but how in the hell were we going to raise $25,000 and not share our biggest news? Many stepped forward stating that they were not in the position to invest but wanted to help out in any way that they could. IndieGogo became the answer.
After studied several studying other campaigns on the IndieGoGo website and bombarding, Slava Rubin (one of the Founders), with dozens of questions, we began to plan our campaign.
Here were the milestones:
Shoot short behind-the-scenes pitch videos
By involving different cast members talking about his/her real life connection to the material we created a human element to the campaign. These scenes were interspersed with some scenes featuring them from the movie.
Announce the video roll out via email, Facebook and Twitter
We posted these videos every two weeks, an idea that proved to be extremely effective. It was a way to excite and inform our fans .
Turned our entire team into evangelists
Everyone from management to each of the featured actors became spokespeople for our campaign, each one going out of his/her way to spread the word. This won the project more support and created an in-built audience for the film.
Identified tactics for our last days of funding
We timed our last video to be posted an hour after the SXSW Festival announced the 2011 competition lineup. In hindsight, saving the biggest news for the final push actually turned out to be our best move.
We decided to parody Bob Dylan's "Subterranean Homesick Blues" video by shooting our SXSW announcement in the midst of a snowstorm in a discreet NYC alleyway. This was a more celebratory video in comparison to our more serious videos and it turned out to be a game-changer. The shift in tone worked perfectly – we raised $26,390!
Our decision to join forces with IndieGogo was invaluable. The campaign forced us to become more aggressive and savvy in the area of social media. The pitch videos allowed us to exercise the creative sides of our brains that were often stymied with the challenges of post-production and festival strategy. And we were able to see that with a lot of hard work and faith, anything is possible. Would we do it again? Definitely!
HAPPY NEW YEAR – www.happynewyearsfilm.comTweet

Google became a verb several years ago. In the Indie / Truly Free Film space we are close to verb-izing another company. But just like all tissues are not Kleenex, there are many crowdfunding platforms out there, and it is worth not forgetting that. Find the platform that works best for your film, as there are plusses and minuses on everything.

Today Adam Chanpick speaks of the films (and some of the benefits) of crowdfunding platform IndieGoGo.
14 IndieGoGo Films Showcased at World-Class Festivals in 2011
IndieGoGo filmmakers have been rocking the world stage in 2011. In the first six months, no fewer than fifteen films that successfully campaigned on IndieGoGo appeared in the world's leading film fests, including Sundance, SXSW, Cannes, Tribeca Film Fest, HotDocs, and LA Film Fest. These films have gone on to win top awards (Tribeca Audience Award) and get picked up by top distributors (The Weinstein Company).
In my responsibilities at IndieGoGo and Distribber, I'm regularly asked for advice and help with all facets of film finance and distribution. After answering so many of these one-off questions with the words, "lots of IndieGoGo campaigners have already figured that out," it's clear the filmmaker community would benefit from an update from IndieGoGo filmmakers who have had success.
As background, since 2008, the independent film community has been a central part of the IndieGoGo family; thousands of films have raised money for production, distribution, festival travel, promotion, marketing and for many other film funding needs.
IndieGoGo is partnered with leading organizations like Fractured Atlas and the San Francisco Film Society to offer filmmakers fiscal sponsorship services (Fractured Atlas campaigns recently passed $1,000,000. Sheffield Doc/Fest, one of the world's leading documentary events, also has been an active and innovative partner.
Below is are links to all the amazing films, grouped by the festival in which they appeared. I encourage you to check out each campaign to learn more about pitch videos and copy, updates and perk selections, and how to engage an audience.
LA Film Fest
2. Wish Me Away (1)
Wish Me Away (2)
3. Salaam Dunk
Cannes
4. Cerise
HotDocs
Tribeca
6. Give Up Tomorrow (Won the audience award!)
7. The Bully Project Film (Was picked up by Weinstein Co.)
8. Love Hate Love – Tribeca Travel
SXSW
9. My Sucky Teen Romance (1)
My Sucky Teen Romance (2)
10. 8 (Award winner)
11. Sound It Out (1)
Sound It Out (2)
Sound It Out (3)
12. HAPPY NEW YEAR
Sundance
14. The Rocket Boy
All of these campaigns succeeded on many levels, but there are three key areas that they nailed: They each had a great pitch, a proactive team, and each found the audience that cares about their passion and interacted with them consistently and creatively.
Over the next four days you'll hear from four of the filmmakers behind these success stories, who'll share key takeaways, tips, and tricks about their journey from funding to festival. I hope their learning helps your film become the next success story.
Adam Chapnick
IndieGoGoTweet

I think you know how enthusiastic I am about all the tools and services out there to get our work done and share it with the community. We have moved from the Era of How to one of How To Do It Well. It is time to truly develop best practices.
Luckily this blog has become a bit of a platform for the community to share what we've learned. We are recognizing that we can build something better together. Today, filmmaker John T. Trigonis shares what he's learned marrying Twitter to his IndieGoGo crowdfunding campaign.
Perhaps the most time-consuming part of any crowdfunding campaign is getting the word out about your project. Fortunately, we're lucky to live during a time that's made promotion as easy as sending an email or updating your Facebook status.
Twitter, in particular, has become a powerful force in the universe of marketing your campaign because of its real time nature. The challenge, however, is to keep from succumbing to the dark side of promotion––Spamotion.
Here are a few tips that I've learned through my own experiences crowdfunding my short film Cerise and by keeping a keen eye on other IndieGoGo campaigns.
Twitter Tip #1: Be a Prologue Before a Petition
IndieGoGo co-founder Slava Rubin says it best: "The world is shifting from a world of transactions to a world of relationships." That said, it's probably not the best idea to jump into promoting your campaign on Twitter if you don't already have a strong following.
I joined Twitter on May 4th, 2009. I began crowdfunding for Cerise on February 2nd, 2010, nine months after I had birthed a modest following. The first people I followed were friends, of course. Then I started searching hashtags (#film and #filmmaking, for example) and following handles like @grking and @kingisafink––people who shared similar interests. Before long, I was engaging in meaningful 140-character conversations about obscure directors like Jodorowsky and sharing my insights on filmmaking with those who followed my tweets.
It would later be these same followers who would make up my core of initial funders for Cerise. But had I not given myself ample time to genuinely get to know them, to forge actual relationships instead of networks, I would have come across as a spam artist once my campaign had begun.
Twitter Tip #2: Creativity is King
It's important to be creative when phrasing your tweets. It takes a little more time, but your followers will appreciate it since they'll see that you're not a @CampaignBot but an actual person who painstakingly crafts each and every promotional tweet as a affirmation of the passion he or she feels for it.

This is a pretty standard, run-of-the-mill tweet.

This tweet, however, shows a bit more pizazz and character!
But even a fun, quirky tweet like @Tearsinrain78 and @grahaminman's will lose its charm if you see it three times in a row. Linking your personal Twitter account with your project's can be detrimental to your crowdfunding efforts. Chances are the majority of your followers are also following your project, so if your accounts are linked, your tweets will quickly become redundant. Put in that extra effort and make every tweet from every account something special and worth reading.
Twitter Tip #3: Always Include Your (Shortened) Link
When tweeting about your campaign, always include a link to its home page so that the first thing a potential funder sees after they click the link is your pitch video.
And because every letter and space is precious on Twitter, you should always use a link shortener like Bit.ly or Ow.ly. I use Bit.ly the most because aside from its tracking capabilities, the site also allows users to customize their links, so your link could read bit.ly/TaoCF, which will bring you to my first Tao of Crowdfunding post "Three Ps for a Successful Film Campaign." This way, it's easy to remember while on the go and when using a mobile Twitter client.
Another favorite of mine is Hootsuite's Hootlet, which allows users to shrink and share a link from a page they're currently viewing. The Google Chrome-based web browser RockMelt has similar features for maximizing your social media output, though for now it's a close third for me since it's still in its most primitive beta stages.
Twitter Tip #4: #Hashtag #Everything #Relevant to your #Project
In every tweet you send, be sure to hashtag words and phrases related to your project and campaign. This makes it easy for random people to find your project on Twitter or through a Google search.
One thing you'll want to do is find out what words or phrases bring specific communities together on Twitter. They're sort of like little galaxies in a vast cosmos. For instance, if you're making a movie, I've found that #film, #indiefilm and #filmmaking are popular hashtags for connecting to these communities.

Right away I know that this is a romantically comedic film based in Oregon.
If you're working on a #vampire #film that's got elements of #filmnoir and #comedy, then you're quadrupling your outreach into the seemingly endless depths of the Twitterverse.
Twitter Tip #5: Remember––Don't Solicit, Elicit
I introduced this nifty slogan in my previous blog post "A Practical Guide to Crowdfunder Etiquette" and it's here as well because it's doubly true when using Twitter.
Asking people to visit your IndieGoGo page will only get you so far in your campaign, but if your aim is to raise upwards of $15,000, you'll need to expand your network and start eliciting responses from potential funders and supporters.
So what's the difference between soliciting and eliciting? Well, here's an example of a tweet that solicits, or asks, for help:

Now there's nothing wrong with a tweet like this, of course; it's very similar to the "Make it happen for (fill in your campaign here)" tweet we saw at earlier. But look at this example of a tweet that elicits, or evokes a response:

Obviously, this tweet for finishing funds for the film Jenny is meant to intrigue and make you want to click the link to see just what this campaign is all about.
Twitter Tip #6: People Need Their Space
Some people (myself included) still prefer to append their own messages before an "RT" and as much of your original message as possible. However, if by the time you click "Send" your character count is at zero, you risk possibly losing a personalized retweet that could elicit funds from other people's followers.
The retweet button can seem a bit cold a way of spreading the word about your campaign, especially if the person doing the retweeting feels strongly about your project. A well-crafted tweet is no accident, but remember to keep it short and simple and leave at least 15 characters available for that super passionate backer to RT with ease.
Twitter Tip #7: @Everybody
Whenever you thank a contributor, be sure to mention (@) that person on Twitter. If you're not sure if they have a Twitter account or don't know that person's handle, do a quick Google search of that person's name and "on Twitter" and you'll find him or her fairly easy.

The crowdfunders behind Jenny are thanking by name and by Twitter handle.
Even if they don't use Twitter much or if their little pastel egg of a profile picture hasn't hatched into the person you know and follow, show your appreciation anyway so it's on the record, transparent and in plain site of everyone.
Bonus Tip: Avoid "The Flood" at All Costs!
Charlie Chaplin said it best in his famous speech at the end of The Great Dictator: "You are not machines, you are men" (and women!) That said, do not flood your feed with tweets exclusively about your campaign.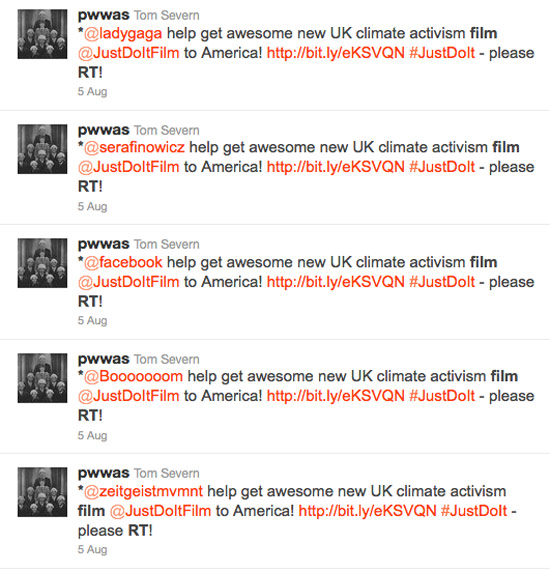 This example speaks a thousand words.
While crowdfunding is a full-time job and you should maintain a steady presence on Twitter while you're campaigning, you should still be interacting with your followers in ways unrelated to your #Project. Remember, people give to people, not @bots. Once you nurture and maintain those relationships as a person more than a campaigner, you build a network that will walk beside a person they'll forever be proud to know and support.
At the end of the day, it's really all about personalization. That's the most important thing to walk away from after reading this Tao of Crowdfunding blog post aside from a handful of helpful Twitter tips that will make your campaign a bit more approachable and more likely to reach its IndieGoGoal.Tweet