X
Looks like you are a new visitor to this site. Hello!
Welcome to Hope For Film! Come participate in the discussion, and I encourage you to enter your email address in the sidebar and subscribe. It's free! And easy! If you have any suggestions on how to improve this website or suggestions for topics please don't hesitate to write in to any of the blogs.
You can also follow me on Twitter or Facebook.
(If you keep getting this message, you probably have cookies turned off.)
Today's guest post is from attorney and sales rep George Rush.  It is part one of two. George handled the sale of Michael Tully's Septian to IFC's Sundance Selects.
I have worked as a lawyer or a producer's rep on hundreds of films over the years, and this experience has made me quite skeptical about the business model for independent producers.  The business is worse than it has been historically, but it is still the same very basic model.  You produce a film, a distributor exploits those rights.  You are good at creating content, they are good at marketing.  Hopefully those two things come together to benefit both parties.
I'm a hyper skeptic of producers essentially acting as their own distributors because generally they aren't strong in both skill sets, and thus something usually suffers.  So I usually assume a producer is good at producing, and try to leave it at that.
Most of what I work on is low budget films with few if any stars.  Ten years ago, I considered a low budget film under two million dollars.  Today, I consider it under $500,000 and believe if you do something for a larger budget without a truly bankable cast, you are being reckless with your budget.
The distribution business has become tougher and they are paying less for content, and thus budgets go down correspondingly.  So how can you make something quality for under $500K—most people fail at this effort and there is a glut of so so films that just can't compete with larger budgeted film—they are clearly inferior.  Indeed, most festival films in this budget range will never see the light of day beyond the festivals.  However, I don't know how, but some people do.  It takes an extremely resourceful producer and director who is willing to take some chances to pull it off.
Enter Michael Tully's Septien.   [...]
We have a bit of a redundancy in the recognition of those that create good work, but that good work does not end with what is up on the screen — which is the part that everyone seems to want to write about.  I feel however that we must recognize those that focus not just on the development and production of good work, but those that commit themselves to ALL of cinema, including discovery, participation, appreciation, and presentation — what I consider the other 4 pillars of cinema.
Last year at this time, I put forth 
a list of inspiring folks
, people who by their acts and ideas were giving me the energy to keep striving for a better film culture and infrastructure, one that was accessible to all, and slave to none. We are closer to a truly free film culture this year than we were last year, and I remain optimistic that we can be a hell of a lot closer next year than we are today, thanks in no small part to the 40 I have singled out these two short years.
This list, like last year's, is not meant to be exhaustive. Okay, granted I did not get to the quantity to the 21 Brave Thinkers that I did last year, but the quality is just as deep.  Regarding the lesser amount, I don't blame the people — I blame the technology (of course).  I wish I had better tools of discovery that would allow me to find more of the good work and efforts that are out there. I know I am overlooking some BTs again this year. But so be it — one of the great things about blogging is there is no need to be finished or even to be right (although I do hate it when I push publish prematurely — like I did with this — when it is still purely a draft).
I know I can depend on you, my dear brave thinkers, to extend and amend this work into the future.  I do find it surprising how damn white & male & middle aged this list is.  And that I only found two directors to include this year.  Again, it must be the tools and not the source, right?  Help me source a fuller list next year; after all, it is as Larry K tweeted to me about regarding who are the most brave these days: "Those whom you don't know but who continue, despite the indifference of all, to create work that is authentic,challenging and real."  How true that is!
Last year I asked and stated: "What is it to be "brave"? To me, bravery requires risk, going against the status quo, being willing to do or say what few others have done. Bravery is not a one time act but a consistent practice. Most importantly, bravery is not about self interest; bravery involves the individual acting for the community. It is both the step forward and the hand that is extended."
This year, I recognize even more fully that bravery is a generosity of spirit, as well as a generative sort of mind.  It is extending the energy inside ourselves to the rest of the world.   I often get asked why I blog (or why so much), and I have no answer for those folks.  It can't be stopped, for I believe if we love the creative spirit as much as the work it yields, if we believe we create for the community and not for the ego, how can we not extend ourselves and turn our labor into the bonds that keep us moving forward.  In other words, no one can afford to create art and not be public (IMHO).  If you want a diverse and accessible culture of ambitious work, you can not afford to simply hope it will get better — you have to do something (or get out of the business, please).
So without any further adieu, here's my list of the nineteen folks who have done more on a worldwide basis
to start to build it better together, [...]
Michael Tully of HammerToNail has a really great interview with Edward Burns on his path from small to medium to sorta big and then back again.  It's filled with the kind of insights that can only be offered by those that have been there — and are willing to be truly honest, with both themselves and us.
I remember when we were at Tribeca, and John Sloss, who I'm sure you know, has this new venture called FilmBuff, who is our distribution partner with this film. And he gave me an argument, but not so much for VOD. Maybe five years ago, I had this movie called Looking For Kitty. And the movie got one tiny, tiny distribution offer from THINKFilm. It was one of those no advance partnerships, and we had made the movie for a quarter of a million dollars. John said, "Look, you're gonna sell the movie for nothing and they're gonna own it, just so you can satisfy that part of your ego that wants the film to be released theatrically." He goes, [...]
Matthew Porterfield directed 2006′ HAMILTON.  His new film PUTTY HILL debuts in Berlin on February 18th.  I was really impressed with Hamilton and leapt to the call when I heard he was using Kickstarter to finish the film.  I also asked him what he was up to.  The following is his response, and represents TFF's first joint post with HammerToNail (additional photos available there).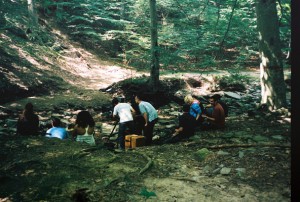 2009 was the summer of my liberation. After three years developing a script I never made and marketing it to a sleeping industry, I declared independence and made a film without permission.
This film, my second feature, Putty Hill, will premiere this month in Berlin as part of the 2010 International Forum for New Cinema. It marks a fresh approach to American regional cinema that stands apart from the romantic, anthropological, and formally conservative examples that have emerged on the art‐house circuit in the last few years. This has little to do with my talent and everything to do with our means of production. Truly collaborative, egalitarian, and economical, the traits of our model appear in stark contrast to the division of labor and totalitarian authorship characteristic of most film productions, even those made on the smallest scale, still beholden to a model developed off the Pacific coast and commodified in the dead shadows of Manhattan.
As a commodity, independent film has failed. Yet, regional cinema, of all the arts, has the greatest potential to achieve something close to objective reality, if such a thing exists. Its ontological value cannot be denied. Yet, in order to reach its potential, regional cinema must be freed from the confines of the old marketplace and made in a manner that honors its subjects, its audience, and their environment as authors and players in a collaborative process of production and distribution.
Perhaps this is nothing new. We're learning as we go. But, I'll proceed as if our process is novel in these times, and for the sake of argument, if nothing else, detail the progression of Putty Hill from conception through development and into the early stages of distribution.
Putty Hill was born from the ashes of a full feature script called Metal Gods, which chronicled a week in the lives of a group of marginalized kids in Baltimore City who live and love heavy metal. I wrote it with my collaborator Jordan Mintzer. Determined to make our sophomore effort a memorable one (after our critically‐ acclaimed but relatively hidden first feature, Hamilton), we worked hard on developing a regional story with universal themes. In 2007, we began casting and assembling the ingredients to shoot in the summer of 2009. Money was a big concern – our low budget estimate was $350K ‐‐ and we peddled the project to everyone we knew and many we didn't, inside and outside the industry.
In September of 2008, the screenplay was accepted to participate in IFP's Emerging Narrative Program at Independent Film Week. This opportunity provided us with a chance to sit down with independent producers and financiers, and we had many meetings, friendly and informative, which resulted in broad smiles, handshakes and even some business cards. We followed up as best we could, but unquestionably, the most valuable thing that came from the week was a grant in the form of a camera rental from IFP and Panasonic. Going into Putty Hill, when we finally put Metal Gods aside, this was all we had: a camera, $20,000, and 12 days to shoot.Because we couldn't find financing, our hand was forced, and there wasn't the time to develop a new feature‐length screenplay. We decided instead, since we had cast, crew, and locations in place from our time spent in pre‐production on Metal Gods, to move forward with a five‐page treatment crafted from the experiences and environments familiar to the team we had in place. I hoped it was a feature, but was hesitant to call it one, having not directed such a brief and open scenario before.
In essence, Putty Hill wasn't much on paper. It was an outline, a skeleton that my dedicated cast and crew, and the community at large through their unending support, brought to life. Each of us on production, from my students at the university where I teach, to my cinematographer, Jeremy Saulnier, were equally invested and involved in the success of the project. Every actor was non‐ professional; our AC was also the Head Gaffer; one of my producers had never worked in film before, neither had our script‐supervisor; my wife was the costume designer; our editor had never cut a narrative feature; local businesses donated food, services, and equipment; people took off work and didn't get paid. Writing this, I realize I'm describing the familiar clichés of the low‐budget indie film experience ‐‐ it's nothing new. Where this project differs from the norm can be seen onscreen, in the product, which honors the contribution of every component member of production. If nothing else, I'm confident of that. Plus, it's sexy as fuck.
Though we've been invited to premiere at the Berlinale and SXSW, Putty Hill is unfinished. We've amassed over $10K in credit card debt, none of which has gone to compensate our post‐production team for their services. In addition to debts owed, we have large festival and marketing expenses mounting, upwards of $20K.
If our production followed the Pedro Costa model, let's say, our post and distribution strategy follows the Four Eyed Monsters model, thanks in large part to Kickstarter, a site developed under the influence of the fundraising and marketing strategies originated and implemented by Arin Crumley. In keeping with our objective to focus on the local while reaching the widest audience possible, we've mounted two successful fundraising campaigns in Baltimore, Maryland, which have raised over $5K. These, in conjunction with the Kickstarter campaign, have helped us reach our projected goal of $10K in just one week. But that's less than half of the money we estimate we need to complete Putty Hill and ready it for exhibition.
Ultimately, our methods of working and our limited resources have allowed my team the freedom to stay open to the potential for magic, which only appears when things are left to chance. There are no rules to follow to guarantee the emergence of magic (which, in turn, leads to an audience's experience of surprise), but there are a list of things to avoid. I won't go into them here, but you might guess what they are. Or maybe they're different for each of us. As in life, when we wish to be free, we must be willing to break the rules and work outside the system, even in the face of poverty and obscurity. I make $20K a year, yet I'll continue to pay my collaborators first. How about you, filmmaker? What do you make?
– Matthew Porterfield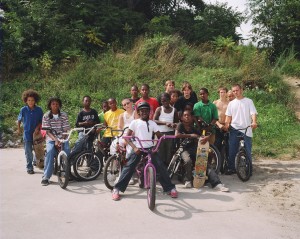 Clive Davies-Frayne, bugged by my endorsement of Scott Macauley's brilliant, slightly-tongue-in-cheek, letter from the future, took the time on his Filmutopia site, to write an open letter to me.
I love how conversations can grow and flourish these days, across borders, opening our minds to different perspectives and greater understandings. I am a big believer that this sort of discussion is the way that solutions are found. Although I know I won't be able to make a habit of answering such open letters, but since Clive got this started I thought I would keep the ball up in the air a bit. Clive asked the following question (and a few more), and I will do my best to answer.
Is distribution really the biggest problem facing the independent movie sector?
I don't really subscribe to the all-or-nothing approach, but distribution, and it's cousins the marketplace and marketing, are definitely among the issues. The indie sector has flourished over the last twenty or so years. These movies weren't being seen previously although they still got made. We've watched their box office, and the expectation there of, soar. The folks who distribute mainstream indie product have gotten incredibly skilled at their job at getting the word out about the films they select. But the filmmakers themselves have only recently started taking responsibility for some of this task.
Building all filmmaker's skills at marketing and publicity is certainly one of the tasks before the community these days. If you ask me this should be an equal emphasis and film schools and advocacy/support organizations. It's interesting that there are many labs for content creation but none on marketing and distribution. If the last decade in indie film was about the demystification of the development, production, and sales process, then this next period will hopefully do the same for discovery, promotion, presentation, and appreciation.
Getting the word out about non-mainstream or mass market indie work is a huge problem in the industry. If you are a true indie film lover and want to know what is new and good, where do you go? All these films show up at film festivals all over the country, but are soon forgotten. Newspapers don't cover them. How do you know where to even learn more about them? I started a website called
HammerToNail
to do something about it. There, filmmakers write about the films they love. We don't publish the negative reviews because there are enough haters already out there. I personally don't publish reviews because I have too much on my plate already and it is not where I think I can be most effective.
I do think it is crucial we all take a big hand in getting good work seen and spoken about. I encourage audiences to do this
regularly
. I encourage all filmmakers to take on the role of curator. I started a screening series with my partner Anne Carey and the good folks at Goldcrest in NYC. We have screened over twenty films this year. We send out about 1000 invites to these screenings to "influential media types" where we write a personal letter explaining why we admire the film. The theater only sits about 60 so it doesn't compromise box office potential but builds the base of early adopters. I generally run the Q&A afterwards. AFTERSCHOOL was one such film that we screened which later got a small theatrical release. I sent
an email blast to 120 NYC directors
asking them to support each other and this film specifically and agree to run Q&As nightly at the theater to build an audience; I conducted one Q&A myself. We all have to band together to get the word out if great work is to flourish.
Screening series and review blogs are extension of the work I have done on film juries and mentorship programs. I do as much of these as I can. It is exhausting and a big time commitment. I enjoy each of these a great deal. I wish I could do more of it but I am still trying to figure out how to earn a decent living. It's interesting that when I do such things in other countries, there is often government support, but here it is always pro bono. It becomes a time management issue where I often have decide where I am getting paid (it never is substantial enough to say "one for me, one for them").
I maintain another blog called
TheseAreThoseThings
. It is a curatorial blog where I talk about the films, music, and other things I love. I wish I could do more of this but man am I busy. I try to bring more attention to the things I love, particularly to the things that I feel might be overlooked. I could use some more help on this. You might be right though Clive; beyond these blogs, screening series, and Q&As, perhaps there is more that I could do in general to promote other people's work. I would like to be more efficient and successful at getting the word out. I look forward to any suggestions people have about how to do this.
It's true that we need much more discussion on what makes work good or at least better. I wrote up a 32 part article called
"Qualities Of Better Film"
on a column called
"Let's Make Better Films"
on HammerToNail. It was a lot of work and some folks found it helpful. I admit I was disappointed that it didn't generate more discussion. I develop a great number of projects. I have probably produced more films by first time directors than anyone else; it's more work focusing on new directors and new writers and is not as financially rewarding as other approaches. I do it because I love new voices and new approaches. Four of our scripts have been nominated for Oscars. I think this is both because we know when to push harder to get something "right" and because we also know when to leave well enough alone. Suffice it to say though we usually go through thirty or so drafts on a script. In the years I spend developing a project I don't get paid; I do it on faith that we will get to where we need and others will recognize the necessity of getting the work made.
Ultimately, I think what generates good work is simply making better work. I have been involved in over 60 films. I think they are pretty good. At times I fight so hard to make them better (in my opinion) or make sure they get seen, I damage some relationships in the process. I know this is not good for my "business" but I think it is good for the business over all. Getting movies made and getting them out to the audiences doesn't come from anything other than good and thorough work. I started with no connections or any money or any real knowledge, but I did have a great love of cinema and I took both an appreciative and critical approach. I work hard to make sure I am inspired about work in general today as I was when I started. I hope to make another 60 or so films, and to both make them better and to work better. I think that labor will have a greater effect than anything I can ever say.
As I said before, I helped found
HammerToNail
. The work that has been done there has not been seen as widely as it deserves, but it has been very inspiring to me. Generally traveling the film festivals and viewing the submissions that come into my company (did I say we get over 3000 annually), I find three or four directors that I think will develop substantial bodies of work. Due to the filtering the
HammerToNail
crew did for all of us, last year I recognized at least eighteen new directors (from America alone)whose work I will follow their every move of. Good work is being made and talked about, you just need to work hard to find it and use the right tools. Spreading the word about those tools seems to be what people need most right now.
Regarding self-distribution and whether it makes sense for films of certain budgets, you are right in saying that it doesn't. But I do believe it could. The point is that the model is just now being built and it is the entire communities responsibility to build it. There has always been a self-defeating attitude amongst certain creators that they can't get involved in the business or promotion. It is an absolute necessity that they do in my opinion. I have always approached budgets as something the market sets. We don't have government support for the arts in my country so I have not had the luxury of any other way of thinking. To design a film that requires a cost that can't be recouped is irresponsible and generally will have a devastating effect on all of us. We need to rebuild the model from the bottom up. We have to design our work for a price that justifies experimentation. When we find success, we can then build on top of it.
There's a lot more to be said on all these topics. I am glad you found THE SAVAGES and I will certainly check out the film you recommend. I wish I had time to keep on writing but I have to surrender my computer to my nine year old son who wants to tell his friends about what he's learned in the last 24 hours about Bakugan and the Lego mini-fig he just customized. And besides I have some scripts to read and some movies to make a bit better. Thanks for the letter and the discussion. I do think we can solve all this working together, provided we get a little help from some friends.
All of these blogs got recommended to me as being open to reviewing unreleased film.
I have placed the name of the individual who recommended next to the blog.
http://brendonbouzard.com/blog/ Brendon Bouzard