X
Looks like you are a new visitor to this site. Hello!
Welcome to Hope For Film! Come participate in the discussion, and I encourage you to enter your email address in the sidebar and subscribe. It's free! And easy! If you have any suggestions on how to improve this website or suggestions for topics please don't hesitate to write in to any of the blogs.
You can also follow me on Twitter or Facebook.
(If you keep getting this message, you probably have cookies turned off.)
I am not sure cell phones have really helped because I used to be able to always be on set.  When cell phones came along, the producer was always on the phone.  Sure schedules used to be done by hand.  Nothing was wireless.  But what was it that helped make movies more efficiently or creatively?  What were the big advances that I can recall?  Did they all actually help? Did some hurt? [...]
I want to give thanks.  I want to show gratitude.  I want to encourage others to do likewise.  But most of all I want to share what I have learned so that others can utilize it to.  All of it is one big" thank you".  This blog (not just this blog post) is a big thank you informed by those who gave to me when I still had so little. 
This post is a shout out to those who taught me the process and business of film. [...]
None of us would ever get anywhere if our friends didn't look out for us.  Our lives are not of our own making.
Milton Berle said "If opportunity does not knock, build a door."  But the reality is you need some tools to be able to build; your bare hands won't suffice.  Certain tasks too really are to big to tackle on your own. Someone sometimes has to hand you that hammer.  Fortunately, I have had some generous people in my life, who have helped me to connect the dots.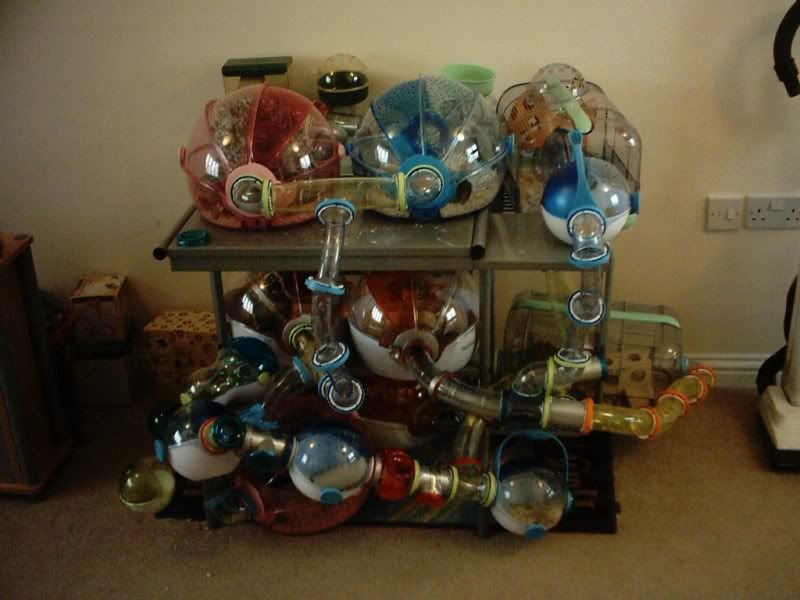 This is a time for giving thanks. Perspective comes with offering gratitude.  We need to be reminded of our good fortune.  We did not make it on our own.  Our lives are complicated habitrails, where others build our ramps, rooms, and wonderballs.
I have hesititated in my life fearing that if I displayed thanks, I would inevitably make a mistake and leave people out.  Like me, this is a work-in-progress.  I will make a mistake.  I will leave people out. But we have gratefully left that analogue world of completion and perfection, and here in the land of digital, everything is constantly evolving.  We are free to fuck up. So….
Thanks (in alphabetical order by the introducer's first name):
Ann Goulder put me in touch with [...]
We will work together to build it better.  We will use the tools we have, but not let them restrain us. Let's turn our limitations — financial & otherwise — into assets (may our chains set us free).  We will not let ego drive us away from an ambitious and interesting cinema.  Let's acknowledge that defining a true author in cinema is hard, and the act of creation is rarely original. Everything is a remix.In an era of Grand Abundance, it is best practice to be even more generative, but less authorial.  And if all that is where we are, where does it leave us?
I am always looking for new methods of collaboration and new ideas of how someone else might riff off of one artist's work.  Multiple authors have multiple arms and louder voices; their success is everyone's & their failure no one's.  If we [...]
By Scott Meek
On this coming Sunday, forty years ago, Scott Meek took his first job in the film business.  I recently asked him if he had any lessons or advice he could share.
There is nothing more important than the third act as it's the third act that carries the momentum of everything that preceded it, that allows the sum to be greater than the parts, creates the meaning and offers the truest emotion.
If I have learned that films work this way and I still believe in the truest possibility of film and of art, then I should also have learned that all of us have three acts too, and that there we have a great responsibility to ourselves to make the third act meaningful by making it truly ours.
It's the act that is entirely owned by character. [...]
If you couldn't make it to the IFC Center in NYC on June 18th, you missed having Hal Hartley moderate a Q&A session with Martin Donovan, David Morse, Melissa Auf der Meur, and myself on how Martin wrote, directed, and got his debut feature made.
Ah, but no worries, the glory that is the internet brings the past back to you for your eternal enjoyment.  COLLABORATOR is currently available on VOD and will return to the IFC Center tomorrow July 6th, and then the Egyptian in LA on July 20th.  Please check it out.
Certain highlights to check out:
Hal Hartley & Martin Donvan on "What is directing"
approximately 1745- 2250
David Morse, Hal Hartley, Martin Donovan, and me (Ted Hope): "What makes a director someone an actor (or producer) wants to work with"
approx 25:00 – 31:00
For more of Martin's secrets, check out his interview with Marshall Fine here.Tweet

This June COLLABORATOR will have two special screenings here in New York City before its July theatrical release.
The first is June 18th at the IFC center, and the second is on June 19th at the Museum of the Moving Image in Astoria, Queens.
Hal Hartley will be there to present on the 18th, and Martin Donovan, David Morse, and Ted Hope will be there to answer your questions on both nights.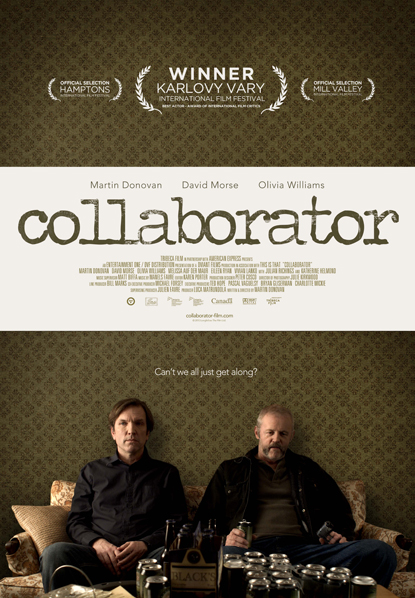 June 18th
IFC Center
7pm
Buy tickets online.
June 19th
Museum of the Moving Image
Buy tickets online.
Find out more about Collaborator on Prescreen.
Collaborator premiered at the Karlovy Vary Film Festival in the Czech Republic, winning several awards including best actor for David Morse.
Read director, writer, and star, Martin Donovan's thoughts on creating Collaborator.
Check out Collaborator's Facebook page, and find more information about the film and its upcoming release from Tribeca Film on VOD, iTunes, Amazon, VUDU on June 19th here.
And read about previous coverage of Collaborator on Hopeforfilm here, here, and
here