X
Looks like you are a new visitor to this site. Hello!
Welcome to Hope For Film! Come participate in the discussion, and I encourage you to enter your email address in the sidebar and subscribe. It's free! And easy! If you have any suggestions on how to improve this website or suggestions for topics please don't hesitate to write in to any of the blogs.
You can also follow me on Twitter or Facebook.
(If you keep getting this message, you probably have cookies turned off.)
We will work together to build it better.  We will use the tools we have, but not let them restrain us. Let's turn our limitations — financial & otherwise — into assets (may our chains set us free).  We will not let ego drive us away from an ambitious and interesting cinema.  Let's acknowledge that defining a true author in cinema is hard, and the act of creation is rarely original. Everything is a remix.In an era of Grand Abundance, it is best practice to be even more generative, but less authorial.  And if all that is where we are, where does it leave us?
I am always looking for new methods of collaboration and new ideas of how someone else might riff off of one artist's work.  Multiple authors have multiple arms and louder voices; their success is everyone's & their failure no one's.  If we [...]
By Scott Meek
On this coming Sunday, forty years ago, Scott Meek took his first job in the film business.  I recently asked him if he had any lessons or advice he could share.
There is nothing more important than the third act as it's the third act that carries the momentum of everything that preceded it, that allows the sum to be greater than the parts, creates the meaning and offers the truest emotion.
If I have learned that films work this way and I still believe in the truest possibility of film and of art, then I should also have learned that all of us have three acts too, and that there we have a great responsibility to ourselves to make the third act meaningful by making it truly ours.
It's the act that is entirely owned by character. [...]
If you couldn't make it to the IFC Center in NYC on June 18th, you missed having Hal Hartley moderate a Q&A session with Martin Donovan, David Morse, Melissa Auf der Meur, and myself on how Martin wrote, directed, and got his debut feature made.
Ah, but no worries, the glory that is the internet brings the past back to you for your eternal enjoyment.  COLLABORATOR is currently available on VOD and will return to the IFC Center tomorrow July 6th, and then the Egyptian in LA on July 20th.  Please check it out.
Certain highlights to check out:
Hal Hartley & Martin Donvan on "What is directing"
approximately 1745- 2250
David Morse, Hal Hartley, Martin Donovan, and me (Ted Hope): "What makes a director someone an actor (or producer) wants to work with"
approx 25:00 – 31:00
For more of Martin's secrets, check out his interview with Marshall Fine here.Tweet

This June COLLABORATOR will have two special screenings here in New York City before its July theatrical release.
The first is June 18th at the IFC center, and the second is on June 19th at the Museum of the Moving Image in Astoria, Queens.
Hal Hartley will be there to present on the 18th, and Martin Donovan, David Morse, and Ted Hope will be there to answer your questions on both nights.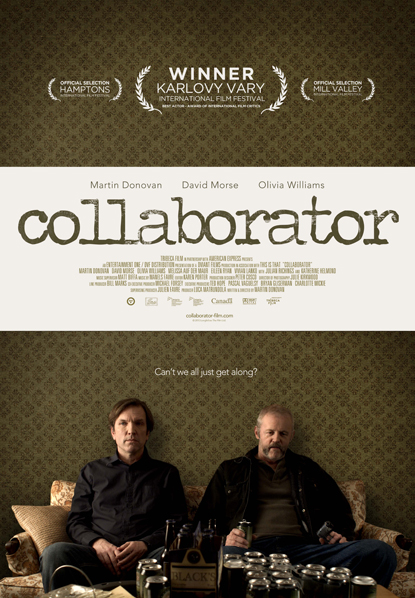 June 18th
IFC Center
7pm
Buy tickets online.
June 19th
Museum of the Moving Image
Buy tickets online.
Find out more about Collaborator on Prescreen.
Collaborator premiered at the Karlovy Vary Film Festival in the Czech Republic, winning several awards including best actor for David Morse.
Read director, writer, and star, Martin Donovan's thoughts on creating Collaborator.
Check out Collaborator's Facebook page, and find more information about the film and its upcoming release from Tribeca Film on VOD, iTunes, Amazon, VUDU on June 19th here.
And read about previous coverage of Collaborator on Hopeforfilm here, here, and
here
Today, the 20th Anniversary edition of THE UNBELIEVABLE TRUTH becomes available.  You can order it here on director Hal Hartley's website.  This little film, put in the can for around $55K, and finished for about $125K, launched many a career (Hal, Adrienne Shelly, Edie Falco, Robert John Burke, Kelly Reichardt, Nick Gomez, Danny Liener, Bob Gosse, Whitney Ransick, Mike Spiller, Sarah Cawley, Chris Rogers and many more).  It changed my perspective on getting things done, on not waiting for others' acceptance or approval, and to instead use the power and will we all need to maintain.  I am confident it holds many lessons still for us all and am eager to leap into it again.  But what does it's creator have to say?   Hal speaks: [...]
Well, it would be nice if such a study existed, but I guess everyone figures "why bother to fund what we already know". Ahem…
Classical music sales did skyrocket though when a study found it made kids smarter. The state of Georgia even passed a law providing classical music CDs for every newborn child. Imagine that, with each new spawn, parents would be given a copy of Hal Hartley's entire catalogue. Harvey Pekar could be come a household name if the standard baby gift was American Splendor. Okay, maybe such greats as Ballast, Wendy & Lucy, Goodbye Solo and the such may not be so good for teen psyches, but hey Stranger Than Paradise is still a good primer in on studied cool and Primer will surely drive a few truly innovative business ideas (and innovative filmmaking at that). [...]
Okay, this is also about talking these days too, but I didn't know how to put that into the headline.
I was
interviewed
on Wednesday by Aaron Aradilis for his BlogTalkRadio show "Back By Midnight" on the occasion of the DVD release of ADVENTURELAND. Martin Starr precedes me so that give you ample reason to tune in, but if you need more Anthony quizzed me on the big questions like why I wanted to make me movies in the first place. We cover Hal Hartley's early films, and the current state of indie film of course. We go into why it was obvious that Michel Gondry, Todd Field, and Puccini & Berman were obvious artists to back for their first narrative features. We even hit the state of film criticism and the crisis in print media. I guess we go on for awhile.. but of course you get to enjoy my nasal honk for most of it (and a couple good tunes off the Adventureland soundtrack).