X
Looks like you are a new visitor to this site. Hello!
Welcome to Hope For Film! Come participate in the discussion, and I encourage you to enter your email address in the sidebar and subscribe. It's free! And easy! If you have any suggestions on how to improve this website or suggestions for topics please don't hesitate to write in to any of the blogs.
You can also follow me on Twitter or Facebook.
(If you keep getting this message, you probably have cookies turned off.)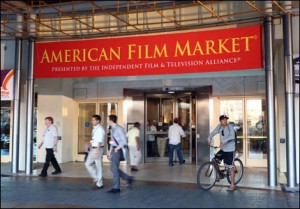 Surprising, right?  Everything you read is that presales are a dying business, but according to Jonathan Wolf, AFM's Managing Director, about 60% of the business done at this year's AFM was in presales.  This means more than half a billion USD in presales alone.  
According to Mr. Wolf, the market for foreign presales came back by 2010 or 2011.  [...]
If you don't enjoy what you do you won't stay with it.  
Freud and The Ancient Greeks all recognized that you need a balance between work, love, and play.  For a system to be sustaining, it should have an equal balance between all three. It has be something you care about, that your labor and time can improve and produce just rewards, and it has to deliver joy. Film investment can be [...]
The Film Industry has historically sought out "dumb money", people willing to make the sucker bet.  This is akin to basing the global transportation system on fossil fuel — at a given time ,you run out the resource and have the joy of having destroyed your planet or culture in the process.  Why are we doing this? Isn't it time this process stopped? Can we just find the photos of those responsible now, put them on the wall, and say "These people destroyed what we once loved?"
It is as if The Studios make sport of trying to make sure that the creators and their supporters don't earn their fair share.  By now everyone knows both the tales of [...]
Each day I become more and more convinced that staged financing could be a cure to much of the Film Biz's ills.  Staged financing?  What?  Is the phrase not exactly center of your conversations right now?  Why not?!! Whatsamattawidyou? Don't you know a good solution when you see one? [...]
It's pretty simple.  When people make money doing something, more money enters that system.  And it is pretty simple in the reverse: when some people make a bucketload and those that invested in it make virtually nothing, less money flows into the system.
If distributors don't pay creators their fair share of the profits, their won't be movies made. Or maybe the investors will get wise and stop selling the distributors the film.  After all we are at a time that you can really do it yourself (by doing it with others).  And to be clear, "fair share" doesn't mean paying them what contract swindles them out of — it means paying them an ethical cut.  And that sure in hell ain't 12.8% of the profits — which is what happened on one of the most successful indie films of recent times. [...]
This was once going to be a single post.  Today is part three.  There will be at least two more to come.  I started it here. And then yesterday we tried to determine the factors for accessing foreign value.  Today, let's look stateside.
Until the double whammy of Toronto 2010 & Sundance 2011, it looked like the US acquistion market for feature content had fully collapsed.  No reasonable P&L would have shown more than a modest six figures for US acquisitions.  Hybrid & DIY models have not been developed yet to consistently deliver returns in excess of this amount (or even at these figures).  Perhaps this is now changing, but it would still be foolish for any filmmaker or investor to expect this and we can't budget for such expectation.
How many of the 7500 films produce in the US annually return 20% of their negative cost from US licenses?  Although it puts emerging filmmakers at a great disadvantage, I think the surest determining factor for predicting US acquisition potential is [...]