X
Looks like you are a new visitor to this site. Hello!
Welcome to Hope For Film! Come participate in the discussion, and I encourage you to enter your email address in the sidebar and subscribe. It's free! And easy! If you have any suggestions on how to improve this website or suggestions for topics please don't hesitate to write in to any of the blogs.
You can also follow me on Twitter or Facebook.
(If you keep getting this message, you probably have cookies turned off.)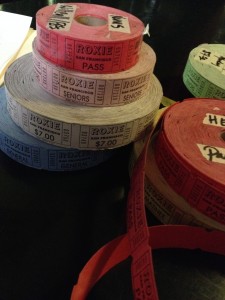 Indie filmmakers must change how they do things.  Too many filmmakers' actions are predicated on antiquated business practices.  These old ways limit a filmmaker's ability to build audiences and earn revenue. It is time for a serious change.
We now live in an era of cultural abundance and all of our practices need to take this into account. Audiences are overwhelmed with demands and options on their leisure time. It is harder than ever to get people to commit to doing anything. If you accept this is a reality why would you take your film to a film festival (other than the five leading market ones) without having your next steps well planned? [...]
By Kellie Ann Benz
Okay, I'll admit it. I think 'Jersey Shore' offered some of the best life lessons. I'm not too cool to reveal that I gleaned much from the leg-humping silverbacks who F-bombed their way into obscurity on that cautionary tale of a show.
Replace, if you will, their onenightstandpad with a film festival party, and you can see how they offered all of us a first rate how-NOT-to for which should be grateful. 
I cite their example as a sobering reminder for everyone packing for their first film festival.
First, the good news. Film festivals are wicked wild fun.  Truly.
Festival attendees are some of the most electric creatives you'll ever meet – and when actors or actresses are in attendance, some of the most beautiful humans you'll ever see with your own eyeballs – film festivals offer a throwback to Dominick Dunne-esque invitation only cocktail parties.  At the best international festivals, the ribald wits congregate as safe harbour from a cruel, cruel world that only understands their stories when told in a linear three act structure.  At the discovery-zone of regional indie festivals, you can feel welcomed into an exclusive club where only the cinematic smarty-pants go.
For the chosen ones with films competing, a film festival is [...]
You are in, and now you have all sorts of wonderful problems — the kind most filmmakers wish they could enjoy.  You know, you have to do all the things you have to do for a film festival.  I have tried to collect the various blog posts I have written or have found written by others that will really prepare you.  There's a lot more to be written.  But this is a good start: [...]
Today's guest post is from attorney Steven Beer. Steven's contributed to HFF/TFF before, and was one of the original Brave Thinkers.  With Sundance around the corner, Steven offers some perspective of a question on many filmmakers' minds.
To screen or not to screen for distributors prior to a festival premiere?  This question often plagues producers in the months prior to festival season.  Hypothetical Scenario: Shortly after you receive an invitation to premiere your film at a prestigious film festival, an established distribution executive calls to request a screener.  She congratulates you and says that she has heard wonderful things about the project.  Sadly, the acquisition executive reports that her company may not be able to attend a festival screening due to schedule conflicts.  If you screen the film for her company before the festival, however, the company may be able to make an offer and announce a deal at the festival.  What does a producer do?
In the past, cynical producers and their representatives viewed such requests as a professional seduction and respectfully declined.  Conventional wisdom discouraged filmmakers from screening their film prior to a high profile festival premiere for a variety of reasons.  Nothing compares to the satisfaction derived from screening a well crafted film in a state of the art theater — the optimum venue for which the film was created.  After pouring vast sums and sweat into producing a film that was created for the big screen experience, who can blame filmmakers for resisting requests to distribute DVDs before their premiere.  Invariably, producers prefer to showcase their projects to acquisition executives in adrenaline-charged premiere screenings brimming with enthusiastic audiences.  Given this scenario, one can appreciate the cardinal rule against pre-festival screenings.
The traditional way of thinking is beginning to give way, however.   [...]
Today's guest post is by Orly Ravid of The Film Collaborative (TFC), the first non-profit, full service provider dedicated to the distribution of independent film.  Orly was featured as one of HFF's Brave Thinkers Of Indie Film, 2010.
* This is part 1 of 3 parts to this Sundance focused blog.
* Part 2 will be written during the festival.
* Part 3 will be written in the aftermath of the glow of the fest.
If I were a filmmaker going to Sundance, and let's say that I had a film with no recognizable press-generating cast that would be attractive to a distribution company for a large MG… What would I do? Seriously, I asked myself that question. And I realized how tempted I would be, even I, to find some sexy publicists and rockstar agents or sales company so that I could get the hot sexy sale at Sundance and make all my dreams come true.
What can a distributor do for you that you cannot do yourself with just a little bit of money, not even a lot, and some low fee consultation? And above all, what are you giving up by not building community for your film before and during the fest, instead letting other people run your show, potentially losing out on the momentum of the festival?
Let's look at some films from Sundance last year that were in this position and the routes they took and what they may have netted. These are films that cut distribution deals of some kind and got less than wide releases from their distributors: [...]
Today's guest post is the third of five from filmmakers Gita Pullapilly and Aron Gaudet concerning their experience making and distributing THE WAY WE GET BY.
The students at Harvard Business School realistically saw no way for us to do a theatrical run without a significant investment in film prints and print and advertising. But they noted that by leveraging our POV broadcast with a DVD release, we could feasibly make our first real revenue stream. That coupled with a strong educational and community screening plan showed that there was perhaps some hope of making a living. However, they all agreed, it was going to be A LOT of work.
The one date we knew we couldn't move was our broadcast. The Way We Get By was going to be a common carriage POV Special on Veterans Day (November 11). We knew we had to come up with a strategy to market and promote the film leading up to the broadcast and direct our audiences towards the DVD. [...]
If only 30% of people's online time is spent viewing content, then there is real hope for indie film.  The other 70% of users' time is spent in search and social.  We know that people not only want to discover stuff (like great stories and films) but even more so, they want to talk about it.
One way to define Film is as the transformation of leisure time into intellectual capital and then into social capital.
The question all filmmakers need to ask themselves is what can we do to get the others to talk about film more.  How can we improve the conversation people have about film?  We have the tools. [...]