X
Looks like you are a new visitor to this site. Hello!
Welcome to Hope For Film! Come participate in the discussion, and I encourage you to enter your email address in the sidebar and subscribe. It's free! And easy! If you have any suggestions on how to improve this website or suggestions for topics please don't hesitate to write in to any of the blogs.
You can also follow me on Twitter or Facebook.
(If you keep getting this message, you probably have cookies turned off.)
None of us would ever get anywhere if our friends didn't look out for us.  Our lives are not of our own making.
Milton Berle said "If opportunity does not knock, build a door."  But the reality is you need some tools to be able to build; your bare hands won't suffice.  Certain tasks too really are to big to tackle on your own. Someone sometimes has to hand you that hammer.  Fortunately, I have had some generous people in my life, who have helped me to connect the dots.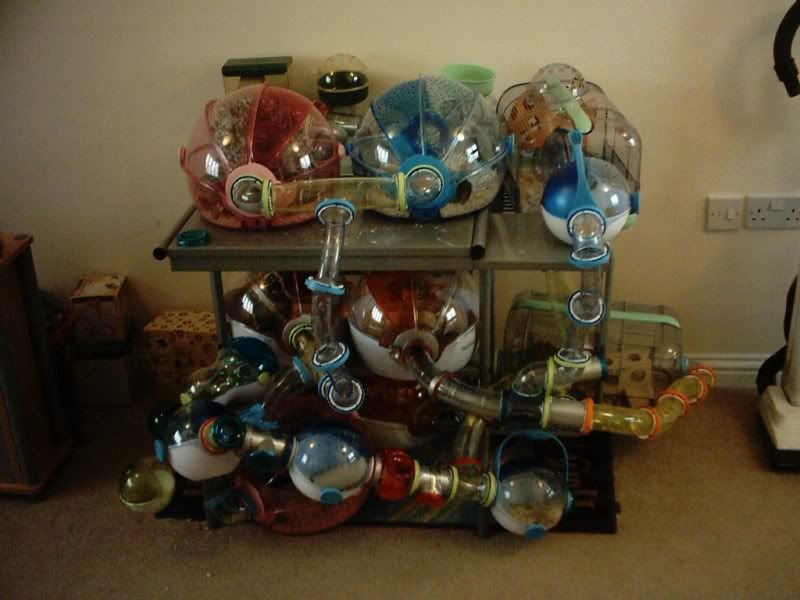 This is a time for giving thanks. Perspective comes with offering gratitude.  We need to be reminded of our good fortune.  We did not make it on our own.  Our lives are complicated habitrails, where others build our ramps, rooms, and wonderballs.
I have hesititated in my life fearing that if I displayed thanks, I would inevitably make a mistake and leave people out.  Like me, this is a work-in-progress.  I will make a mistake.  I will leave people out. But we have gratefully left that analogue world of completion and perfection, and here in the land of digital, everything is constantly evolving.  We are free to fuck up. So….
Thanks (in alphabetical order by the introducer's first name):
Ann Goulder put me in touch with [...]
Like Lewis Carroll's character, people confuse "I like what I get" for "I get what I like". As I pointed out in a recent interview in The Sydney Morning Herald: We haven't been exposed to a wide variety of stories or methods of telling them. We become accustomed to appreciate what we're served and wanting to fit in with those that we're with – they like it, so we like it too.
Hope isn't lost though. [...]
Not succeeding plays a hugely important role in the creative process. Join me and Ed Burns at the Vimeo Festival + Awards on June 8 (?) as we discuss the importance of embracing failure in creative work, with postcards from own personal dark days—jobs that went wrong, ideas that fizzled out, expectations decidedly unexceeded—and exploring how failing miserably is crucial to artistic achievement (and maybe even finding happiness).
More info here: http://vimeo.com/awards/festival/conversations#failure-ftw
The other panels look to be pretty f'n awesome, so you might want to check those out too.Tweet

We have a bit of a redundancy in the recognition of those that create good work, but that good work does not end with what is up on the screen — which is the part that everyone seems to want to write about.  I feel however that we must recognize those that focus not just on the development and production of good work, but those that commit themselves to ALL of cinema, including discovery, participation, appreciation, and presentation — what I consider the other 4 pillars of cinema.
Last year at this time, I put forth 
a list of inspiring folks
, people who by their acts and ideas were giving me the energy to keep striving for a better film culture and infrastructure, one that was accessible to all, and slave to none. We are closer to a truly free film culture this year than we were last year, and I remain optimistic that we can be a hell of a lot closer next year than we are today, thanks in no small part to the 40 I have singled out these two short years.
This list, like last year's, is not meant to be exhaustive. Okay, granted I did not get to the quantity to the 21 Brave Thinkers that I did last year, but the quality is just as deep.  Regarding the lesser amount, I don't blame the people — I blame the technology (of course).  I wish I had better tools of discovery that would allow me to find more of the good work and efforts that are out there. I know I am overlooking some BTs again this year. But so be it — one of the great things about blogging is there is no need to be finished or even to be right (although I do hate it when I push publish prematurely — like I did with this — when it is still purely a draft).
I know I can depend on you, my dear brave thinkers, to extend and amend this work into the future.  I do find it surprising how damn white & male & middle aged this list is.  And that I only found two directors to include this year.  Again, it must be the tools and not the source, right?  Help me source a fuller list next year; after all, it is as Larry K tweeted to me about regarding who are the most brave these days: "Those whom you don't know but who continue, despite the indifference of all, to create work that is authentic,challenging and real."  How true that is!
Last year I asked and stated: "What is it to be "brave"? To me, bravery requires risk, going against the status quo, being willing to do or say what few others have done. Bravery is not a one time act but a consistent practice. Most importantly, bravery is not about self interest; bravery involves the individual acting for the community. It is both the step forward and the hand that is extended."
This year, I recognize even more fully that bravery is a generosity of spirit, as well as a generative sort of mind.  It is extending the energy inside ourselves to the rest of the world.   I often get asked why I blog (or why so much), and I have no answer for those folks.  It can't be stopped, for I believe if we love the creative spirit as much as the work it yields, if we believe we create for the community and not for the ego, how can we not extend ourselves and turn our labor into the bonds that keep us moving forward.  In other words, no one can afford to create art and not be public (IMHO).  If you want a diverse and accessible culture of ambitious work, you can not afford to simply hope it will get better — you have to do something (or get out of the business, please).
So without any further adieu, here's my list of the nineteen folks who have done more on a worldwide basis
to start to build it better together, [...]
Michael Tully of HammerToNail has a really great interview with Edward Burns on his path from small to medium to sorta big and then back again.  It's filled with the kind of insights that can only be offered by those that have been there — and are willing to be truly honest, with both themselves and us.
I remember when we were at Tribeca, and John Sloss, who I'm sure you know, has this new venture called FilmBuff, who is our distribution partner with this film. And he gave me an argument, but not so much for VOD. Maybe five years ago, I had this movie called Looking For Kitty. And the movie got one tiny, tiny distribution offer from THINKFilm. It was one of those no advance partnerships, and we had made the movie for a quarter of a million dollars. John said, "Look, you're gonna sell the movie for nothing and they're gonna own it, just so you can satisfy that part of your ego that wants the film to be released theatrically." He goes, [...]
I have often felt that you could do a shot for shot remake of Godard's A WOMAN IS A WOMAN and win Sundance with it. It feels as fresh today as it did when it came out — which is both a testament to the quality of the film and condemnation of our current culture. We haven't exactly moved forward in terms of our art forms and storytelling.
One thing that has reinforced my conviction that remakes could be the freshest thing on the planet, is Eddie Burns' series of "homage" trailers he's done around his latest film NICE GUY JOHNNY. If I saw this trailer without the context of what Eddie is up to, I would run to the theater to catch the feature. Even knowing that this is the third in a series of trailers that Eddie has done, it still makes me want to see what he's been up to lately. Clearly he's been inspired, and is having a lot of fun.
Okay, so this homage is not to the french new wave, but it is to a film that was heavily informed by all that those folks were up to, and filtered it through a big Hollywood lens. Did you name it? Got it after the jump. [...]
Yesterday, I posted how Edward Burns has found inspiration in the classics, or at least in the classics' trailers.  I get a huge kick from his "remakes"  that he has created around his new film NICE GUY JOHNNY.  "Homages" to the greats are both funny to watch and a great discovery tool.  So if you had a jones for more after yesterday's serving of Antonioni's L'AVVENTURA, why stop there?  Here's Eddie's remake of Godard's CONTEMPT:

[...]