X
Looks like you are a new visitor to this site. Hello!
Welcome to Hope For Film! Come participate in the discussion, and I encourage you to enter your email address in the sidebar and subscribe. It's free! And easy! If you have any suggestions on how to improve this website or suggestions for topics please don't hesitate to write in to any of the blogs.
You can also follow me on Twitter or Facebook.
(If you keep getting this message, you probably have cookies turned off.)
By Jay Webb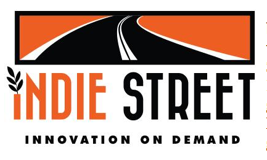 Previously: Making A Film? Why?
Audience building interview 1
There is no such thing as art without audience.  A motion picture does not even exist without its impact on human viewers.  As an independent creator without established lines of distribution, how do you build an audience that yearns for your specific stories? How do you keep them excited about your stories of the future?  In today's market, your response to this question may be the difference between a "one & done" and having a long, sustainable career as a filmmaker. [...]
By Sheri Candler
Originally published on www.thefilmcollaborative.org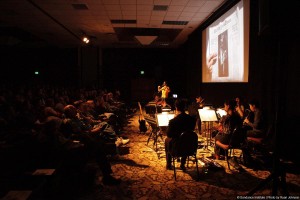 There is a lot of talk in independent film circles about the need to "eventize" the cinematic experience. The thought is that audiences are increasingly satisfied with viewing films and other video material on their private devices whenever their schedule permits and the need to leave the house to go to a separate place to watch is becoming an outdated notion, especially for younger audiences. But making your work an event that can only be experienced in a live setting is something few creators are exploring at the moment. Sure, some filmmakers and distributors are adding live Q&As with the director or cast, sometimes in person and sometimes via Skype; discussion panels with local organizations are often included with documentary screenings; and sometimes live musical performances are included featuring the musicians on the film's soundtrack, but what about work that can ONLY be enjoyed as a live experience? Work that will never appear on DVD or digital outlets? Not only is there an artistic reason for creating such work, but there can be a business reason as well.
In reading a New York Times piece entitled "The one filmmaker who doesn't want a distribution deal"  about the Sundance premiere of Sam Green's live documentary The Measure of All Things, I was curious to find out why a filmmaker would say he never plans for this work to show on streaming outlets like Netflix, only as a live event piece. I contacted Sam Green and he was kind enough to share his thoughts about why he likes creating for and participating with the audience of his work and why the economics of this form could be much more lucrative for documentary filmmakers. [...]
I feel most filmmakers are looking at this moment in time as an age of opportunity. But having gone through this revolution already in the music business, I feel compelled to tell you why right now we should be questioning everything.
There are countless comparisons between the music and film industries. On the critical side, both traditionally have had an extremely insulated network of good old boy executives who know little or nothing about the creative process, yet try to tell you how to make your art. Both have a history of obnoxious fat cats living in excess. Both still have an endless string of gatekeepers that have a stranglehold on the means of distribution, and who rarely showed much love for independent creators except with lip service at the cool film festivals.
But the internet revolution is changing all of that, so I decided to take the past 2 years away from my career as a music producer to make a documentary about this fascinating and often misunderstood subject that is near and dear to us in the creative world. The film is called 
Unsound
, and it uncovers the dramatic collapse of the music industry and its impact on musi­cians and creators of all kinds. 
The film reveals the larger story of how the unintended consequences of the internet revolution go well beyond the music industry, impacting creators of movies, books, software, journalism and more.
 Although there are so many positive changes in both the music and film industries, what is more interesting to me is what most people don't know. So I decided to take a more critical look in this film.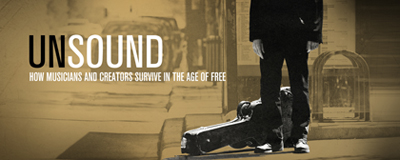 The music industry was perhaps the first to go through the digital transition. For better of for worse, the smaller file sizes of music made it a primary target for piracy over the much larger sizes of films. By watching the mistakes made by the music industry, and having a few years head start to prepare, the film business has really had an enormous advantage over the music business. But this does not mean all is well. [...]
Martin Scorsese, Steven Soderbergh, David Lynch and many others debate the digital revolution on Tribecafilm.com
Tribecafilm.com launches a month of conversation around the upcoming documentary release Side By Side today. Each day a new exclusive clip will post from one of the film's prognosticators that couldn't be squeezed into the final cut of the film. The clips will offer a daily opportunity to follow the debate on the digital revolution that is portrayed in this seminal film.
Side by Side, produced by Keanu Reeves and directed by Chris Kenneally, explores the complex and divisive conversation currently taking place around the transition from traditional filmmaking to the new digital revolution. Keanu Reeves asks the question – Will film survive? He takes the audience on a tour of the past and the future of filmmaking. Since the invention of cinema, the standard format for recording moving images has been film. Over the past two decades, a new form of digital filmmaking has emerged, creating a groundbreaking evolution in the medium. Reeves explores the development of cinema and the impact of digital filmmaking via in-depth interviews with Hollywood masters such as James Cameron, David Fincher, David Lynch, Christopher Nolan, Martin Scorsese, George Lucas, Steven Soderbergh, and many more.
With such a contentious subject, everyone had a lot to say. We will continue the conversation on Tribecafilm.com—home to the Future of Film blog, a platform that explores our changing industry on a weekly basis—as well as across social media all month. Check the site daily for exclusive clips from Adam Valdez, Barry Levinson, Bradford Young, Craig Wood, David Fincher, David Lynch, David Stump, Dennis Muren, Dick Pope, Dion Beebe, Donald McAlpine, Ed Lachman, Ellen Kuras, Greta Gerwig, James Cameron, Jost Vacano, Lena Dunham, Martin Scorsese, Michael Ballhaus, Michael Chapman, Reed Morano, Robert Rodriguez, Steven Soderbergh, Vilmos Zsigmond, Wally Pfister and Walter Murch.
Tribeca Film will release Side by Side via on-demand platforms on August 22. The film will also open in select cities theatrically, including Los Angeles (August 17), New York (August 31), Boston (August 23), Seattle (August 31), Chicago (September 15), Tacoma (September 18), San Francisco (October 18) and other cities to be announced.
For more information on the film go to www.facebook.com/sidebysidethemovie and sidebysidethemovie.comTweet

Whether it is "Doc Ellis And The LSD No No" or "I Met The Walrus", I have a unique spot in my heart for Animated Docs.  It may just be  because on the surface it doesn't seem to make sense: how can truth be animated? But then, ultimately my mind rebels against itself and determines that it makes more than sense: it makes truth.
Today's installment, further enhancing my affection for the genre as a whole is, Sascha Ciezata's (iT'S ALIVE! ANIMATION) "When Herzog Rescued Phoenix"
When Herzog Rescued Phoenix from Sascha Ciezata on Vimeo.
As always Peter Broderick's latest newsletter is a must read — this time it's about the documentary "Hungry For Change" and how the directors' incredibly success with the film is precisely because they gave it away for free, online. Once again, Peter's been nice enough to let me share the newsletter here with you. I can't recommend enough that you sign up for Peter's Distribution Bulletin.
The extraordinary million-dollar success of HUNGRY FOR CHANGE marks a new era of opportunities for independents. It illustrates how "free" can be used to achieve broad awareness, generate revenue quickly, and build a worldwide audience.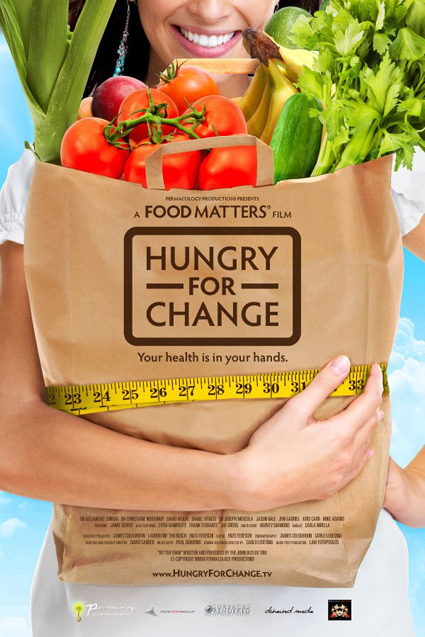 The release of HUNGRY FOR CHANGE was unprecedented. The film:
- premiered online (having never screened publicly before)
- was available worldwide
- was absolutely free (for 10 days only)
The results were remarkable:
- 453,841 views around the world during the 10 day premiere
- over $1.02 million in sales of DVDs and recipe books in the first 14 days
HUNGRY FOR CHANGE is a documentary that challenges the myths perpetuated by the weight loss industry and shows how to develop a healthy, lifelong diet. It is the second film by dynamic husband-and-wife team James Colquhoun and Laurentine ten Bosch, who I started consulting with in 2008 when they were beginning to distribute FOOD MATTERS, which went on to sell over 230,000 DVDs (see Distribution Bulletin #14). James and Laurentine are based in Australia but came to Los Angeles last week, where they told me the inside story of their historic "Free Worldwide Online Premiere."
James and Laurentine have learned how to tap the power of free. They've been experimenting with the possibilities of free for four years, first with FOOD MATTERS and now with HUNGRY FOR CHANGE.
FOOD MATTERS
Free Public Screenings – Instead of following the industry norm of charging organizations fees to hold screenings, the filmmakers took a risk and allowed anyone who registered to host a screening for free. The FOOD MATTERS website encourages the hosting of screenings:
"As part of our vision to provide life-transforming information that is accessible to all people, we are excited to allow free screenings of Food Matters around the globe."
The website provides a free screening resource pack, which includes handouts, posters, and other publicity materials. James and Laurentine believed that the cost of lost screening revenues would be much smaller than the benefit of positive word-of-mouth from a greater number of screenings, resulting in increases in visitors to the website, mailing lists sign-ups, and DVD sales.
Free, Dynamic Website Content – The filmmakers regularly added content to the FOOD MATTERS website, making it a valuable resource for their audience. This included videos that were freely available to all visitors to the website who registered, which simply consisted of inputting a name and an email address.
Free Online Screening – In December 2010, FOOD MATTERS DVDs were put on sale from the website for one week at half price. This resulted in 4600 sales, the best week in 2 1Ž2 years of sales. In October 2011, the filmmakers took a more radical approach with even better results. They allowed all comers to watch FOOD MATTERS for free for 8 days. This stimulated direct and indirect sales of 9800 DVDs, twice as many as were sold when it was offered at half price. Even more impressive, over 37,000 people joined the mailing list during this event.
As James explained, when you offer a film for free you get sign-ups from a good percentage of everyone who views the film. When you are having a sale, you only get the customer information from those who actually make a purchase. "For us, we're about creating a long-term relationship with our followers and not just selling to them," noted James.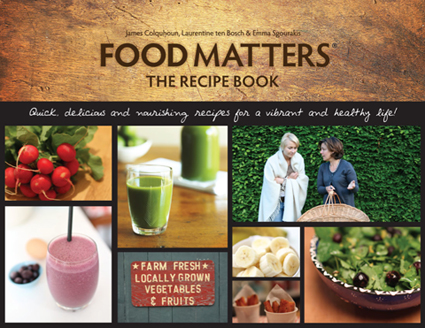 HUNGRY FOR CHANGE
After their successful experiments with free, particularly the online screening of FOOD MATTERS, James and Laurentine decided to go all the way with HUNGRY FOR CHANGE. They were aware of some films that had been released free online, such as Michael Moore's SLACKER UPRISING, but knew of no major ones that had premiered online.
Pre-Release Marketing – They chose the term FREE WORLDWIDE ONLINE PREMIERE and released the trailer for HUNGRY FOR CHANGE on March 1, 2012. This was followed by two more eblasts with additional video content, including the first 4 minutes of the film, during the 21 days leading up to the premiere. They also partnered with the experts featured in the film. These experts had their own followers and shared in both the promotion of the free online premiere and the revenues from sales they referred.
Global Reach – The Free Worldwide Online Premiere was an instant hit. On its first day (March 21st) there were 45,211 plays. Tens of thousands of people watched the film each day. The premiere ended with a bang with 58,292 plays on the final day (March 31st). Altogether there were almost half a million views from more than 150 countries across the globe in just 10 days. These are astonishing numbers for an independent film that had never been seen before, had no paid advertising, and was not available through any retail channels.
Subscribers – There were 229,000 sign-ups in 14 days, a significantly greater number than FOOD MATTERS had gained in the previous 4 years. James estimates that less than 30% of the HUNGRY FOR CHANGE sign-ups were FOOD MATTERS subscribers, which means that at least 160,000 were new subscribers, almost doubling James and Laurentine's already substantial online following.
Revenue – Everyone who viewed HUNGRY FOR CHANGE was given access to three special offers: the DVD for $34.95, the new recipe book for $49.95, or the DVD and the recipe book for $74.95. Each order came with free bonuses and free shipping. In the first 14 days, over 20,800 orders were placed totaling over $1 million in sales. Although most purchasers had already seen the film for free, many wanted to buy a copy for themselves or purchase it as a gift for family or friends.
Access – Beyond broad awareness, revenues, and sign-ups, there are other important benefits of free. It removes a major barrier between filmmakers and audiences. If the film is available at no charge, at least temporarily, it is accessible to everyone. From the beginning, James and Laurentine have been motivated by a strong desire to get their message out to more people. Free allows their films to be seen even more widely and enables them to build relationships with viewers.
Good Will – Another major benefit of free is good will, which has allowed the filmmakers to develop a truly interactive relationship with their audience. They talk directly to their followers who tell them what they want. This knowledge has enabled them to make and market films that meet their followers' needs and continue to be seen by more and more people.
—–
Taking free to a new level has also expanded awareness of James and Laurentine and created new opportunities for them. They are now writing a book for HarperCollins, which will be published this fall to coincide with the retail release of HUNGRY FOR CHANGE.
© 2012 Peter Broderick
Peter Broderick is a Distribution Strategist who helps design and implement customized plans to maximize revenues for independent films. He is also a leading advocate of crowdfunding and crowdsourcing, championing them in keynotes and presentations around the world. You can read his articles at www.peterbroderick.com
Tweet

PART 1. PHILOSOPHY. INTRODUCING MY FILM CURRENTLY ON KICKSTARTER, ALONG WITH SOME THOUGHTS ON SPEAKING IN THE FIRST PERSON
Earth Camp One is a work of creative nonfiction about how I lost four family members in five years. The film is also about a hippie summer camp in the 70s in Northern California, the connection between those two things being that when you're young, you want to break away from your family, find different cultural markers. What happens when they leave you? The film also has animation about different conceptions of the afterlife. Earth Camp One  is about my experience of grief and loss and about a broader understanding, or exploration, of how our society's denial of mortality leads to everything from people feeling isolated and alienated when they're going through something which is THE universal human experience. To national policies (wars) that, in not just my opinion, are predicated on a core belief that  no soldiers and no civilians can die because, actually no one dies. 
Right now I'm nearing the end (Friday night at 8!)  of a Kickstarter campaign to raise money to get to a rough cut on the film. I've applied for a billion grants where people I don't know go into a room and look at my project and come out and tell me "yes" or "no," (usually no, and by email) so it's incredible to build a web page, put a video on it and have 400+  people say "yes!" by backing the project. It's pretty mind-blowing, that "yes." All the endless reservations, differences in taste, politics, and sensibility that kept various granting organizations or corporations from supporting my project are absent. Of course they may be hundreds of people viewing my video and reading my text who loathe it, but fortunately Kickstarter and Indiegogo have no guestbook for people who looked and left. Whomever might've rejected my project and moved on, I'm blissfully unaware, checking my email and racking up the next 15 backers who write me messages about how much they love the excerpt, and the idea of the film, and can't wait to see it!
There are a lot of precedents for the kind of first-person documentary I'm making: just about anything by Ross McElwee, Agnes Varda's The Gleaners and I, Thomas Allen Harris's That's My Face, Ari Folman's Waltz with Bashir, and films by Alan Berliner, Jem Cohen, Doug Block, Su Friedrich, and others. I am not inventing a genre, just finding an authentic voice and structure within it. But finding money to make it is another story. Earth Camp One has been turned down by just about every place you could go to for documentary funding, but it's GOTTEN funding from The Guggenheim Foundation, Netflix, Chicken & Egg, The French American Charitable Trust, and like most nonfiction projects that aren't works for hire, it's produce-as-you-go. This one is tricky because there really is some kind of aversion, amongst funders, to work in the first person. I'm not fond of the term "personal doc" as it implies you're telling the story as therapy or for a small group of friends. No one called Joan Didion's The Year of Magical Thinking or Dave Eggers's A Heartbreaking Work of Staggering Genius "personal books." Films in the first person can be self-indulgent, but so can the majority of Hollywood blockbusters. What could be more self-indulgent than the studio exec, whose main purpose in life is to keep his job, so  that he green-lights a series of movies whose primary quality is that it looks like every film that came before them?  
I think at least some of the discomfort that people have with films in the first person goes back to a time when men controlled printing presses and universities, and women were barred from running presses or getting an education. Women had one form of writing: the letter. Their language was personal, it was domestic, and they took their "I-statements" very seriously because the personal realm was their realm . They might dare to think about literature or politics or industry, but they didn't speak about them: they were allowed to reflect on one thing and one thing only: their own experience. 
I can't help but think that the extent to which first person speech, in film, is considered too personal, or not appropriate to fund goes back to the sense that someone speaking in the first person speaks with a small voice, with a domestic voice, as opposed to with the authority of the state, the church, the university. Whether the filmmaker is Alan Berliner or Agnes Varda, there's still a sense that if you are talking about yourself, it must be personal, and if it's personal, it can't be universal. Or, as a woman in the audience at a recent screening of Tiffany Shlain's Connected, one of my favorite films of 2011, said, when I pressed her to tell me what she thought, "I think films like this one are self-indulgent because documentaries should be about something important, and if you're talking about yourself, it means you think you're important." I appreciated this woman's candor, but I think her views are not only unconsciously sexist, I think there's an unfortunate sense that what's important must be outside ourselves! And I would argue that what's universal is not always what's rubber-stamped by experts or confirmed by mass appeal,  but is always a good story well-told: and that Joan Didion is no less universal than Toni Morrison: and that Tiffany Shlain is no less universal than Steven Spielberg: the difference is the form, not the authority of the speaker nor the weight of the story.
Jennie Livingston works in both fiction and nonfiction. Her films include Paris is Burning, Who's the Top? and Through the Ice. She lives in Brooklyn, NY. This summer she directed a video for Elton John's Las Vegas stage show, a series of portraits of New Yorkers to accompany the song "Mona Lisas and Mad Hatters."