X
Looks like you are a new visitor to this site. Hello!
Welcome to Hope For Film! Come participate in the discussion, and I encourage you to enter your email address in the sidebar and subscribe. It's free! And easy! If you have any suggestions on how to improve this website or suggestions for topics please don't hesitate to write in to any of the blogs.
You can also follow me on Twitter or Facebook.
(If you keep getting this message, you probably have cookies turned off.)
I can't always be optimistic.  My apologies.
I did start this HopeForFilm / TrulyFreeFilm blog in the hopes that community action could improve things for us all.  My original lists of 75 problems of indie film remain relevant, alas; and with this latest addition we are almost at 100 such challenges.
But don't be bummed, every problem is an opportunity, right?  To quote the great Walt Kelly of Pogo:  "We are surrounded by unsurmountable opportunities."  We just need the will, the strength, the hope, and the power to change them.  12 Steps to progress?
I admit, even blessed by my last name, even I can't be always be optimistic, at least not if I want to also speak the truth. Sometimes throwing a brick is an act of love; you know what I mean?  And granted I've thrown a lot of bricks at this indie film thing. What can I say?  There's a great deal really wrong with our culture these days and a hell of a lot that can hurt our business.  We have to work together if we want to build it better.
Let's get started and call these "opportunities" out (in no particular order); maybe they are not so unsurmountable after all: [...]
We want to make sure you have the best gift in the best form to give all your friends, family, and loved ones this holiday season.  That's why we put DARK HORSE up in a DRM-free form.  You can order it now right here.  We respect you — and we want you to still love us in the morning after the magic of the first time has gone.  Get up and ride again.  Giddyapp!
It makes me wonder: when will DRM-free be the usual way?  Sure you can get Dark Horse on iTunes or on Amazon but why not order it in a form that you can put on all your devices.  You know you will want to watch it again and again.
Here's 6 reasons why everyone should release there work DRM-free:
-DRM is a false sense of security.  People that are determined to not pay for your film will find a way, no matter what restrictions you put in place.   [...]
In celebration of DARK HORSE's Online VOD (via VHX) release, some of the actors & I are doing a AMA (AskMeAnything) via Reddit on Wed 12/19 at 1PM EST. Please get your questions ready and join in.
We are on the schedule here: http://www.reddit.com/r/IAmA/
The film will be available online at $9.99 starting Wednesday. DRM free. Perfect Holiday gift!Tweet

You have a baby. You think it is beautiful. You watch it walk out into the world the proud father, but as it steps down the path a bully or two throws some bricks. He gets fired from a job. Maybe crashes a car. Gets dumped. Makes you wonder if you are delusional. Maybe he is sorta of ugly after all? But the nice thing about producing movies, is after you unleash your hard work on the festival circuit, you get another chance when you release it to real audiences. Sure we had some mixed reviews, but we also got a HUGE AMOUNT OF LOVE. And we were the #1 per screen box office average of all debuting films. Our little pony "trounced" the competition.
Can't help but notice some trends. All three outlets that dare to feature our city's name as theirs in full, share the same recognition: go see the movie. That's The New York Times, The New Yorker, and New York Magazine. Here at the pony rides, we call that a Dark Horse New York Trifecta Of Love.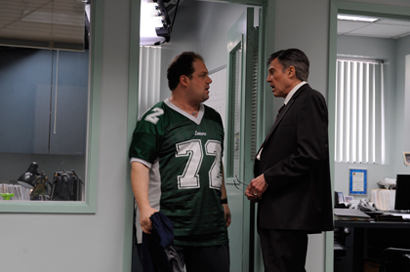 Also check out how both the legendary stalwarts renown for their general dislike of most cinematic output, Mr. Hoberman & Mr White, also agree that you should saddle up to the Solondz corral. 'nuff said.
NEW YORK TIMES, by AO Scott
http://movies.nytimes.com/2012/06/08/movies/todd-solondzs-dark-horse-stars-jordan-gelber.html
'Mr. Solondz brilliantly — triumphantly — turns this impression on its head, transforming what might have been an exercise in easy satirical cruelty into a tremendously moving argument for the necessity of compassion.'
NEW YORK MAGAZINE, by David Edelstein
You should see it not just for the sake of Solondz and Hope, but for the sake of American independent cinema. It's that vital.'
http://hollywoodandfine.com/reviews/?p=5033 [...]
And by LOVE I mean celebrity Twitter Love…
The new Todd Solondz movie Dark Horse is great! Comes out today.If you don't go youCan't complain about there being no inspired movies.

— Judd Apatow (@JuddApatow) June 8, 2012
Knew it: @aoscott liking on Todd Solondz's 'Dark Horse' nyti.ms/LIuePl It's not what you think it is.

— david carr (@carr2n) June 8, 2012
What's Prometheus? I'm psyched for the new Todd Solondz! Right??????? *'90s Crickets*

— Julie Klausner (@julieklausner) June 8, 2012
Check out the fabulous Donna Murphy and other great cast members in @darkhorseabe at the Angelika film Center in NY!

— JennaUshkowitz (@JennaUshkowitz) June 8, 2012
See Dark Horse THIS WEEKEND and you could earn a dinner for 2 with Director Todd Solondz!
For your chance to enter, simply buy a ticket to any screening of Dark Horse the Angelika between Friday 6/8 and Sunday 6/10. After the film, leave your ticket stub and email address in the box next to the poster in the Angelika's main lobby. Two lucky recipients will be picked at random to have dinner for themselves and one guest!
Tweet

Wow. When you love cinema and know how privileged you are to spend your life and labor creating work you love, how can you not give your all to your films? Even still, when you've worked hard, compromised your fees, dealt with errors and mistakes, problem people and people problems, you don't always know it was worth it. Nothing tells you that it was like a good review in your hometown paper, particularly when your home is New York City.
I am thrilled with the love that has been bestowed upon our film DARK HORSE. We open today, at The Angelika in NYC. One screen. Hopefully we will play for months. Hopefully this review will fill the seats. Wow. Wow. Wow.
It's nice when something you've worked years on, sacrificed a chunk of your fee on, that you've chosen to distribute, goes off and gets one of BEST REVIEWS EVER from AO Scott & the NY F'n Times!
http://movies.nytimes.com/2012/06/08/movies/todd-solondzs-dark-horse-stars-jordan-gelber.html#
"Mr. Solondz brilliantly — triumphantly — turns this impression on its head, transforming what might have been an exercise in easy satirical cruelty into a tremendously moving argument for the necessity of compassion."Tweet