X
Looks like you are a new visitor to this site. Hello!
Welcome to Hope For Film! Come participate in the discussion, and I encourage you to enter your email address in the sidebar and subscribe. It's free! And easy! If you have any suggestions on how to improve this website or suggestions for topics please don't hesitate to write in to any of the blogs.
You can also follow me on Twitter or Facebook.
(If you keep getting this message, you probably have cookies turned off.)
People once hid in their office.  If you knew them from hanging out at the bar you had a unique relationship.  Still it was damn hard to make connections, no matter where you were on the totem pole.  But now those totem poles have been burned down to the ground.  The old ways are over and 1000 phoenixes rise from the ashes daily.
The fact is we've learned how to speak to each other.  We may not always speak the same language but we speak.  And that's fucking awesome.
My case is point is how Zodiac Motherfucker shares his love for Collaborator  with writer/director Martin Donovan on Twitter: [...]
By Julien Favre
With the world economy on the brink, the current environment has rarely been so tough for independent filmmakers. To get our films made and, even more so, to see them sold and/or distributed, is getting incredibly challenging. Foreign sales estimates for low budget independent films are a tenth of what they used to be pre-2008, and let's not be fooled by the numbers. We will be happy if we sell at all, even for symbolic numbers. From a filmmaker's perspective, we have entered a dichotomous world: a shrinking pool of independent films do well; most don't make any significant business. It is now as if there is only room for one indie hit per year. If you are not that film that everybody wants, you barely exist and your business footprint will be close to zero.
Now, you can look at this situation in two different ways. One way is to [...]
If you couldn't make it to the IFC Center in NYC on June 18th, you missed having Hal Hartley moderate a Q&A session with Martin Donovan, David Morse, Melissa Auf der Meur, and myself on how Martin wrote, directed, and got his debut feature made.
Ah, but no worries, the glory that is the internet brings the past back to you for your eternal enjoyment.  COLLABORATOR is currently available on VOD and will return to the IFC Center tomorrow July 6th, and then the Egyptian in LA on July 20th.  Please check it out.
Certain highlights to check out:
Hal Hartley & Martin Donvan on "What is directing"
approximately 1745- 2250
David Morse, Hal Hartley, Martin Donovan, and me (Ted Hope): "What makes a director someone an actor (or producer) wants to work with"
approx 25:00 – 31:00
For more of Martin's secrets, check out his interview with Marshall Fine here.Tweet

This June COLLABORATOR will have two special screenings here in New York City before its July theatrical release.
The first is June 18th at the IFC center, and the second is on June 19th at the Museum of the Moving Image in Astoria, Queens.
Hal Hartley will be there to present on the 18th, and Martin Donovan, David Morse, and Ted Hope will be there to answer your questions on both nights.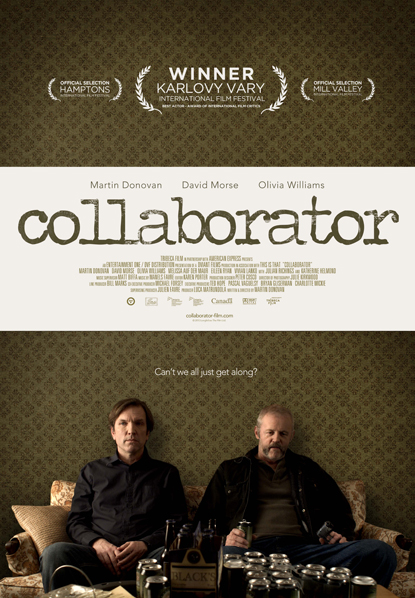 June 18th
IFC Center
7pm
Buy tickets online.
June 19th
Museum of the Moving Image
Buy tickets online.
Find out more about Collaborator on Prescreen.
Collaborator premiered at the Karlovy Vary Film Festival in the Czech Republic, winning several awards including best actor for David Morse.
Read director, writer, and star, Martin Donovan's thoughts on creating Collaborator.
Check out Collaborator's Facebook page, and find more information about the film and its upcoming release from Tribeca Film on VOD, iTunes, Amazon, VUDU on June 19th here.
And read about previous coverage of Collaborator on Hopeforfilm here, here, and
here
Available nationwide on Cable VOD, iTunes, Amazon – June 19
Opening in select theaters – July 6
Robert Longfellow (Martin Donovan, THE OPPOSITE OF SEX, "Boss", Weeds") is a famous playwright who can't seem to catch a break. His recent Broadway play was met with horrible reviews and an early cancellation, and his marriage is being tested as an old flame (Olivia Williams, THE GHOST WRITER, RUSHMORE) has reentered his life during a particular moment of weakness. Retreating back to his childhood home to visit his mother (Katherine Helmond, BRAZIL), Robert crosses paths with his childhood neighbor, Gus (David Morse, THE GREEN MILE, DANCER IN THE DARK, "Treme"). A right-wing, ex-con who still lives at home with his mother, Gus is Robert's polar opposite in every possible way. When Gus holds Robert hostage at gunpoint during a drunken reunion gone terribly wrong, the drama unfolds as social status, celebrity and the imminent threat of violence converge, building up to a climax that will leave both men forever changed.Tweet

Did you know I Executive Produced this years Best Actor & Critic Prize Winning Film at the world's oldest film festival? Martin Donovan's COLLABORATOR is that film. My guess is you did not get over to the Czech Republic last month to see it. But you know what?
It will be playing around the USA this fall. Soon we should be announcing those next steps, and then the ones that follow. But if you need a fix, perhaps this will do.
I am very proud of this film. It was one of those great experiences where you get to help a friend realize their dream, and you (i.e. me) benefit from it too. I think anyone desiring ambitious cinema of quality, ideas, and humor will dig it. I hope that is you!
You can watch the press conference right here. I think it demonstrates well what a producer does at such a press conference. Producers don't get asked questions — but it doesn't mean you can't answer them. A Producer still has to make sure that the right messages get out there.
And if you have a moment, please check out COLLABORATOR's Facebook page. I know most of you have not yet seen it, but if you "like" it, you will be privy to early news on where it is screening and other such stuff.
And if you aren't already, you can follow our writer, director and star, Martin Donovan on Twitter @breakneckfilms.
Tweet

I set a lot of goals for myself that I can't reach. I feel I have a really good understanding of many of the steps that one must take to transform good work into something better. I long lists on what can be done to help a film from being overlooked. But I am human. I can't do all I want. I come from modest means. I have bills to pay. I have made commitments and honor my responsibilities and relationships. On any movie, there's a great deal that I want to do that will never get done. It doesn't stop me from trying to inspire others to do more though.
How do we transform desire into something concrete and permanent? When I was in film school I met a lot of people who had big dreams. Few were the sort of dreams I wanted to be part of. I did learn though that by throwing some of my energy, thoughts, labor, and other aspects & attributes of myself into others' work, I could make a serious difference in what dreams get made into films. It is a tremendous gift this collaboration. This past year, I was thrilled to be able to do it for a long time friend and associate. How funny that it became a movie entitled COLLABORATOR. Today, the writer, director, and star, Martin Donovan of that film, one I Executive Produced, guests blogs on how he found himself in the unique position of having made a first feature.
I've had a life long battle with reality.  I have a terrible time defining it for myself.  "I" constantly doubt what my visual system tells me about the photons hitting my retina (I have better relations with my auditory system).  And now to make matters worse, I find myself trying to wrap my head around the realization that this film called Collaborator exists, which I wrote, directed and played one of the leads.  There are several dozen people alive today who will testify in court that they were involved in the making of this film.  I've attended screenings of said film where other people were present (I'm pretty sure they were there because other people confirmed that those other people were there and vice versa) and they seemed to be reacting to this film as it played.  Then I found myself listening to their reactions to the film and there were other people standing there nodding their heads in assent. This could be defined as a shared reality.  Rational people would say this is independent verification of my experience.  So I'm going go out on a limb here and state that I have in fact made a film.  I made a film.  I got a film made. There, I said it…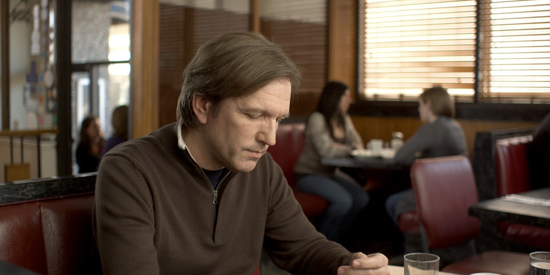 Ted has asked those of us involved in the making of Collaborator to blog about our experiences.   At first I was reluctant.  I didn't feel qualified to add something of value to the dialectic of filmmaking.  But then Ted put it this way:  "Come at it as the eternal student in a world so devoid of legitimate teachers that we have to share our knowledge."  I confess that got me.  What follows is more a very brief sketch of personal experience than knowledge per se.  But here it is:
I've had time to reflect on the making of Collaborator and I still struggle to find a way to describe what happened.   As my opening suggests I'm in shock.  How and why did this film get made?  I can only speculate.  I'm not being cute.  This is an honest description of what lingers for me as the film makes its debut.  I'm not going to deny that the goal of getting the film made took on significance in my life that was at times unbalanced and frightening.  My very existence seemed to rest on its completion. There was an enormous amount of will applied to its creation.  But at a certain point, perhaps after Ted read it and agreed to help it get made, it took on a life of its own and I became merely its guardian.   I'm hardly comfortable with the notion of destiny but I can't think of a better explanation for what happened.  Is this not how everything looks in hindsight?
Sometime in the late 90's when the existing economics of independent filmmaking was in the process of coming unraveled I was sitting across from Ted in his office at Good Machine.  He was painting a grim picture of the independent film business.  This didn't dissuade me.  I told him how badly I wanted to direct.   I mumbled something about needing to find a script when he broke in sternly with "You're not going to find one."  Enough said.
A draft of a screenplay was banged out in 2003 as I sat fuming over war.  Something about another US war of aggression threatened to cause me to spontaneously combust. I showed it to a couple of filmmaker friends.  They were polite.  I shelved it but I knew I was ready to write.  (I was in my teens when I attempted my first screenplay.  I was in my late forties before I completed the task.)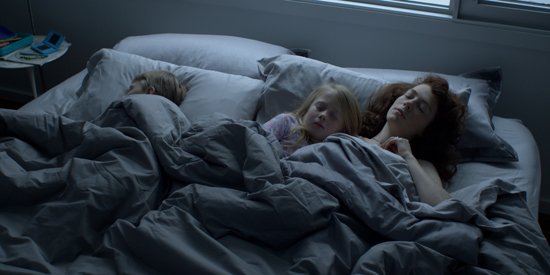 After about a year I dove back in.  The only thing that survived the first draft was one scene between the two main characters with the protagonist having been given another line of work and entirely different life circumstances. Again, a couple of gracious writer friends (who I hadn't bothered with the first attempt) read subsequent drafts and gave me notes. Yes, I was one of those people. I foisted my script on screenwriters I knew. I can't help but wonder where I would be if I had approached Josh Olson. By the spring of 2005 I was comfortable sending it to Ted. I'm well aware of the huge advantage I had in having direct access to Ted Hope with my first screenplay. In fact, both our relationship and knowing I could get the thing to him and he'd give it a serious read were crucial in giving me the strength to write the thing at all. Within a couple of weeks of sending it I got an email from him that began with this: "It's a good read. Strong characters and situations. Large ambitions and a great mix of humor with issues and weight. I like it."
Six years, several drafts and many agonizing twists, turns and unexplained phenomena later Collaborator has arrived.
– Martin Donovan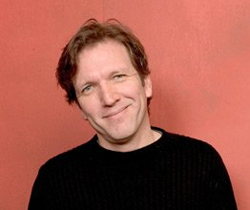 Martin Donovan is an actor. He and Ted Hope met on Hal Hartley's "Trust." "Collaborator" is Martin's first screenplay and directorial debut.
COLLABORATOR premieres in competition at the Karlovy Vary Film Festival this July 4th. It's never too early to tell your local exhibitor to screen it (They have a FB page, don't they?) or fave distro to get it.