X
Looks like you are a new visitor to this site. Hello!
Welcome to Hope For Film! Come participate in the discussion, and I encourage you to enter your email address in the sidebar and subscribe. It's free! And easy! If you have any suggestions on how to improve this website or suggestions for topics please don't hesitate to write in to any of the blogs.
You can also follow me on Twitter or Facebook.
(If you keep getting this message, you probably have cookies turned off.)
None of us would ever get anywhere if our friends didn't look out for us.  Our lives are not of our own making.
Milton Berle said "If opportunity does not knock, build a door."  But the reality is you need some tools to be able to build; your bare hands won't suffice.  Certain tasks too really are to big to tackle on your own. Someone sometimes has to hand you that hammer.  Fortunately, I have had some generous people in my life, who have helped me to connect the dots.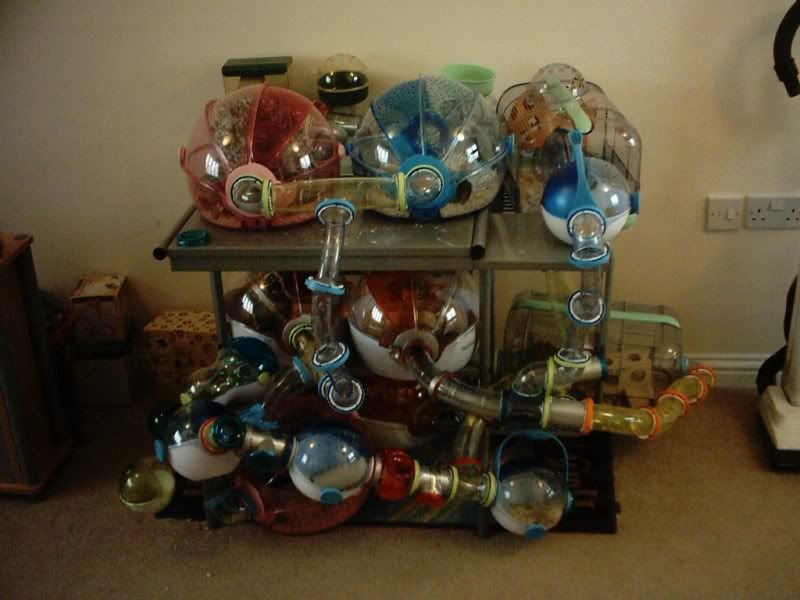 This is a time for giving thanks. Perspective comes with offering gratitude.  We need to be reminded of our good fortune.  We did not make it on our own.  Our lives are complicated habitrails, where others build our ramps, rooms, and wonderballs.
I have hesititated in my life fearing that if I displayed thanks, I would inevitably make a mistake and leave people out.  Like me, this is a work-in-progress.  I will make a mistake.  I will leave people out. But we have gratefully left that analogue world of completion and perfection, and here in the land of digital, everything is constantly evolving.  We are free to fuck up. So….
Thanks (in alphabetical order by the introducer's first name):
Ann Goulder put me in touch with [...]
Today marks the first anniversary of Harvey Pekar's death. Very few people have had as great an influence on my life as Harvey. I was very fortunate to be able to collaborate with him and bring AMERICAN SPLENDOR to the screen.
I was thrilled to be approached by Seth Kushner about his current tribute to Harvey. I offer you a glimpse of it here.
CulturePOP Photocomix was born out of Seth Kushner's desire to fuse his love of photojournalism, personality profile, and comix into a wholly unique form. Through this prism, Kushner has profiled such diverse personalities as toy designer Super Sucklord, author Douglas Rushkoff, comedian/musician Reggie Watts, artist Cynthia Von Buhler and auto-bio comix pioneer, American Splendor's Harvey Pekar, on the one-year anniversary of his death.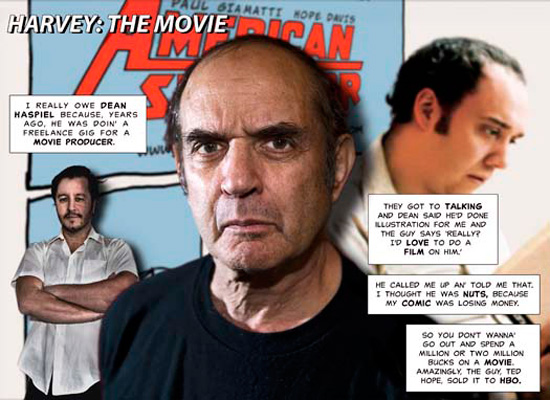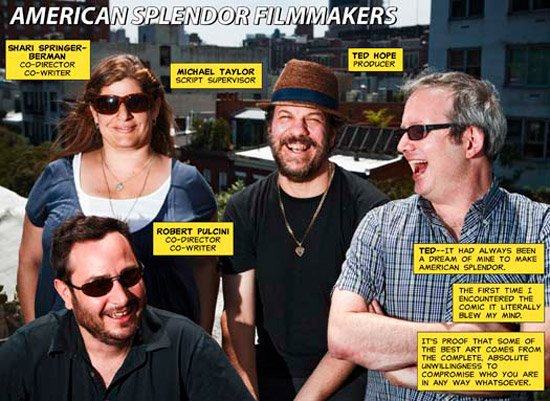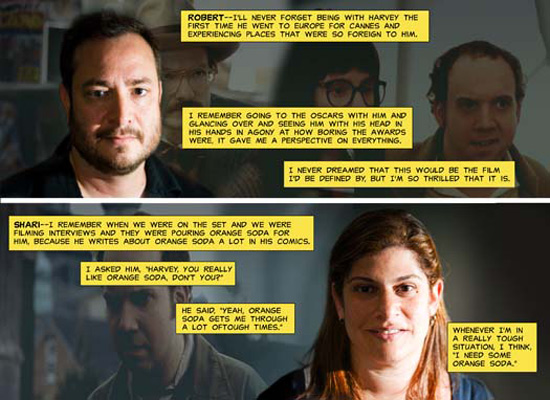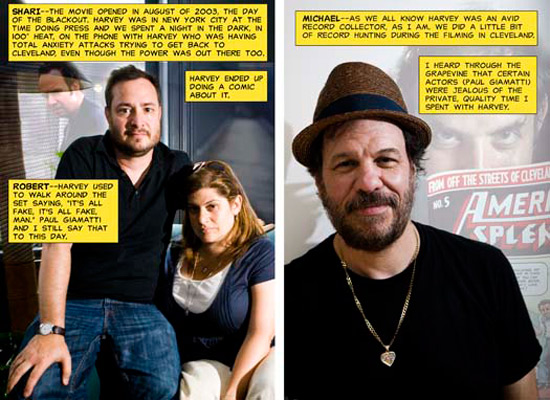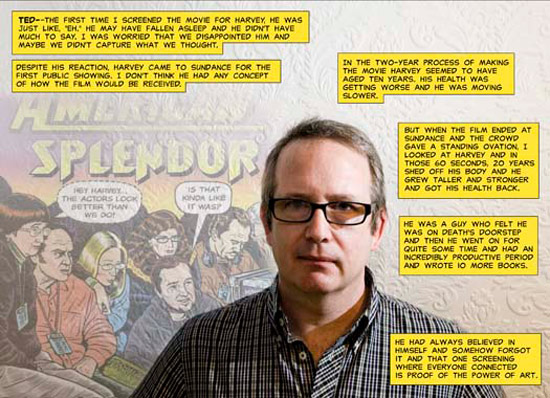 Read the whole thing right here.
Seth Kushner — shoots portraits for such publications The New York Times Magazine, Time, Newsweek, Businessweek, L'Uomo Vogue and others. Seth's first book, The Brooklynites, was published by powerHouse Books in 2007. Currently, he's working on his next book Leaping Tall Buildings: The Origins of American Comic Books, coming March 2011. www.SethKushner.com
Tweet

Episode Six Of The Ted & Christine In Sundance Show, where Paul & Sam try to answer what their best Sundance experience has been.
Recently on this TrulyFreeFilms blog, Michael Walker of Pangofilms asked why more producers don't invest in their own movies. This is part two on my attempt to answer Michael.
Walker's question of why producers don't invest in their movies brings us back to the perennial problem that most people think that producing is just about raising the money. The first film that I raised the financing for was Hal Hartley's FLIRT, even though I had already produced about ten films by then. Producing has always been about making the best movie possible and making sure that the audience for it, sees it. The money part of the equation is just the steps needed to get to the making part.
It seems like until the late '80's producing was solely the province of the wealthy and privileged. Up until then it also seemed like those that could pursue producing in this country, had to do it the Hollywood way – which meant that if you succeeded presumably you quickly became more wealthy and privileged. Producing will never be a secure profession in America, but it is open to those who are willing to work at it and have something to offer – not just the wealthy and privileged.
I don't have money to offer – and never expect to – but my partners and I do make considerable investments in all our films. When we consider taking on a new project, we anticipate it will be a three-year commitment at the very least. Although we have had projects like AMERICAN SPLENDOR that only go through a few drafts (and go on to get nominated for the Academy Award), we also figure that each project will have a minimum of fifteen drafts. Some have forty or more. Each draft represent reading time, discussion, notes, and generally a fair amount of emotion. The scripts themselves require research through books, websites, and other movies — more time, more energy, and more thought.  Even AMERICAN SPLENDOR was something that I had spent years developing before I brought to the writers, having already shot footage on Harvey & Joyce, secured the Letterman tapes, committed to a hybrid structure, and decided on the central theme of the project — when Bob & Shari walked into the office they were like a dream come true, the perfect peg to fill the hole: a couple who had written bio pics and made docs on off-center pop culture.
A producer gets no glory for the films they create and make. A producer's name is rarely recalled for the work that others have enjoyed. A producer is the one that each side looks to for solutions, and thus one that has to sacrifice to bring satisfaction. When the film works, it has no bearing for the producer on future rewards, as it will the actors, directors, and writers. When things go well for a producer, it means more people seek them out, more people expect them to pick up the tab. The producers I know are creative collaborators who put their heart and soul into their projects, but never achieve the ownership that might lift their savings into real levels of security.
The demands on a producer don't change due to their limited finances however. Each project is also a relationship, or rather several. The filmmakers, investors, and collaborators all have real needs and need thoughtful attention. The forays that we make to investors, cast, crew, distributors, critics, and fans all depend on different relationships that we have put considerable time and effort into. If we are going to survive, theses other relationships will need to extend far past the singular film. How well we service these relationships will directly reflect what fruit we can bring to subsequent projects. Each new film is a risk, where all this historic good will, this capital we have raised, is tested and re-valued.