X
Looks like you are a new visitor to this site. Hello!
Welcome to Hope For Film! Come participate in the discussion, and I encourage you to enter your email address in the sidebar and subscribe. It's free! And easy! If you have any suggestions on how to improve this website or suggestions for topics please don't hesitate to write in to any of the blogs.
You can also follow me on Twitter or Facebook.
(If you keep getting this message, you probably have cookies turned off.)
Cut your cloth, get out of development hell and make your films
By Guetty Felin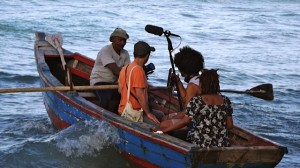 "Making something out of nothing" is what filmmaker Mira Nair called the Filmmaking workshop that she was doing in the spring of 1999 in Cape Town South Africa.  The bulk of the students were from the black and "colored" townships way outside the city and traveled more than an hour each day for their two-week initiation to cinema. It was the dawn of the post apartheid years and they were pregnant with compelling and amazing stories that they wanted to bring into the world either through narratives or documentaries.  For decades, generations before them had their voices stifled, and they were fighting to finally become the narrators of their own history and had chosen filmmaking as their weapon.  And I was there to film that process.  "Show, don't tell, make films that are accessible to you, be inspired by what's immediate, cut your cloth". Mira kept hammering at them. Mira, at that time was doing a little bit of tailoring herself; she had been designing a new project, a personal low-budget intimate film to be shot entirely in her home region of Punjab, India.  With Kama Sutra already 3 years behind her, she found herself getting restless waiting for the green light on a project stuck in development and had made the decision to just shoot. Monsoon Wedding was that little personal film. Mira knew that she would encounter adversity in the US to finance her project and decided to bypass conventional funding avenues and go strictly independent, the way she had done for her first films India Cabaret and Salaam Bombay.  "Monsoon" was shot in 30 days, with a small crew, in homes of friends and family, and many unknown actors, totally dogma style.  Monsoon Wedding made for a little over $1 million ended up winning the Golden Lion in Venice in 2001 and several other prestigious awards. It went on to gross over 30 million at the box office. Not bad for a small intimate indie film.
Mira Nair's workshops had a lingering influence on me. Six years later I would use the same models and lessons for my own filmmaking workshops in Haiti. I've often shared Mira's story with many friends to encourage them to go out and make their films by any means necessary. But unlike Mira, I was not practicing what I had been preaching, lately. I was too mired in my own filmmaking rut to even remember those lessons. D-Hell, D for development is one of the absolute worst places for a filmmaker. I had some financing committed, but everyone was waiting on the cast to put money on the table. I was in a place where I had promised myself that I would never be: playing the Hollywood game and waiting on bankable actors. I began descending into the deep vortex of frustration and self-doubt. Until that spring day, this past May when I watched the Cannes press conference for Mauritanian filmmaker Abderrahmane Sissako and his film Timbuktu (everyone should see).  Abderrahmane spoke about trusting in the magic of cinema, about the desire to tell stories in places that have been forgotten. As I was watching him I could also hear Mira's melodic voice, chanting her mantra "make something out of nothing, cut your cloth". Abderrahmane said if filmmakers who are socially and politically engaged aren't bold and brave to make films that are unpopular, then they can't call themselves filmmakers. Sissako's film Timbuktu is about the Jihadist invasion of Northern Mali that terrorized the peaceful population living in this desert city. When the invasion first happened in 2012, Sissako wanted to make a documentary but realized that it was absolutely impossible; no one would ever want to come forward and participate for fear of reprisal. He dropped the project and revived it through a narrative. Only through fiction could he give voice to both sides and try to unravel the absurdity of the invasion.  By the end of the press conference, 45 minutes later, I was so elated; I had seen the light from the abyss. I made a pledge to myself that by hook or by crook I was going to shoot my first narrative in the summer. Not the one in development of course, another one, much more "accessible".
Ayiti Mon Amour was born on the heels of the horrific Haiti earthquake nearly 5 years ago because I hungered for counter narratives to the plethora of sound bytes, clichés and stereotypes that overpowered the airwaves in the weeks following the tragedy. The spotlight quickly faded on Haiti in the same fashion that it did for Timbuktu. Just because international mainstream media does not feature our stories did not mean they did not have validity.
Less than a week after watching the conference I took my shears into the script  and began making alterations. I added "AQ" to the title (after the quake) to situated it. The themes of love and grieving still remained but I changed all the stories, I opted for simple stories that could still be compelling yet easier to film. The original script had four stories; I brought it down to three.  It took place in three locations including the US, I narrowed it to one region and mainly in a fishing hamlet on the Southeastern coast of Haiti where I lived for two years with my family and still have some strong ties. You definitely want to be in a nourishing welcoming environment when you are going rogue on a project.  I used my salary from a paid gig and convinced my husband (cinematographer) my son who is still in film school (sound) his girlfriend (second camera/set photographer/social media manager) to donate their skills, blood and sweat. We collaborated with Cine Institute the local film school and shot the first story within 7 days.   All this of course shot in natural light, mainly because it echoes the style of the film but also because electricity is a luxury in Haiti, so that was one less line item in the budget. We used mirrors and reflectors for daytime indoor scenes (see video "harnessing sunlight"). Night scenes were lit with candlelight and kerosene lamps and one mini led light panel. Everything was shot in real décor, doing away with production design and set building expenses. One thing about not having any means is that it makes one extremely resourceful, alert and creative.
We are all born tailors, we just don't know it until we're put in front of a pattern and have to make an outfit. That outfit could be your life, your relationship or work. You just have to make it suit you. I actually prefer the new script to the original one. The new one is so much more limpid, personal and intimate. I can't wait to get back to Haiti to finish the shoot. Luckily, with the help of my current Indiegogo crowdfunding campaign I will be able to do so in the next few days.  It was imperative for me to get back this coming January. January 12, 2015 will mark the 5th anniversary of the devastating quake, returning to Haiti at this moment is important for the narrative fabric of the film but also because we would like to be there for my compatriots as they commemorate this catastrophic event that forever altered their lives and mine. I promised them that the film would put a humane face to the tragedy and the current dire ecological issues (climate change, costal erosion, marine pollution) that they are facing today; while celebrating their courage and resilience, and I intend to keep that promise.
In the end I don't know how Ayiti Mon Amour(AQ) will fair in theaters, I am not even sure I will go that route. I may just do premieres and release it online with screenings in every city with a large Haitian community and perhaps a run at my favorite independent local San Francisco Theater the Roxie. I know for certain that our distribution model will be customized to fit Ayiti Mon Amour(AQ).
One thing I've learned through this process is if a story matters to you, chances are it matters to others. Find those others and create community with them.  Don't let anyone dictate to you what you should be making. If it's not what "they are looking for" let them go make what they are looking for. "If we don't tell our stories no one will" is something else Mira often told the students in that workshop; that has pretty much become my mantra. Development does not have to be a journey to purgatory it could be a time to look within and find the purpose of why you wanted to be a filmmaker in the first place. When you can answer that question you will most likely emerge with a beautiful worthy project. Be a little bit braver, a little bit bolder, get out of development hell and start shooting your films.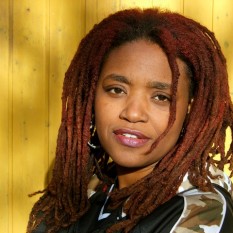 I was born in Haiti, reared in the United States and came of age cinematically in Paris France. "A post-modern gypsy", a hybrid, my trajectory and cultural identity pretty much pervade  my sensibility, vision and cinematic language. I fell in love with cinema at a very early age in Port-au-Prince. The "electric shadows" on that glowing screen were a stark contrast to our realities and yet they deeply connected us to the outside world. Cinema, for me, became my own little sanctuary, my personal way of filling those chasms that were wedged by an insidious political system. Today, cinema has become an organic part of who I am.  Cinema is how I engage the world around me, how I denounce social and political injustice, it is also my way of interconnecting our common global humanities. For more info about my work you can visit the website: www.bellemoonproductions.com. Check out our blog while you're at it ayiti-mon-amour.tumblr.com. Just in case you would like to support Ayiti Mon Amour. Want a little pep talk for your own project don't hesitate to reach out. Guetty@bellemoonproductions.com