X
Looks like you are a new visitor to this site. Hello!
Welcome to Hope For Film! Come participate in the discussion, and I encourage you to enter your email address in the sidebar and subscribe. It's free! And easy! If you have any suggestions on how to improve this website or suggestions for topics please don't hesitate to write in to any of the blogs.
You can also follow me on Twitter or Facebook.
(If you keep getting this message, you probably have cookies turned off.)
A First Time Writer/Director's Trial by Fire, Part #6: Audience as Part of My Filmmaking Family
By Craig Abell-Champion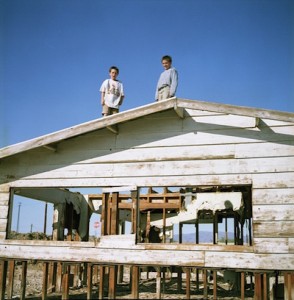 As a moviegoer, I like to keep an open mind, but I also have a crisp understanding of what I like. Because I know this, I know there are other people who share my understanding and also like what I like. How do I know this? I see them leaving a theater as happy as I am about having watched a great film, sharing what they felt, taking that positive experience home with them. Knowing this affords me comfort in the simplest approach as a filmmaker. I write the types of stories that I would want to see and steer clear of pandering to a potential audience.
One of the single greatest things, time and time again, my experience in advertising and as a showing photographer has validated, creating to please most often leads to narrow approach leads to second guessing leads to soft choices leads to fogging confidence of vision leads to disaster leads to dissatisfied viewership.
Sometimes after committing to writing an idea, I imagine which films my idea's trailer might have played before. Idealistic? Maybe. Presumptuous? Time will tell. Fun? Absolutely.
As a first time, unproven writer/director, there is a formidable gauntlet to walk if gutsy work is the goal. A game to be played, carrying with it terms such as risk mitigation, pre sales, global commerce appeal, market strategy and distribution. These terms are more than mildly unsettling to a creative process that does not want to be treated like a dangerous and unpredictable animal needing to be caged. To me, if being bold and taking risks all but destroys any hope of having a movie made, what's the point? There are so many easier, less painful ways to please people. 
So, how do I earn the right to be risky? Slowly figuring that one out. For now, my first time walking aforementioned gauntlet, I'm confronting the responsibility of caring beyond the art. Knowing the goals of my project and defining those goals in terms of audience. Note: this comes after writing the type of movie I would want to see. Even in a very early stage such as packaging, starting to engage an audience empowers the artist.  
If you build your own audience, no one can take it from you. (Emoji: smiley face with tears) 
Problem: I had no clue how to engage an audience let alone earn their loyalty. Then, like magic, my development producer introduced me to Brad Wilke, partner at Smarthouse Creative, a digital strategy, audience engagement, and film publicity agency. We talked, they saw potential in my movie and jumped in.
Smarthouse thought integrating at such a very early stage in development would be advantageous, allowing them to get me connected to an audience more organically. Like I mentioned, no idea how, but it sounded exciting and now I had highly knowledgeable help. So, I shut my mouth and let Brad explain.
I'll paraphrase: Everyone knows the indie landscape is an evolving and undulating specimen that requires keeping up with. Still, a lot of filmmakers continue to put false hope in an old model, the democratization of distribution giants. They mistake them for a magic bullet that will find and engage an audience, putting their film on the map after it's made. "Craig." Brad said, "Don't make this mistake."
Because I still had little idea of what he was talking about I was ahead of the game when it came to the possibility of my making that mistake. Then he elaborated about his plan for Recess…
"We need to empower you by earning you your own audience through a holistic approach that invites people in early, putting them behind the camera, investing them in your process as well as personalizing it. Let the audience be part of your filmmaking family."
"Once the goals for Recess are established (festival, distribution, audience) we will track metrics that directly support those goals. This is about engagement and audience growth, not about raw numbers." This made perfect sense to me in a sort of esoteric fashion.
"We want to deliver as much value to your online community as possible. Be a resource and share progress. Create your voice across each of your channels. This will take time and effort, but starting now, you'll reap the benefits come festival circuit."
"Words of caution: Don't be lazy with your audience. They are the ones who will eventually be spreading the word about Recess, this kind of support can't be bought with an impersonal publicity/marketing campaign. It's vital you keep it authentic, inclusive and personal. Eighty percent entertainment related and twenty percent personal interest topics that show you are bigger than your film. "
So, I opened new accounts on every relevant social media platform, which was emotionally challenging (Emoji: crying with red cheeks unhappy face) because I was a long time Twitter hold out, adverse to joining the masses who constantly have their faces smashed into screens. But, Twitter being the strongest, it was necessary. I see how this is valuable; chalk a progression point up for me. 
So, it's begun, learning to work beyond the art though empowerment of earning an audience. I post regularly with truth and variety. I see possibilities opening by simply getting involved in a larger conversation and widening my scope. Emily Best, Founder/CEO of Seed & Spark (crowd funding specialists), gives a great example and insightfully explains how putting in work early, earning a solid following, does nothing but help chances for success when seeking crowd funding. Who knows? Laying this groundwork might even make my risky indie film seem a little less dangerous within a business context, and that feels liberating as an artist. Time will tell.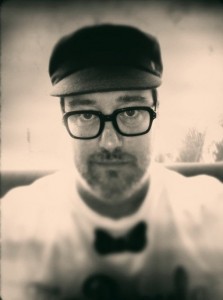 Craig Abell-Champion: An unusual kid who grew up on a sheep farm in Oregon. When I reached legal adulthood I was gone and never looked back. I earned a BFA in photography and spent several years shooting pictures around the world. A cinema lover, I moved to Los Angeles in 1998. Directing TV commercials was my film school. Today, I have left the realm of thirty seconds for a longer narrative road. A first time writer/director, my project Recess is in the packaging phase seeking financing.  
Leave a Comment