X
Looks like you are a new visitor to this site. Hello!
Welcome to Hope For Film! Come participate in the discussion, and I encourage you to enter your email address in the sidebar and subscribe. It's free! And easy! If you have any suggestions on how to improve this website or suggestions for topics please don't hesitate to write in to any of the blogs.
You can also follow me on Twitter or Facebook.
(If you keep getting this message, you probably have cookies turned off.)
Can You Come To This Event In San Francisco?
By Ted Hope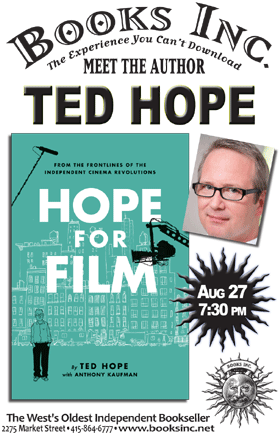 I hope we never run out of things that we get to do for the first time. Even more, I hope each of them is as exciting as this next one will be for me. I have never given a bookstore reading before, but I am going to do one very soon.
That's why I write now: to invite you to the first bookstore reading of my first book.  It will be on Wednesday, August 27th at 730 PM at Books, Inc. in San Francisco at 2275 Market Street.
I must confess: I am a tad nervous. Yes, the reviews (Kirkus, LA Times, SF Weekly) so far are all good, but a book reading is a bit daunting. It would be nice to have some familiar faces there. I promise to keep it entertaining — heck, San Francisco Magazine found some of my tales so wild, they wrote a whole article around fact-checking them (and yes, they all are quite true).
I wrote "Hope For Film: From The Frontlines of the Independent Cinema Revolutions" with Anthony Kaufman.  Charlie Winton of Counterpoint/Soft Skull agreed to publish it.  Many, many friends helped and inspired me along the way.
How do we ever get to do the things we accomplish? What do we learn from those experiences? That's what I am trying to understand with this book. Sure, we can claim to be the driver, but our path is often shaped by how well we observe where we are headed along the way. Good fortune certainly shapes our course, but even luck requires a keen eye to spot it when it leaps smack dab in front of you. With each lesson learned, hopefully we sharpen our vision and learn to engineer serendipity, manage complexity, and harvest good fortune a tad better. Isn't that film producing (and life in general)? I am thankful I got to collaborate with so many great directors; learning from each has steadily brought me closer — albeit with some big bumps along the way — to the things I care most about. I wrote "Hope For Film" to share some of the lessons I've gathered.
The LA Times proclaimed it "Part memoir, part handbook, part manifesto".  But it is all Hope For Film. You can read more of the reasons I wrote on this blog post. 
When my wife Vanessa and I were first falling in love over ten years ago, she confessed she wanted to direct a feature film.  I shared I wanted to write a book. I did not think I had the endurance to get it done. I am really most thankful I had her to collaborate with. The day I finished my first pass was the same day she finished her first cut of her first feature.  Good things take time, and a team. I really hope you can join me in celebrating reaching this finish line.
And please bring friends!
Sincerely,
Ted