X
Looks like you are a new visitor to this site. Hello!
Welcome to Hope For Film! Come participate in the discussion, and I encourage you to enter your email address in the sidebar and subscribe. It's free! And easy! If you have any suggestions on how to improve this website or suggestions for topics please don't hesitate to write in to any of the blogs.
You can also follow me on Twitter or Facebook.
(If you keep getting this message, you probably have cookies turned off.)
Creating "Live" Films Can Be Artistically and Financially Fulfilling
By Ted Hope
By Sheri Candler
Originally published on www.thefilmcollaborative.org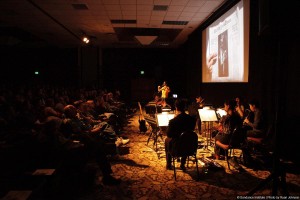 There is a lot of talk in independent film circles about the need to "eventize" the cinematic experience. The thought is that audiences are increasingly satisfied with viewing films and other video material on their private devices whenever their schedule permits and the need to leave the house to go to a separate place to watch is becoming an outdated notion, especially for younger audiences. But making your work an event that can only be experienced in a live setting is something few creators are exploring at the moment. Sure, some filmmakers and distributors are adding live Q&As with the director or cast, sometimes in person and sometimes via Skype; discussion panels with local organizations are often included with documentary screenings; and sometimes live musical performances are included featuring the musicians on the film's soundtrack, but what about work that can ONLY be enjoyed as a live experience? Work that will never appear on DVD or digital outlets? Not only is there an artistic reason for creating such work, but there can be a business reason as well.
In reading a New York Times piece entitled "The one filmmaker who doesn't want a distribution deal"  about the Sundance premiere of Sam Green's live documentary The Measure of All Things, I was curious to find out why a filmmaker would say he never plans for this work to show on streaming outlets like Netflix, only as a live event piece. I contacted Sam Green and he was kind enough to share his thoughts about why he likes creating for and participating with the audience of his work and why the economics of this form could be much more lucrative for documentary filmmakers.
The Measure of All Things is a live documentary experience to be screened with in-person narration and a live soundtrack provided by the chamber group yMusic.  It is loosely inspired by the Guinness Book of Records and weaves together a series of portraits of record-holding people, places, and things, including the tallest man (7 feet 9 inches), the oldest living thing (a 5,000 year old Bristlecone Pine in Southern California), the man struck by lightning the most times (seven!), the oldest living person (116), and the woman with the world's longest name, among others. This is the third such work Green has made to be viewed in this way; 2012's The Love Song of R. Buckminster Fuller featured live music from Yo La Tengo and 2010's Utopia in Four Movements  with musical accompaniment by Dave Cerf were his previous works.
What draws you to your subjects?
SG: "I guess all of them have come out of curiosity. Ever since I was a kid I have been curious about things almost to the point of becoming obsessed. I am still the same, but now I'm making movies out of it. I obsessively research and look into things and sometimes that just goes nowhere, but occasionally it has turned into a movie and that is where they all have come from.
I don't look at this in a strategic way. I don't sit and think about what kind of project I could raise a lot of money for, or what would make a successful film. In some ways, I wish I did do that, but really I just make films that I would want to see."
How do you tell if it will be a live performance piece or just a screen based piece? Does it have anything to do with being a performer?
SG: "I do both, but I am most inspired by the live stuff at the moment. For political and aesthetic and economic reasons, that form inspires me a lot these days so when I am making longer things, I work to make it a live cinematic event. I kind of backed into this form. It is an odd form. I'd never heard of people doing live documentaries. I stumbled into it and learned that I liked it, but it is a huge challenge for me. I am not a performer. Like most documentary filmmakers, I am a shy person and much more comfortable behind the camera. Part of why I like it is it is scary…scary as hell! But I'm learning a lot. I don't want to keep making the same kind of movie over and over again."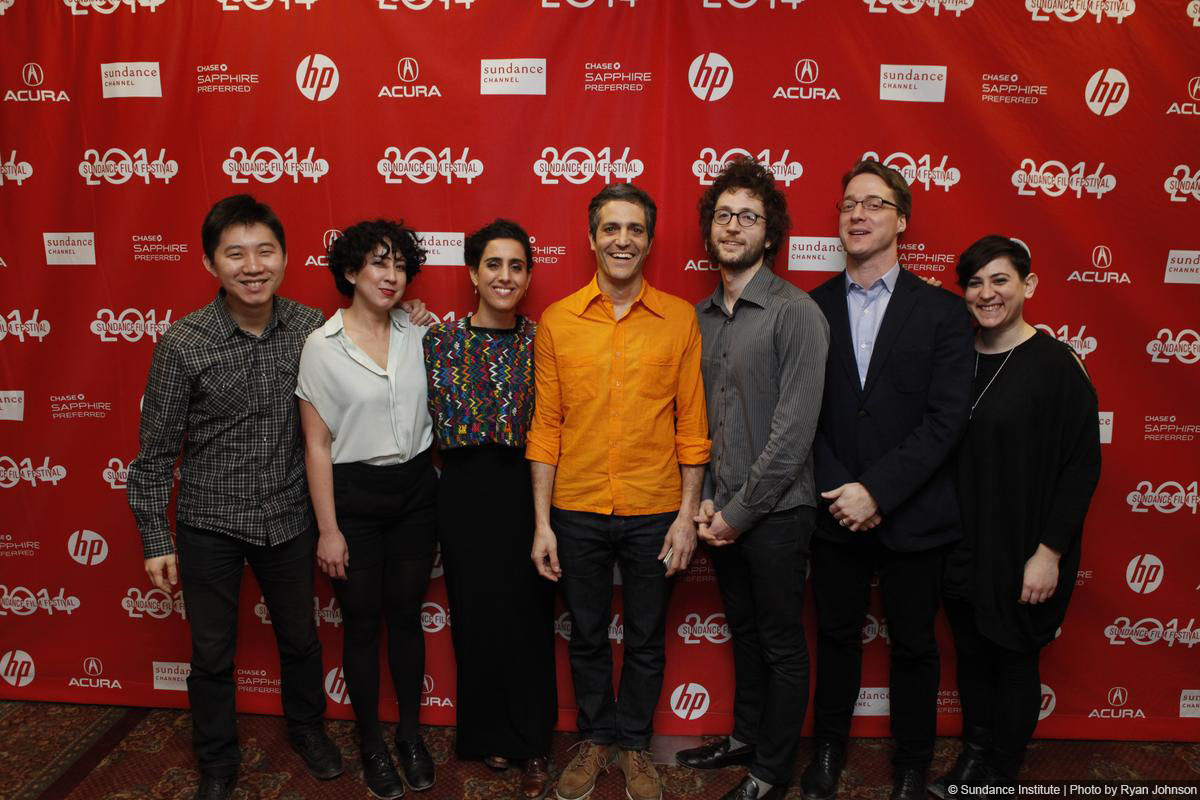 How do you usually collaborate with musicians for these works? How do you find them and what is the process of how you work?
SG: "To find people to work with, I just look at people whose work I love a lot. I have always been a big fan of Yo La Tengo, and I saw them do a night of music to a work by a French filmmaker called Jean Painleve [Science is Fiction] and it was one of the best film viewing experiences I ever had. I was in the audience at one of the shows. I loved their sense of cinematic music so I asked if they would work with me on the Buckminster Fuller piece.
It is the same with yMusic, I saw them at Carnegie Hall and they have such a fantastic, huge, epic sound and I really wanted something like that for this piece. I got in touch and we worked something out.
The way I work with the musicians is like any film/music collaboration. A lot of back and forth, I shoot some video and they make some music and I adjust the video and write some voice over. It is just cobbling the whole thing together in an organic way."
What are the challenges to taking your film on the road and performing night after night? It is like touring with a band.
SG: "The first live performance movie I made was Utopia in Four Movements. I was very pleasantly surprised how much we screened it. We screened it all over the world for several years after it was released. The challenge is you have to go to every screening and do the performance and it is a lot of work and time, but I actually love that. I am a filmmaker who likes to be around when the audience is watching and talking to them afterwards. Some filmmakers don't, they want to go off and make another movie. But I like the distribution process, the challenge of distribution. I was never in a band as a teenager, so this is probably as close as I will get.
People often ask me at screenings, 'Why not put this online and hundreds of thousands of people would see it? When you're touring, maybe only a few thousand people will see it.' And that's true, but if you look at the most viewed clips on Youtube, most of them are super dumb. People view things online in a totally throw away manner. I am more interested in smaller numbers of people actually having a more meaningful experience through my work. It is a trade off I don't mind, actually."
Is it fair to say that these are more art pieces than films that have revenue potential?
SG: "No, and this is why I am happy to talk to you about the distribution part of my work. The film distribution business is in total flux. Everyone is trying to figure out how to survive, how to make money, in the new paradigm we are in. The truth is most people don't. I know many documentary filmmakers whose films are out there, they have distribution deals, and they make no money whatsoever.
Although this was not my reason for creating my documentaries like this, I found that I make way more money on these live performances than I would make if these were traditional movies. The performance world still has an intact economy. If you go see a dance performance at the Brooklyn Academy of Music or the RedCat in LA, those performers get a performance fee that is pretty significant. They can get $10,000 to do a show. That is pretty standard performance fee.
The film distribution world has imploded largely because of the digital world.  Everything is online, consumers are getting used to seeing things for free or very low cost. The bottom has really fallen out of the revenue. But that hasn't happened to the performance world because there is no real digital equivalent to seeing a live performance. It is possible for a filmmaker to access this performance world. A lot of the shows I do are in the performance world; in museums and performing arts centers. The fees they pay are significant.  I soon realized this is a much more viable way for me to distribute work.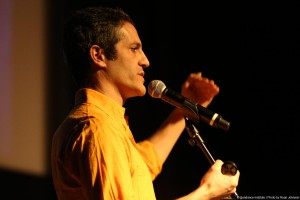 I am guided by art and not primarily by financial considerations, but I also think filmmakers and artists should put their work out in a way in which they get something back from that. Artists should be compensated for their work and I am pained by the fact that many filmmakers make no money off of their films. Their films may get out there, but they don't make any money from that. I am happy to have figured out a way to get my work out there and make money from it.
The film world is a few years behind the music world in terms of changes. The music world has already gone through all of this. Unless you are Miley Cyrus, you have to tour to make money as a musician. Not much is going to be made from downloads. I think the film world is also heading that direction and for me, this is a solution."
How do your screening fees usually work? Is it a flat fee or a cut of revenue?
SG: "I screen these pieces in 3 different contexts. One is in the film context. I screen them at film festivals and we work out some screening fee amount. Festivals are strapped and so I negotiate on the fee.
The second is in a performance context. Say it is in a museum, they pay a flat fee and that has nothing to do with tickets sold. But I do work hard with the venue to sell tickets. I like to promote the screenings and I want them to do ok with the event.
The third way is in the context of the rock music world. The last piece I did was in collaboration with Yo La Tengo and we've done some rock concerts. When dealing with rock promoters, it is often pegged to how many tickets are sold. Those end up not being as good of a deal. Rock promoters are good at making money for themselves and their split is not very advantageous to the artist."
Do you do these bookings yourself or through an agent?
SG: "I do book a lot myself. But I also work with Tommy Kriegsmann at ArKtype. They book many performance people."
Since a lot of your documentary performance depends on a written script, how is that different from making the traditional documentary with talking heads and maybe a little narration? Yours has a lot of narration.
SG: "The process is in a lot of ways still like making a film. You have an idea, you shoot a bunch of things, it turns out not to be quite what you thought, so you adjust and you start editing. I kind of edit and write voice over together. I'm a big fan of editing and doing many, many cuts to hone the piece. It is the same process one would do on an essay film.
But one thing about this form of film is you never really know what works until you show it to an audience. Only then can you tell whether people are engaged and when they're not, you can feel it. So when you feel what works and what doesn't, you can still make changes. We did our premiere for The Measure of All Things at Sundance a few weeks ago and now I have a million ideas of what I want to tweak. I think where I could change a line or put a pause and I can continue to work on it which is really fun and exciting. It allows me to really hone in on things in a way I couldn't do with a normal film. You're kind of done after you edit."
Does that allow for you to change it from performance to performance for different audiences?
SG: "For the Buckminster Fuller piece, I did change things wherever we did it. Fuller did stuff everywhere so when we had some shows in London…he spoke there many, many times and he inspired some British architects so I worked all that into the piece. I can change it each time and that is part of the fun of it, it is a very fluid form.   
The piece is in a Keynote file. I take still images and Quicktime video and put them in Keynote so I can go through and change things, swap out things. It is totally ephemeral."
How do you fund your work? Do you get grants, investors, I saw that you recently did a campaign on Kickstarter?
SG: "It is a combination. Like any filmmaker, I am hustling. With this I got a grant from the National Endowment for the Arts. They have a multi-disciplinary grant and this  project is a combination of film and performance. Some foundations have given me grants and some individuals and I did a Kickstarter campaign. "
How was running that campaign? In one of your backer updates you said you weren't sure about raising the money this way, which is a sentiment a lot of filmmakers who have been around for a while have expressed. How do you think it worked out and will you ever do that again?
SG: "That experience changed my feeling about Kickstarter and crowdfunding. I had been pretty grumpy about it because as a filmmaker I get TONS of campaign solicitations, you probably get them too. I felt bitter about that. Is this the level we've been reduced to as filmmakers, as artists? We are now funding our work by hitting up all of our friends? And the corollary to that is if I did give money to everyone who asks me, I'd be homeless. There was something that depressed me about the whole state of affairs.
One thing I had always heard people say, and I thought this was really just lip service, is there are a lot of people out there who want to be part of your work. For them, it isn't a burden, they aren't doing it out of charity or guilt or obligation. They are excited to be part of what you are doing. I had never taken that sentiment seriously. I always thought, 'Wow I'm besieged by these campaigns and this sucks.' But there are a lot of people who are not getting hitting up by other filmmakers all the time and, for them, it is a way to help you get your work out into the world and be part of what you do.
I was struck during my campaign by the fact that this is TRUE. I was actually very moved by how many people responded and were so generous. It did change the way I think about it.
I would definitely do it again. I might do some things differently, like I wouldn't do it when I was trying to finish the film. That was hard trying to finish the film and run a Kickstarter campaign at the same time. It just requires a lot of work."
I noticed you have an ecommerce aspect to your website where you sell DVDs and streams for some of your other work. Do you purposely try to retain the right to distribute on your own?
SG: "Hell yeah, I've been doing that for a while. I'm not like a luddite. I love the internet and the way you can reach people all over the world.  I made this movie about Esperanto called The Universal Language. There are people all over the world that still speak it. How would one reach people all over the world to see the movie? Without the internet and streaming, it would be impossible. I have a place on my site where people can pay $4.99 to watch it. That happens all the time and I think being able to use the internet to get work out there is fantastic.
Distribution is a trade off. With my film The Weather Underground , I had a terrific experience with distribution. The theatrical distributor was fantastic. The DVD people we worked with were great. I have nothing but good things to say about that. The truth is you give up money, but someone else is doing the work. So, in that sense, it can be a good deal.
But now, especially with people who want to distribute online, signing with a distributor who is going to tie up your rights, you often won't make money from that. I am a big believer in either reserving some rights or making companies pay an advance if they are serious about distributing for you online. A lot of companies now are not paying anything up front and that means they don't have an incentive to do a lot with the work."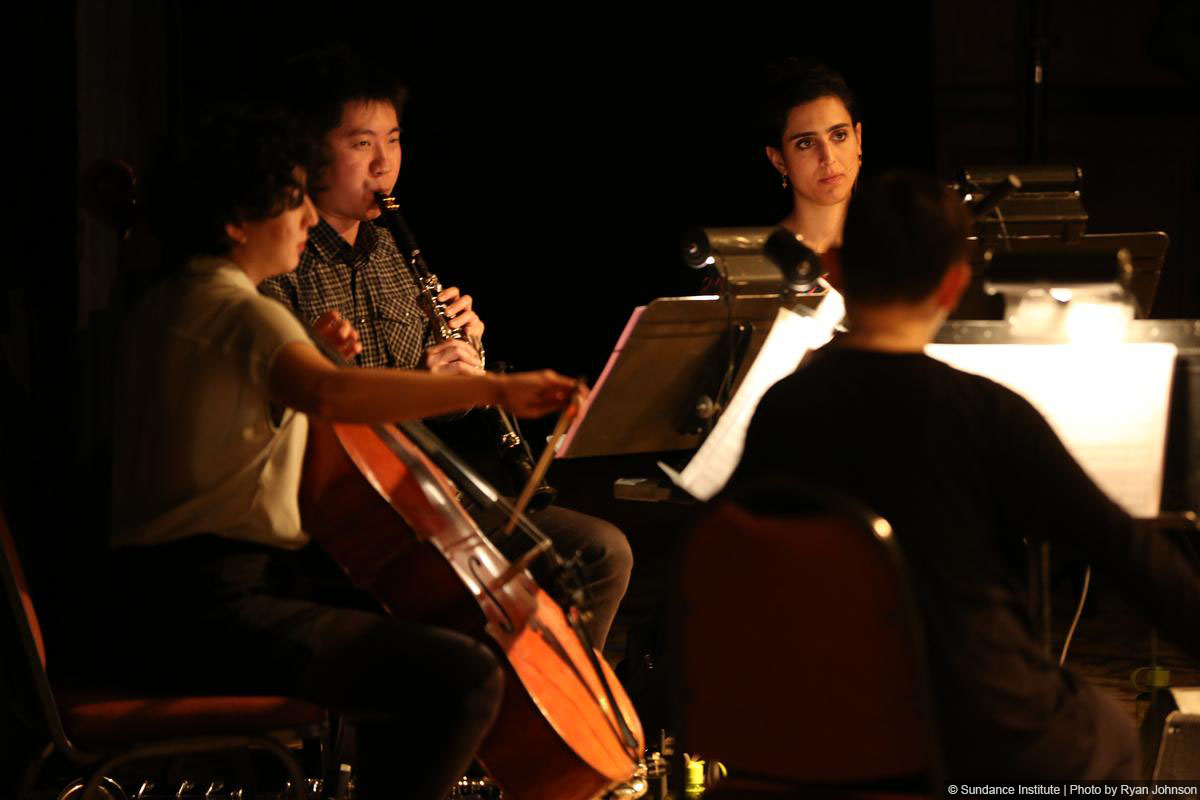 Green wanted to make it clear that he is not the only filmmaker creating live experience work. "I never want to give the impression that I am the only person out there doing this. There's Brent Green, Jem Cohen, Travis Wilkerson. I was also very inspired by Guy Madden's Brand upon the Brain. It had an orchestra and live foley and when I saw it, Isabella Rossellini was narrating it and it was a such a great live cinematic event."
Perhaps this has inspired some of you to rethink the cinematic form for your work. You have to be open to creating a live experience, putting yourself physically out there and screening in venues that are not specifically dedicated to filmed entertainment. But from an artistic and economic standpoint, these creations could be very fulfilling and lucrative.
The Measure of All Things is now booking screenings for 2014. Love Song for R. Buckminster Fuller is still on tour with upcoming screenings in Miami and Austin, TX. Sign up to Sam Green's email list to stay updated on the screenings.
Sheri Candler, Director of Digital Marketing Strategy, The Film Collaborative