X
Looks like you are a new visitor to this site. Hello!
Welcome to Hope For Film! Come participate in the discussion, and I encourage you to enter your email address in the sidebar and subscribe. It's free! And easy! If you have any suggestions on how to improve this website or suggestions for topics please don't hesitate to write in to any of the blogs.
You can also follow me on Twitter or Facebook.
(If you keep getting this message, you probably have cookies turned off.)
Some Rambling about Internet Culture, Placemaking, the Collective Narrative and the Future of Movie Theaters…
By Ted Hope
By Justen Harn
The Cinemapocalypse
For many there remains something magical about sitting in a cinema surrounded by strangers invested in a story, recalling tales told around a campfire, everyone drawn to the light like one of Brakhage's moths. These tropes, in and of themselves, are indicative of film's romantic, metaphysical appeal, but perhaps more importantly for our purposes, they bely the importance of the context within which moving images are consumed.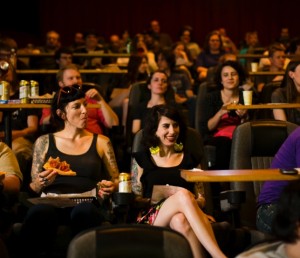 Given the sanctity of this near­century­old film­going ritual, why is it that movie theaters are struggling now more than ever to attract an audience? Even in the absence of current technological trends,at present the typical home­viewing experience cannot come close to that of watching a film projected on a 50 foot screen in a movie theater. To paraphrase Ted Hope, the trouble is that large box theaters, and many small art house theaters, while able to offer an unparallelled experience, are entirely dependent upon mass market cinema releases, products developed based on predictability and maximizing returns.
In a connected, "on­demand," world such as ours, this one size fits most model doesn't cut it. Fueled by unprecedented access and freedom of choice, participatory internet culture is helping to cultivate ever­more sophisticated audiences that are excited to interact with, respond to, and further the medium in entirely new ways as creators, distributors, curators, critics, and beyond. Bearing witness to this industry­wide transformation are wildly successful aggregators turned content­producers like YouTube, which continues to redefine how media is created and consumed.
A Movie Theater
Inspired by the Internet? For years, Portland's Hollywood Theatre, like most other art house theaters and film institutions, was programmed by a single person. At any given time we would be screening only a handful of films, essentially whatever the studios would allow us to book, along with repertory titles culled from a time­honored canon. For years this style of programming fell flat, failing to connect with an audience.
When our team was tasked with taking over this struggling cinema just a few years ago, we were particularly inspired by some of the work being done by a handful of the more innovative museums across the country, those enacting new models for public engagement in the arts. The Walker Art Center's Open Field project, perhaps more than any other helped to guide us as we worked to reimagine what a modern movie theater might look like. As the Walker team explains, Open Field is inspired by DIY internet culture, "crowd­sourcing, collective action, and new forms of socially­engaged art practice… (the program) opens the Walker to the public and artists together by using four acres of adjacent green space to create an alternative public park, a type of cultural commons with social interaction and creative participation as its guiding philosophies."
Inspired by the Walker and like institutions experimenting with new forms of engagement, we began to approach programming very differently, eliminating institutional barriers to participation, inviting artists, technologists, anyone to help us "hack" the theater, developing successful programming by and for the surrounding community. With a small army of local creators invested in the theater, we have been able to reposition ourselves, shifting from a traditional exhibitor, reliant solely upon the studio system, to a dynamic content ­generator, creating experiences for a variety of diverse groups that together make up the fabric of our city.
Getting to Know You(Tube)
Getting to Know You(Tube) (GTKYT), is a project by Crystal Baxley and Stefan Ransom, that leads participants into YouTube's deepest caverns of collective consciousness. The format consists of curated presentations by artists invoking any number of topics, with YouTube providing inspiration and content. Following each talk, there is a brief Q&A with the presenter, after which the audience is invited to share their own YouTube videos.
Of the many artist­driven programs that we've hosted over the last few years, GTKYT is a personal favorite, as it embodies so many things that we hold dear at the theater: 1.) a sincere fascination with our Portland neighbors and their unique perspectives and interests; 2.) an emphasis on meaningful community engagement and the exploration of novel vehicles for active participation; 3.) a commitment to a well loved platform, of which the culture and vocabulary is well known to ensure varied points of access; 4.) a curiosity in relation to how in an increasingly visual culture technology is changing how we tell stories and relate to one another. Over the course of its year run at the theater, GTKYT has proven incredibly successful, cultivating an audience eager to engage in meaningful ways off­line with content that may have otherwise been consumed alone, tethered to a device.
The Future is Bright
The Internet continues to change how we relate with the world in so many fundamental ways, creating a new architecture for participation, and paving the way for a cultural utopia of sorts. While the big box theaters, reliant upon Hollywood studios for their survival are right to be scared given the obsolescence of the age­old studio system upon which they rely, film institutions and art house theaters have the opportunity to embrace this exciting time, using technology to re­engage with their audiences in new ways, creating their own creative cultural commons within which local artists across disciplines are empowered to participate, developing programs that altogether reflect the surrounding community's varied interests, and thusly, facilitating the emergence of modern movie theaters and cultural hubs.
Justen Harn presently serves as the Director of Programs and Community engagement at Portland, Oregon's Hollywood Theatre, developing digital storytelling programs for young people, as well as a variety of events and series that explore new models for the presentation of cinema. During his tenure, the Theatre's programming has garnered attention from a wide spectrum of sources, including All Things Considered (NPR), IFC, Monocle, Vice Magazine, Paste Magazine, and the Wall Street Journal, among others.