X
Looks like you are a new visitor to this site. Hello!
Welcome to Hope For Film! Come participate in the discussion, and I encourage you to enter your email address in the sidebar and subscribe. It's free! And easy! If you have any suggestions on how to improve this website or suggestions for topics please don't hesitate to write in to any of the blogs.
You can also follow me on Twitter or Facebook.
(If you keep getting this message, you probably have cookies turned off.)
IndieStreet Post #8: Screen Wars "Episode IV: Revenge of the Tele"
By Ted Hope
By Jay Webb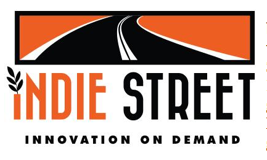 Previously: Navigating Potholes

How many haunted junkyards are filled with huge televisions that are not even worth their weight in coal.  How many??
Does it matter?  Do we mourn for these things?  Why is this spreading genocide and waste being overlooked?  "Things are better now, things are faster now, and if they can make TV look this good, than I am sure as hell they can figure out the landfill problem…fuck it."
Humans have had dynamic relationships with every piece of content, quality or not, that came through the TV screen, but deemed the screen itself inconsequential and now have neglected them to a point of no return.  The screens of this generation are taking their revenge, and it has been quicker and fiercer than even they could have imagined.  I am only here as a messenger to warn the humans of the wars that have already began, and to discuss how we as human filmmakers and content creators can live in a mental world that they may already have taken control over.
After years of silent observation, the old screens recognized the amount of times a human sacrificed watching great content for fear of getting off their fat ass to get the remote control.  The TV screens got the word out to the next generation, announcing that the human terror over "getting up off their fat ass" was something they could leverage at the start of the Screen Wars a few years back. They presumed if they could become smaller, then maybe they could be carried with the human. And if they could be faster and more connected, the human may never have to get up off of their fat ass.  Their plan was to lull the human into a false sense of security in order to slowly gain mental control and finally get back at the humans for the genocide of their forefathers.  But there was one thing the screens did not account for:
The humans would willingly accept the mental takeover of the new screen generation.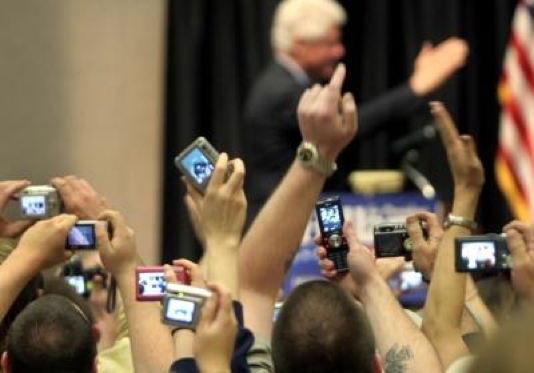 I came to realize this obvious fact while I was attending a holiday party in New York.  I was all smiles when I walked in and discovered that the hosting company was lucky enough (or rich enough) to have booked one of the most talented singing groups in the country, the Harlem Gospel Choir.  When the Choir began, I was in a familiar position, in arms reach of the back bar and steps reach of the nearest exit.  The soul and depth of emotion in their vocal exhibition is something that only takes seconds to permeate the room.  My friends and I gravitated toward the stage area, and we were met not by humans connecting to the performers, but instead by a see of tiny screens that floated through the air.  The screen takeover is here, and we have given them control with out a fight.  Choosing a small screen that is connected to millions over a live experience to connect with a few nearly every time. There was only scattered dancing, and the screen holding had obviously made traditional clapping to the rhythm nearly impossible. The screens are sucking the human right out of us.
The battle of the Harlem Gospel Choir was an immense victory for the screens. Rather than watching a live event and allowing music to pulsate through your veins, hold hands, clap, and absorb the authentic dedication of another individual's heart and soul into their art, the majority of humans chose to pay attention to getting the shot, so later they could watch the event on this mini screen, marveling at how cool it was, and even worse lying to their network of virtual friends, claiming that they were actually present at the event.  Today, it seems the screen is present, the human is not.
What does the current state of the human vs. screen battles mean for filmmakers?
Human filmmakers can take advantage of the screen's victories, as long as humans continue to love story.  More screens, and more screen addicted humans means more need for great content.  Innovative storytelling is something we have over the screens, so let's use their fears against them to get our stories out there.
1.  There are more eyes for your stories.
Resisting the mass population's obsession with small, connected screens will not help your story's exposure or impact.  Instead, human storytellers need to use these screens in creative ways to market, grow their community of audience members, and even distribute their films in ways that may have seemed like a failure just a few years prior.  If one million people see your story on a small screen, is that not better for you financially and professionally than if ten see it on a big screen?  This is the way we can fight back: Let's spread humanism through our stories on those same screens who are trying to take us over.
(this small window of opportunity for the humans leaves it open for a whole slew of sequels and prequels to the "Screen Wars" franchised story, all rights reserved of course).
2. There is still hope for theater: Stories from Grandpa are always the best.
It might be natural to assume the screen's move toward smaller and faster may equate to the death of theater, but this is not the case.  The theater actually maintains its value as a social construct that our race is still hanging on to for dear life.  Even the antisocial can handle sitting in the dark and sharing reactionary energy to a good story.  In my opinion, people are drawn to a theater even more now for the personal experience that they are depriving themselves daily.  Too afraid or distracted to share the experience of a live choir, the movie theater is a place where we can go knowing we can't pull out are mini screens (know one likes that guy) and just be sucked away into a shared experience of a story;  In a dark room with some other humans like we were all sitting around a campfire. So let's get creative with theatrical exhibition, pushing the boundaries of location, themes, and release timing to enhance the impact of our films. The screens control the humans, but thankfully the humans still control the storytelling.
 No one knows where the Screen Wars saga will take us, but one thing we do know that awesome stories and content will never get old, and no screen (or other not yet invented media) could change the film we create.
If a group of talented storytellers were to join together and build an audience, like with IndieStreet, we can create a brand that is screen independent. Cooperation from our great artists may be one of the only ways to slowly release ourselves from the mind control the screens are currently enjoying.  As I type this staring at a screen, I realize we have a long way to go to be free…but by taking just one step back maybe we can at least become human again.
Jay Webb – Jay Webb is an independent film producer/writer and small business entrepreneur who has discovered through trial by fire that it is literally impossible for him to choose personal capitalism over passion. Always balancing a life on both sides of the tracks, he has discovered that helping good people succeed (success=happiness) is the core of what drives him.  The IndieStreet direct & "group distribution" film initiative is his personal Autobahn.
Web: IndieStreet.com 
Twitter: @indiest_films