X
Looks like you are a new visitor to this site. Hello!
Welcome to Hope For Film! Come participate in the discussion, and I encourage you to enter your email address in the sidebar and subscribe. It's free! And easy! If you have any suggestions on how to improve this website or suggestions for topics please don't hesitate to write in to any of the blogs.
You can also follow me on Twitter or Facebook.
(If you keep getting this message, you probably have cookies turned off.)
The WASTELANDER PANDA Saga! Part 5. Release
By Ted Hope
by Kirsty Stark (Producer), Ella Macintyre (PMD) and Victoria Cocks (Writer/Director)
Part 5. Release: Wrap-Up & What's Next
Our final step in this stage of the Wastelander Panda journey was to release the films.  We did this in three stages – a preview at the SXSW Film Festival in March, two back-to-back screenings at a local cinema in Adelaide on May 27th, and an online release that same evening. 
We had different reasons and goals for each of these three steps:
SXSW
Wastelander Panda was never intended to be screened at festivals.  It's primarily an online project, and we wanted as wide an audience as possible to be able to access the films, as son as possible.  Having already kept our online audience waiting for more than a year since the Prologue we didn't want to delay the release of our new episodes any longer than necessary, by holding the films back for the 'exclusivity' of the festival circuit.

It has always been our belief that particular kinds of films are best suited for online distribution, and that the Wastelander Panda films fall into this category.  We could have sent them to festivals over the course of a year, with no guarantees that they would be screened, only to perhaps have them seen by 200 people at a time.  Instead, we made the decision to release them to the world online, maximizing their potential audience – especially as our goals with these films was not to win awards, but to grow our fan base as far and wide as possible.
However, one thing that festivals do offer is industry legitimacy – something that is particularly attractive to financiers, and difficult for online projects to attain.  SXSW was due to be held two months before the release of our new films, and was the perfect festival for the project, due to the huge crossover between film and interactive there.  We entered the 'Panel Picker,' vying for a place as speakers amongst the many world-renowned experts in their fields, and after an online voting process (for which we requested help via social media) and judging by an official selection panel, we found out that we'd made the cut!
Not only were we able to preview one of our episodes at SXSW and give a presentation about our journey with the project so far, but we had a focused reason to be at the festival, which opened up many opportunities for conversations for us.  Our project gained added legitimacy back home, simply through being selected, and we were also able to promote it to people making and writing about similar content in the US.  Our aims at SXSW were to build awareness for the project amongst a new, relevant audience, as well as learning as much as we could about the online space from the industry experts in attendance.
Launch Screenings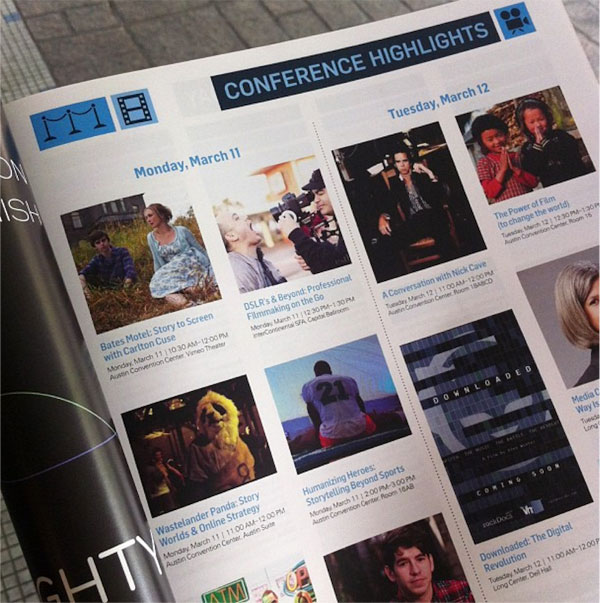 The second phase of our launch was a pair of back-to-back cinema screenings in our hometown of Adelaide.  Rather than simply releasing online, we wanted to give our cast, crew and crowdfunding supporters the opportunity to see the films on the big screen as a celebration of everyone's hard work.
Holding an event also gave us the opportunity to create further attention around the project, in the offline world.  By holding a physical event, and talk about it, as well as giving the media a focal event for our launch date.  We had several local journalists attend the screenings, as well as a state news crew, who featured the launch as a segment later that week.
Finally, the screenings gave us the opportunity to create a space in which people could gather to see the project, and begin a hub of discussion about it.  Along with the cast, crew, financiers and everyone who had helped on the project, we opened up invitations to family and friends, with over 700 people attending the two screenings.  This led to a huge boost in social media and website traffic when we launched the site later that evening, as all of them posted about their attendance on social media and shared their initial reviews with friends.  In Adelaide, a city of 1 million people, it seemed like many of the people we spoke to had seen or heard of Wastelander Panda at some point during that week.
Online Launch
Our final phase of the launch of our three films was to put them online for anyone to view around the world.  Early on, we had made the decision to do this on the same evening as our launch screening, in order to include our audience around the world.  Holding an evening event in Adelaide meant that the episodes went online early in the morning in the USA, where we hoped that the majority of our media attention would come from.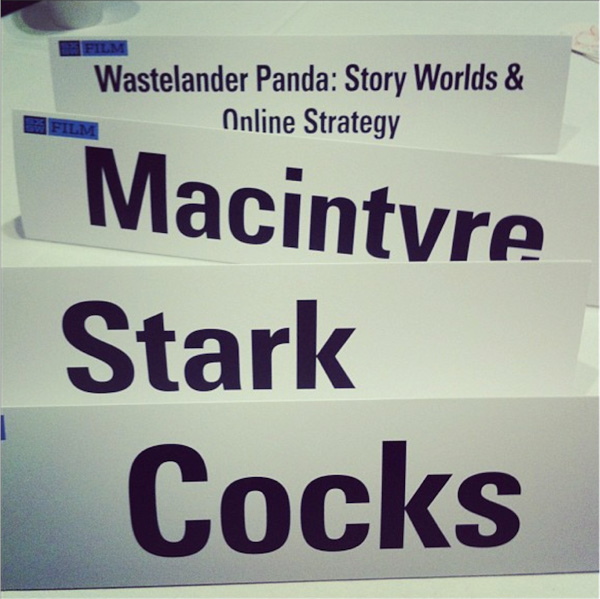 We also made the decision over a year before their release that all three episodes would be launched at the same time.  As consumers of online content ourselves, we recognized our own frustration at discovering a new web series or short film and knowing that there were more coming out, but being unable to access them.  This observation was coupled with our study of viewer statistics from web series that had been released on a week-by-week basis, and noticing that there tended to be a huge drop-off in viewer numbers from week to week, often by 50% or more.  We wanted to capitalize on the publicity spike that would hopefully come with our launch, and allow viewers to see all three episodes at once, rather than potentially forgetting about them by the time the next one came around. 
This was a controversial decision at the time, but before we released the episodes, House of Cards and Arrested Development had used the same tactics, and by then it seemed the 'obvious' thing to do.  This proved to be correct, with our most publicized (and shortest) video, Arcayus & Akira, accounting for approximately half of our views, but with the other half split evenly between Isaac & Rose and Arcayus & Rose, meaning that half of those who watched the entire 8 minutes of Arcayus & Akira went on to watch our full 40 minutes of content.
Our priorities for the online launch were to have people:
1)   Watch all of the films
2)   Share the project with their friends via social media
3)   Explore our website to become more engaged with the storyworld
4)   Sign up to our social media pages and/or make a purchase from our merchandise store.
We designed our website interface and user pathways, YouTube 'outro' screens with annotations at the end of each video, and a 'message from the creators' bonus video specifically to encourage users to carry out the above steps in order of priority.
In our first week online, we had over 2500 people share links to our website or individual episodes on Facebook, as well as hundreds of tweets and emails.  Our current focus is to create a long-term dedicated fan base, rather than make money from the episodes.  However, we have been receiving a steady trickle of merchandise and DVD purchases through our online store, indicating the existence of committed fans.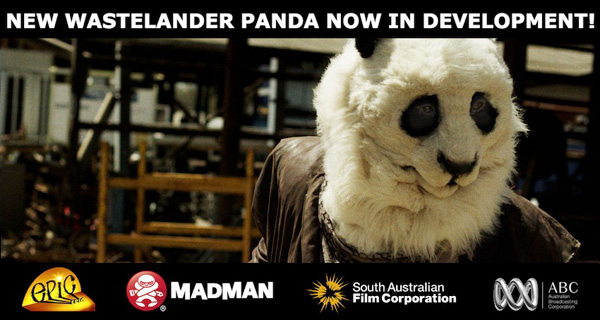 We have also had a fantastic outcome to the process so far – last month signing a co-production deal with Madman Production Company, and beginning development of six new ten-minute episodes as a chronological series with the Australian Broadcasting Commission (ABC) and South Australian Film Corporation (SAFC).  The plan is to initially produce the episodes for an Australian release on the ABC's online iView platform, before continuing to spread them around the world.
This shorter series will be a fantastic stepping-stone for our long-term goal of making a television series.  Currently, we're looking to broadcasters to fund the next stage because we are yet to find an independent business model online that will sustain the budget for our content if we pay all cast and crew full award rates.  However, we also want to make sure that our fans all over the world can continue to watch Wastelander Panda at the same time, without restrictions on regions, so the internet would be an ideal space to continue.  There doesn't seem to be an obvious solution to this incongruity yet, but considering how much the online space has changed for film in just the past 12 months, we're confident that if we continue on this pathway and aim to create new opportunities for ourselves, we will be part of the future of online video content.
Wastelander Panda is a live-action sci-fi project, written and directed by Victoria Cocks, that tells the tale of the last remaining panda in a post-apocalyptic Wasteland.  The first three Wastelander Panda films are available at http://www.wastelanderpanda.com, in conjunction with an interactive map allowing users to explore the Wasteland.  The team has now signed a co-production deal with Madman in Australia, and is developing further episodes with the Australian Broadcasting Commission and the South Australian Film Corporation.  This series of posts by Producer Kirsty Stark (@kirstysan), PMD Ella Macintyre (@Ella_Macintyre) and Writer/Director Victoria Cocks (@VictoriaCocks1) outlines the process the team went through as first-time filmmakers to bring Wastelander Panda to its current funded stage.