X
Looks like you are a new visitor to this site. Hello!
Welcome to Hope For Film! Come participate in the discussion, and I encourage you to enter your email address in the sidebar and subscribe. It's free! And easy! If you have any suggestions on how to improve this website or suggestions for topics please don't hesitate to write in to any of the blogs.
You can also follow me on Twitter or Facebook.
(If you keep getting this message, you probably have cookies turned off.)
What Does 'Community' Really Mean For Film?
By Ted Hope
 By Fraser Brown
I'm producing my first feature film. We're on our 10th day of night shoots and I'm delirious with lack of sleep. It's 11pm in the middle of a New Zealand winter so I'm wearing 6 layers (3 of which I slept in last night) and a pair of ugg boots. It's not pretty but I don't care, I'm loving it!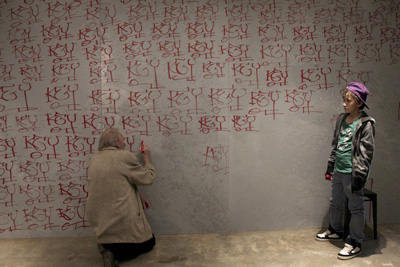 Production designer Lyn Bergquist gives Calae Hignett Morgan "Kenae" a graffiti lesson.
We've written a character driven drama so all our planning was designed to produce an environment that would enable us to get the best possible performances out of our actors. 3 of the 4 leads in the film are teenagers, dealing with some pretty heavy material, so we needed to provide a safe and supportive working environment for them. To create this environment we developed a Whanau (Māori for family) approach to the production that has 3 main elements:
1. Living & Working communally – we knew we couldn't afford to accommodate everyone in their own hotel or motel rooms so we tried to find a few big holiday homes, near the shooting location, to house all cast and crew together. We called on the goodwill and support of the island community to assist us with heavily discounted rates in return for some great photo and video content we'd produce for them during the shoot. We wanted each of our production updates to become mini promotional videos for the Waiheke Island community, where we're shooting the film.
*Failure note: With hindsight we were expecting way too much of the community in this area and I didn't have enough of a contingency plan. A potential sponsor fell over less than a month before the shoot and I've never recovered. Accommodation ended up being our biggest overspend and something I've been chasing my tail on for the entire shoot. Always have a contingency plan!
2. Job Sharing – traditionally departments on films are very segregated but we wanted a crew willing to do whatever was required to get the job done. We carefully selected crew willing to help other departments when necessary, which enabled us to streamline the total crew numbers slightly.
3. Stepping Up – I believe that in many cases enthusiasm and commitment are more valuable on a low budget job than experience, but the key is balance. A great way to get that commitment is to find crew ready to 'step up' to the next level in their field and give them that opportunity, in a supportive environment. This only really works if they have experienced crew around them so we selected a few very experienced crew in leadership positions to support the up and comers.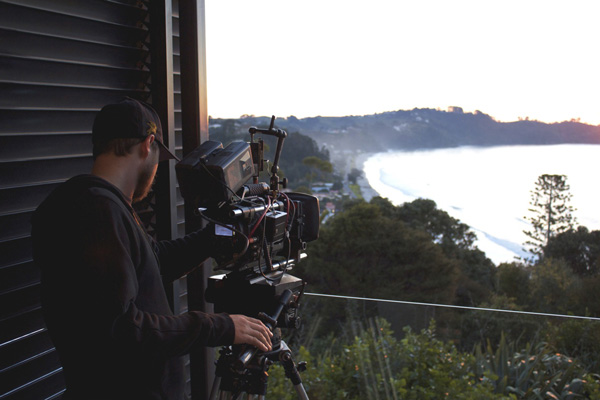 Focus Puller Richard Simkins 'stepping up' to shot another stunning Waiheke Island sunset from our hero location.
Community things worth thinking about:
Firstly, I think a pay parity system, where everyone on the shoot receives the same daily rate plus a share of back-end, is the best way to motivate your team. Why? Because everyone is in the same boat during the shoot and they're all incentivised to help you find and build an audience for the film.
Secondly, I think we need to be innovative in how we involve the communities in which we make our films, into the funding of them. In addition to crowd funding we worked hard to get sponsorship from local businesses and we're working even harder to try and deliver a return on that investment. My advice here is that it's incredibly difficult and extremely time consuming but can be well worth doing. The key is, again, to play to your strengths as a visual storyteller. Most businesses these days are desperate for good content and while you're geared up to shoot your film you're in a great position, with some careful planning, to shoot some interesting material for your supporters without adding any cost to your production.
With O&K we conceived the project around a budget of $250,000 and then created a 'low budget methodology' to support making the film at that level. We've created a little info-graphic to help explain it:
http://orphansandkingdoms.com/micro-budget-methodology
Every creative decision was made within the constraints of this budget level and while it was extremely frustrating at times we always knew what we were dealing with and in the end I'd like to think we've made a virtue of those constraints.
How did we do this?
Single Location – We set out to write a film with a unity of time, place and action, a story that could be told using one main location, over a short period of time. In this case a beautiful holiday home on Waiheke Island, most importantly, a community we were already a part of, and we knew would support us.
Performance Driven, small cast – Writer/Director Paolo Rotondo and I know character and performance well so we conceived a story that could be told simply with a small cast, through good casting and strong performances. As actors in a small community we knew a lot of the talent already and could do most of the casting ourselves, plus it saves a little money when you can cast yourself in a support role.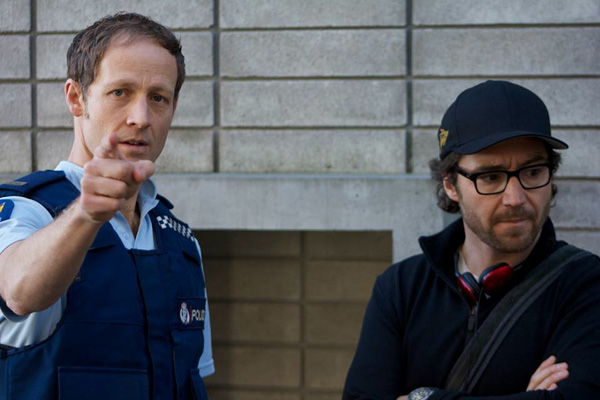 Producer Fraser Brown in character as "Constable Mike Layton" with Writer/Director Paolo Rotondo.
Social Realism – from the outset we elected to set the film in the present and shoot it in a way that would require a minimal amount of costume and set dressing.
Team - be pedantic about only working with people that share your passion for telling your story. If they don't connect with the story, find someone that does, no matter how good they might be.
Be Honest - no matter what you decide is right for your project you must be extremely clear, direct and upfront with every cast and crew member about how it's going to work before they start on the project. It's about managing expectations and everyone's will be different. Never assume anything or it will come back to bite you. I recommend you plan to have a face-to-face meeting to outline exactly what you're planning. Go through everything that's outside the standard for your industry and get them to agree or, and this is really important, give them an unconditional 'out' if it doesn't suit them. People need different things at different stages in their life and careers.
Never assume - This is especially true if you're working with your friends. Don't risk a friendship because you assumed your mate wouldn't mind sharing a bunk with the gaffer.
We knew that for this 'family' style approach to work we needed everyone to be in it for the right reason and to understand exactly what they were letting themselves in for. I can't stress the importance of this enough on a micro-budget job.
You can see more of our approach to 'community' on our website:
We built our site using the Assemble.me platform because they're all about community building for film. In my next post I'll tell you how we're working with them, our sponsors, the Waiheke community and an online community, Gotta Love NZ, to continue building our audience prior to release next year.
My top five takeaways so far:
1. Create a project specifically for your budget level
2. Crowd Funding will be more difficult, take longer and cost you more than you think. You can never be too organized. You can see how we did ours here
3. Make sure you have a team around you, dedicated to your crowd funding, audience development and community outreach. You won't have time to do it yourself, no matter how awesome you are.
4. Your first film needs to play to your strengths. Write what you know and plan to shoot it wherever you have the most community support. 
5. Make sure you write your blog post before you start shooting your film!
Kia Ora,
Fraser
producer@orphansandkingdoms.com
Fraser Brown – @fraserStCbrown
Fraser is a professional actor and creative producer from Auckland, New Zealand, based out of 

Flying Fish

 where he produces short films, TVC's and branded content. Fraser's first collaboration with writer/director Paolo Rotondo was the 

NZFC

 funded short film 

Dead Letters (2006

), which won best short screenplay at the New Zealand Screen Awards and premiered at the prestigious 

Telluride FIlm Festival.