We've got another excerpt from Sherry B Ortner's new book Not Hollywood. Subtitled "Independent Film at the Twilight of the American Dream", its an ethnographic look at Independent Film since the late 80s. This time Sherry looks at issues of sexism and Feminism's current standing in the film world.
By Sherry B. OrtnerIt is a major point of the post-feminism literature that younger women find second-wave feminism irrelevant to today's world, a world in which virtually all occupations are open to women, in which women—like the studio heads noted earlier—have been very visibly successful in many endeavors, and in which many men have been sensitized to the need for egalitarian relations between the sexes. Moreover, in this view, younger women see second-wave feminists as having more or less abandoned an interest in attractive femininity in the pursuit of gender equality; younger women reject this de-feminization and refuse to identify with the older feminist generation and often with the very term feminism.
The generational friction between second-wave feminists and younger women is the recognizable subtext of at least one very successful film, An Education (Lone Scherfig, 2009). The film tells the story of a very bright young woman in secondary school, Jenny, who is poised to go to Oxford but meets an exciting older man, David, and decides to drop out of school. As she had been an excellent student, her teacher, Miss Stubbs, tries to dissuade her from dropping out, but Jenny is determined to pursue this new life. Miss Stubbs embodies both the views and the look of a (stereotypic) second-wave feminist woman in the guise of the classic ''spinster.'' She is unmarried; she is also portrayed as physically plain, not so much through her natural looks (which are not unattractive) as through the way she puts herself together (skinned-back hair, no makeup, old-fashioned glasses). She and Jenny have a number of arguments over Jenny's decision, and throughout their arguments Jenny contrasts the life of sensual pleasure (good food, music, trips to Paris) she is having with David with the ''boring'' and ''dead'' life of Miss Stubbs and other women (e.g., her school's headmistress) who have chosen a professional career and/or the life of the mind.
Jenny represents another version of the Pretty Woman/Sex and the City anxieties of older feminists for the younger generation of women. And indeed there are surely many young women around who see the world as Jenny (temporarily) does, who think sexism is a minor issue and feminists are killjoys. But my conversations with younger-generation women in the film world (both studio and independent) revealed that most were acutely aware of ongoing issues of sexism. They may not be politically active, but as against the charges of ''post-feminism,'' they certainly do not see the issues of feminism as over. I will suggest that this contradiction or disjuncture between awareness and (in)action may be relevant for understanding some of the films.
I interviewed only one woman who denied that there were continuing issues of sexism in the contemporary movie industry. This woman, Irene Nesbitt, was an independent producer who produced Hollywood studio-oriented films. Irene insisted that she had never experienced sexual harassment, discrimination, or exclusion. She also insisted that the rise to power of female executives in the studios, discussed earlier, marked the end of an earlier era of sexism in Hollywood.
IN: You know, I'll have to say, the truth of the matter is, I think sexism is not very rampant in the movie business.

SBO: It's not?

IN: I don't think so. I think Hollywood has actually one of the most impressive lists of women in power. There are a lot of studio heads who are women, I mean way more than the average in the Fortune 500. . . . In terms of power and decision-making, I think it's actually remarkably not sexist. (Interview, July 6, 2006)
But virtually all other critical observers of the Hollywood gender scene see it differently. Producer Lynda Obst (whom we met in the previous chapter reflecting ironically on how she coos to her agent ''like a cheerleader'') emphasized women's exclusion from the inner circles of Hollywood: ''You can argue that being a member of the studio-head club makes you a member of the old boys' club, but Dawn Steel would tell you differently. A woman can rise to the top of the corporate hierarchy here, but the boys' club remains just that: the Boys' Club'' (Obst 1996: 193). Journalist Rachel Abramowitz wrote about the pragmatic acceptance by women of the pervasive sexism of the industry: ''Discussing sexism, indeed sexual harassment, in Hollywood was a little like discussing the fact that the sea was blue. It was just a fact of nature, keenly noted but largely accepted as the cost of doing business'' (2000: xiv).
The pragmatic attitude Abramowitz points to does seem to be quite widespread and much more central to women's avoidance of the feminism label than any blanket rejection of feminism as a critique of the culture. People in both Hollywood and the independent film scene do not like to be seen as whining about anything, including sexism. For example, one (female) producer launched an angry tirade about a difficult (female) agent, describing the agent as a woman ''who wanted to join the big swinging dick club.'' She turned to me at the end of the tirade and said, ''Let's have a meeting and I will give you all the dirt about gender in this game'' (field notes, February 9, 2007). But when we met, she more or less denied that she had invited me to have that conversation and deflected any attempt to engage the subject (field notes, April 14, 2007).
These examples aside, many young women whom I interviewed were quite frank—and quite critical—about their encounters with sexism in the course of doing business. One young executive at a major studio said,''Gender is a big issue actually. I mean, it is a boy's world, especially at my particular studio. There are some studios that are run by women—Amy Pascal at Sony and Stacy Snider at Universal—but my studio is very male orientated and we [women] all really feel that. . . . I feel like I am being hazed at a fraternity'' (interview, January 10, 2006).
She went on to say, ''They decide that teenage boys see the most movies and so they make movies for teenage boys. So it makes sense to have boys, essentially large [boys] running the studios'' (interview, January 10, 2006).
One young independent filmmaker recounted the following experience of a meeting in which she was trying to raise money from an investor:
It was kind of horrible. He ordered a three-course meal and then he ordered dessert at the end and he kept doing this thing where he would take my spoon and put ice cream on it and then hand me the spoon, like trying to feed me. . . . The ice cream he ordered came with a dish of toppings, and he took a cherry and held it in front of my mouth and said I've always wanted to do this to a woman. (Interview, April 4, 2006)
In addition, when this filmmaker told this story to her (female) producer, the producer said she had had identical experiences:
She started telling me stories about her meetings with private investors, and how it was the same thing. She was working with a female director at the time, and they had a meeting with investors where the entire time it felt like a double date and they weren't being taken seriously. At the end of dinner the investors wrote a check so at least something came out of that. But it was very degrading. (Interview, April 4, 2006)
For yet another example, a young independent screenwriter and producer talked about a very unpleasant job that she held for a while. The workplace was chaotic and the boss seemed to be corrupt. In addition, the men in the office were always telling dirty jokes and looking at magazines with nude women. She had a kind of political awakening: ''That was the first time where I ever had a boss where I felt sexually harassed and I felt considered inferior because of my sex. I felt suddenly this huge empathy for every woman in the world who deals with that on a regular basis. I mean one way or another that's reality for most women in the rest of the world'' (interview, May 15, 2006).
Above excerpted from Sherry B Ortner's Not Hollywood. Copyright Duke University Press, 2013
www.dukeupress.edu/Catalog/ViewProduct.php?productid=49300 [1]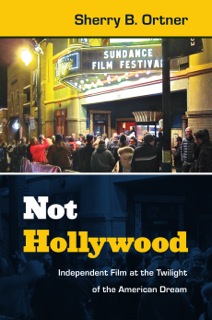 Sherry B. Ortner is Distinguished Professor of Anthropology at UCLA. She is the author of numerous books including New Jersey Dreaming: Capital, Culture, and the Class of '58 and Anthropology and Social Theory: Culture, Power, and the Acting Subject.
Tweet [2]

[3]
[1] www.dukeupress.edu/Catalog/ViewProduct.php?productid=49300: http://www.dukeupress.edu/Catalog/ViewProduct.php?productid=49300