X
Looks like you are a new visitor to this site. Hello!
Welcome to Hope For Film! Come participate in the discussion, and I encourage you to enter your email address in the sidebar and subscribe. It's free! And easy! If you have any suggestions on how to improve this website or suggestions for topics please don't hesitate to write in to any of the blogs.
You can also follow me on Twitter or Facebook.
(If you keep getting this message, you probably have cookies turned off.)
Why Every Filmmaker and Artist Should Have a Pinterest Page
By Ted Hope
By Reid Rosefelt
As a busy filmmaker or visual artist, you may feel you're already spending too much time on Facebook and Twitter, and the last thing you need is to start soaking up your time with another social media platform.   I understand that completely, but I'm going to show you how Pinterest can help you even if you don't really use it.
In case you haven't heard, Pinterest is a new and increasingly popular social media website that allows you to "pin" images and videos to virtual pinboards that you create, organized around themes.  You can either upload your own creations, bring them in from other websites, or "repin" them from other Pinterest users.
A recent survey found that Pinterest is only one percent behind Twitter, up from twelve percent in August 2012 to fifteen percent in February.  It skews very heavily female at this point, but that may shift as more people use it.
Here's the top of a Pinterest Page made by Italian designer Paolo Casti. He has over fifty boards, mostly on design-related topics like Car Design, Music Design, Product Design, Extreme Design, etc.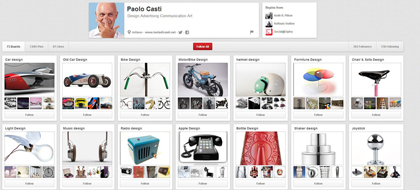 Looking through the boards, you get a sense of Casti's taste, personality and style, and you also discover beautiful things, which is why Pinterest has proven to be such an effective site for shopping.   It's only after you get down to the bottom that Casti puts in the board below, which shows that he has created a video wall and other signage at the Venice airport.

It's a completely new way for an artist like Casti to introduce himself to an international audience:  here  are the things that influenced me, my inspiration, my taste, my home, my entire way of looking at the world… now look at what I've created.   I never would have discovered Casti if we hadn't been brought together by Pinterest when he repinned something from one of my boards.
As I said, even if you have no intention of spending time on PInterest, you can utilize it to assemble a home for all the material you've created for your art.  You can make a board for each of your films, or for different categories from a single film.   An artist might organize a page on his or her gallery shows, and playwrights and directors could organize it by plays.  Each board has its own URL.  A click on any picture will either display a larger version of the image or take you to any website that you'd like the user to go to.
If you already have a website for your film, this could be a wonderful supplement.  In my opinion it is better than most websites because you don't have to click around drop-down menus to see what's in it, something that very few people do.   Perhaps you have separate websites for some of your films, but not for your whole career.  If you don't have a website, you can make a nice mobile friendly one as a supplement to your actual website.   If you don't have a website, there are great free tools like Strikingly  where you can quickly build a stunning, mobile-optimized site, and then link to your Pinterest boards or pages.
To illustrate the possibilities, I decided to create a sample Pinterest page from a 27-minute 16mm silly comedy I wrote and directed in 2003 called "Tiger: His Fall & Rise," which starred Thomas Jay Ryan ("Henry Fool") and the late Adrienne Shelly.  Set in the forties, shot in black and white Super 16mm, "Tiger" was a lavishly over-produced film noir musical about a singing rubber frog, with sets, costumes, original songs, dance numbers, and an amazing cast.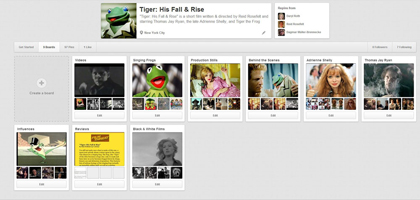 To set up the page, I logged out of my personal Pinterest account and went to pinterest.com.
As I needed a distinct email address, I had already created tigerhisfallandrise@gmail.com.     I put up the picture of my star, Tiger the Frog, and I was good to go.
For many reasons, including the fact that the original sound was lost, "Tiger: His Fall & Rise" was never completed and only exists as a copy made off of an Avid.   Despite this, it was projected a few times, including once at the old Pioneer theatre in New York.  That was it for "Tiger" until a few years ago when I had the idea of making a ten minute version for YouTube.  I wrote a new script, put together a few clips, unused takes, and new material, but my concept involved reshooting, green screen, etc., and I abandoned it. However, once I made those clips I never wanted the original "Tiger" to be shown again, because they were closer to the spirit of the film I wanted to make.  I had dreamed of something that mixed the deadpan idiocy of "Airplane" and the comic violence of a Tex Avery cartoon.  It didn't work out but it's fair to say that people did enjoy the songs I wrote for it.
I made a board for these remixed clips.  While digging around I found some funny outtakes of Adrienne stuffing her face with Chinese food.
They amused me, so I put them together and included them.  It was interesting to make DVD-type materials for a film that is never going to make it to DVD.  But from the perspective of Adrienne being a beloved and talented person who is no longer with us, they are worth watching, and I would never have found them if I wasn't going through this exercise for this blog post.   I also put in a Christopher Guest-style "Making of" film that was made by my friend Jose Casado and actress Jessica Jolly.  Again, the improvisation by Jessica, Tom Ryan, Adrienne Shelly, and others are really funny, and deserve a better fate than sitting on my hard drive gathering dust.
Most of the stills for "Tiger" were shot by Richard Sylvarnes, who is a respected filmmaker ("The Cloud of Unknowing," "H.C.E," "Last Words of Dutch Schultz"), musician and artist, who I met because he shoots the stills for Hal Hartley's movies.  His photographs are one of the few records of what it actually looked like to be on the set.  Now that I've begun this project, I am going to go through the binders of Richard's work and will scan some more of them.
I had already set up a tribute page to Adrienne on my personal page, which is an ongoing project.  She was my best friend for many years, and it makes me happy to make a record of what she was like as an actress and director by assembling photos, posters and trailers.  What I was surprised to discover by making this Pinterest page was that there was a lot of surprising Adrienne Shelly-related material floating through the web: video tributes, art, Tumblr  montages, even a song.
I started a board for Tom Ryan.  It was nice to revisit the stills for "Henry Fool," a film I publicized, but it was even more fun to see him in a still with Tilda Swinton and dressed up in costumes for all the theatre work he's done.   It's going to be a pleasure to build this up.   He is a great actor and deserves something like this.   As I demonstrated in this post, this is something people will find when they search for him online.
For my "Reviews" board, I could only locate a single one, from Film Threat, stuffed away in a filing cabinet, and I put it up with a user review from IMDb.  When I find more, I'll add them.  I uploaded a graphic of the review I made in PicMonkey  and linked to the site, by clicking edit and putting in the source URL.
I went on to create three other boards for my page: "Influences," "Black and White Films" and "Singing Frogs."  There will be more.  You don't have to create additional boards like this, of course, but unlike your website, which people will only seek out if they want to, being an active user of Pinterest will lead people to your page.
If nothing else, my "Tiger: His Fall & Rise" Pinterest page is a place where my friends, relatives and people who worked on the film can visit and enjoy.  And as I have shown, the process of putting it together has been an interesting journey that has excavated a lot of interesting stuff from my hard drives.  Now that I've started this, I'll keep creating videos from the detritus of "Tiger," and if the response is good enough, maybe I'll make that YouTube video someday.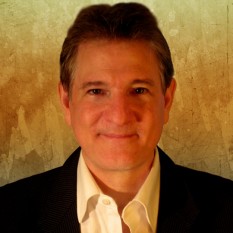 Reid Rosefelt coaches filmmakers in how to market their films using Facebook, and lectures frequently on the topic.  His credits as a film publicist include "Stranger Than Paradise,"  "Crouching Tiger, Hidden Dragon," and "Precious."
Blog: reidrosefelt.com
facebook.com/reidrosefeltmarketing