X
Looks like you are a new visitor to this site. Hello!
Welcome to Hope For Film! Come participate in the discussion, and I encourage you to enter your email address in the sidebar and subscribe. It's free! And easy! If you have any suggestions on how to improve this website or suggestions for topics please don't hesitate to write in to any of the blogs.
You can also follow me on Twitter or Facebook.
(If you keep getting this message, you probably have cookies turned off.)
Hey Film Friends,
Our debut screening at Lincoln Center last month was a great success and completely sold out. Everyone had a great time. I encourage you to order tickets to our next show right now, and use the "affiliate" code to save money when you order. The café in the theater has terrific food and drink so you can make a night of it as we did last month. And of course we have another great, truly indie, film for you this coming Thursday night.
What with the bombast of Hollywood's regular fare, I find sanctuary in the true indie work that is committed to unlocking our present day reality. My next screening at The Film Society of Lincoln Center's INDIE NIGHT delivers all of this to you:
emotional truth and honesty,
clarity and discipline,
simplicity yet reach and ambition –
and most perhaps,
enjoyment and pleasure in the odd, little moments that can define a life.
Director Matthew Petock's A LITTLE CLOSER, won best feature at the Lone Star Film Festival. A remarkably assured first feature for a director barely out of film school, Petock's debut rips a page out of Raymond Carver's stories. Far more seasoned artists have struggled to capture emotional truth while not falling into the trap of sentimentality. Petock manages to walk that line.
Martin Scorcese had this to say about A LITTLE CLOSER:
"Matthew Petock's first feature shows him to be a director of depth sensitivity and assurance. He captures the quiet emotions and heartbreak of his characters with profound respect for the dignity of the everyday struggles in life and what it means to be a family. A LITTLE CLOSER is a hauntingly beautiful film and a remarkable debut."
As with last month's WITHOUT and its director Mark Jackson, Petock's A LITTLE CLOSER is part of a trend (dare I say: a movement) of naturalist micro-budget filmmaking emerging from Brooklyn, but blossoming in far off locales. They share a gaze towards the class divide that defines our time, a respect for working people and the challenges we all now face.
Matthew Petock does not wallow in the filmmaking constraints financial hardship imposes, but instead delivers a full vision, never wanting, with all the creative aspects in full service to his vision. A LITTLE CLOSER introduces us to a working mother who may be a single parent with two young sons who try her patience and test their boundaries, but we also get to share in her joy when she too gets the brief respite she's been yearning for.
Great movies! Great discussion! Discount tix! Discount food & booze! Pretty awesome if you ask me.
Check out the trailer: http://alittlecloserfilm.com/trailer
Check out A Little Closer's website: http://alittlecloserfilm.com/
Order tickets now at: http://www.filmlinc.com/films/on-sale/a-little-closer
And please come see the film Thursday April 5th at 8:00 PM at the Elinor Bunin Monroe Film Center at the Film Society of Lincoln Center.
"A LITTLE CLOSER"
Thursday, April 5th
8:00 PM
ELINOR BUNIN MUNROE FILM CENTER
144 W. 65TH St
New York, NY 10023
Take a break and come join me, director Matthew Petock, and some of his team at Film Society of Lincoln Center's "Indie Night".
Most sincerely, and forever hopeful about film,
Ted
By Lydia Dean Pilcher
We're nearing the end of an ambitious Kickstarter campaign for an independent film, "The Sisterhood of Night." Adapted from a short story by Pulitzer prize-winning author Steven Millhauser, our movie is a modern twist on the Salem witch trials. It deals with teen girls and the wild west of the Internet, its potential for casual, breathtaking cruelty, and its capacity to connect and share – all slippery new challenges to this transitional generation. "The Sisterhood of Night" is about holding close what makes you different, through diversity of thought and culture. It shines a light on the dangers of cyberbullying, but it also suggests that there are ways of using the Internet to find your inner creative spirit and tap into positivity.
But this journey began a few years ago. When my producing partner, Elizabeth Cuthrell, and I first met director Caryn Waechter and screenwriter Marilyn Fu, we fell in love with their irrepressible energy and their quest to find beauty, fun, and meaning in the dark edges of life. We worked for a couple of years with Caryn and Marilyn, further adapting the original material from an 80's setting to our contemporary digital world.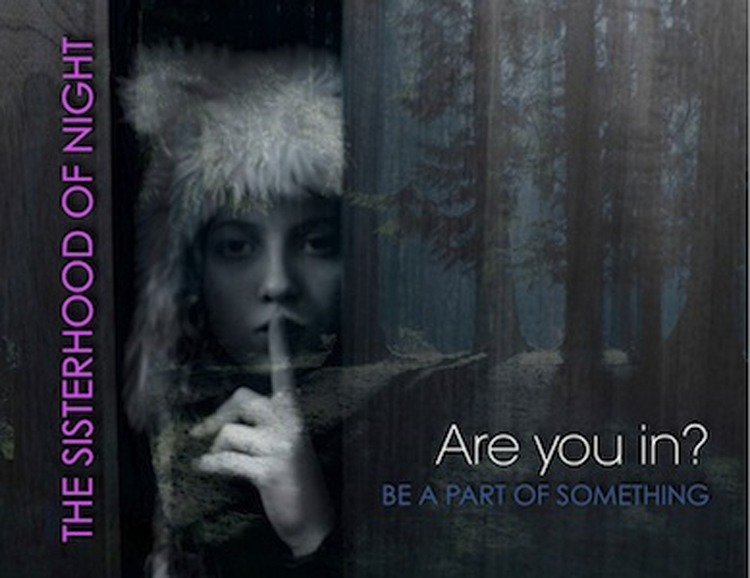 Despite our passion–having a first time feature director and deeply female material, and a teen cast with no vampires–we found it hard to gain traction with the conventional ways of financing. It's no surprise that women are more likely to green light women's pictures, have more confidence in women directors, and be more interested in stories about female characters. The scarcity of women at the top of the business-end of the film industry could have a lot to do with the fact that women made up only 5 percent of directors in Hollywood in 2011.
In addition, the issue of entry and retention in our industry for independent filmmakers, women filmmakers, and diverse filmmakers is a very serious matter. It takes someone with real vision in the studio executive's chair, and strong-minded passionate producers, to push back against the mediocre middle ground which studios tend to feed.
With crowd funding, audiences now have a vehicle to push back as well. Kickstarter and other crowd funding sites provide an opportunity for individuals to influence the development of independent film projects at the ground level, and give these films the momentum they need to go into or finish production, with or without Hollywood's consent. Audiences can vote with their dollars and contribute to the development of projects, rather than just be mere consumers at the end of the line.
Last year saw Dee Rees' Pariah break out of the pack at Sundance to be picked up by Focus Features, making it the first film in Kickstarter's two year history to do so. The 2012 Sundance festival unveiled a total of seven out of fourteen Kickstarter narrative and documentary film projects by women directors and co-directors, including Aurora Guerrero's Mosquita y Mari, Alison Kayman's Ai WeiWei: Never Sorry; Lisanne Pajot's Indie Game: The Movie; Erin Greenwell's My Best Day; Katie Aselton's Black Rock and Valerie Veatch's Me.
And for The Sisterhood of Night, beyond getting financial momentum for the project itself, the biggest reward of our campaign has been the community we are building around our movie.
We've been impressed by the number of women directors backing us in order to help another woman director. Katherine Dieckmann, director of "Motherhood," emailed to say, "I absolutely want to back this, so count me in, and I'll pledge right now… I teach so many amazing young female filmmakers at Columbia (and they are super-diverse, often coming to me from everywhere from Russia to Laos) & it breaks my heart when they can't get their projects made." Other women directors who are backing Sisterhood include Mary Harron, Mehreen Jabbar, Katja von Garnier, Maggie Greenwald, Gina Prince Bythewood, Mira Nair, Tina Mabry, Pamela Yates, Sara Terry, Lilly Scourtis Ayers, Angela Tucker, Stephanie Wang-Breal, Ursula Liang, Suzi Yoonessi, Joyce Dragonsky and we're still counting!
While our director, Caryn has been tirelessly shooting and editing videos for our campaign updates (you can see them all on our Kickstarter page), our screenwriter Marilyn Fu tapped into her Taiwanese-American community, and they in turn showed huge support for Marilyn's unique voice as well as for positive cultural images in the media. One of the Sisterhood characters is Taiwanese American, loosely based on Marilyn's teen years growing up in Berwyn, Pennsylvania.
Through this Kickstarter campaign and a teen art contest we've created called Wanna Know A Secret?, we're using social media in a way that wouldn't have been imagineable a few years ago. And because of this, we have no doubt, our movie will be deeper and evermore far reaching.
Kickstarter has filled a real need in bringing people together to fund the projects they want to create, and the results have been — and continue to be — amazing. Kickstarter is expecting to bring in a total of $150 million in funding this year – more than the $146 million provided by the National Endowment for the Arts.
Last weekend we surpassed our goal of $100,000 and we will continue to receive pledges thru March 10th, the last date of the campaign. Now we want to keep building our Sisterhood community, reaching out to our audience, and discovering new supporters. We plan to start shooting this summer, and the funds that continue to come in during this final week will get us that much closer to the final film. By pledging as little as a dollar you can become a member of the Sisterhood, privy to all of our progress updates as we bring this movie to your screen -whatever size that may be! Every pledge at every reward level proves that we are a fan-funded film that has found an audience before the director has even called "Action!"
Feel free to share wildly. Who knows what other discoveries we will continue to make together?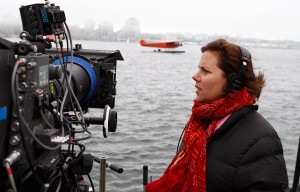 Lydia Dean Pilcher is founder of Cine Mosaic, a production company making independent feature films with an energetic focus on provocative and entertaining stories that promote social, cultural and political diversity. Pilcher has produced over 30 feature films and is currently in post production with The Reluctant Fundamentalist, directed by Mira Nair, based on the highly acclaimed novel by Mohsin Hamid. Also upcoming for production is Fela: Music is the Weapon, which she developed at Focus Features with Steve McQueen set to direct.
Hi Film Friends,
I know, it's been awhile since I invited you to a screening. My apologies.
In my efforts to make the world safe for Indie Film, I am pleased to invite you to a new venue: no less than the Film Society at Lincoln Center's re-born Indie Night series, now at the Elinor Bunin Munroe Film Center. We've got more seats, and more comfortable ones too! We will be taping & streaming the Q&A with the director!! And now we are also going to be able to pay the filmmakers a small fee (yay!)!!!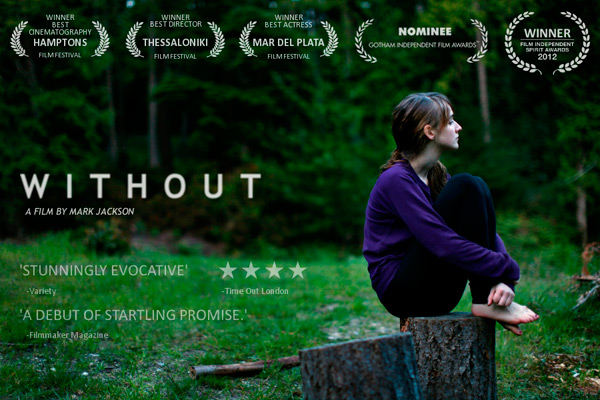 I want you to come see Mark Jackson's WITHOUT. It truly is one of my favorite films of the past year and I am thrilled I can show it to you. WITHOUT has won numerous awards, including most recently, the Indie Spirit Someone To Watch Award. It is a remarkable film, made even more remarkable by the fact that it is a first feature, and one made for a micro, micro budget. Not only is Mark a directing talent to watch, so is the star Joslyn Jensen, and the DP & Producer Jessica Dimmock.
Like all good movies, it's complicated to describe. At its heart, is a one-sided love story about one of the most powerful emotions in both life & cinema: longing — a desire capable of altering both the perception & interpretation of our experiences. Few films, of any scale, have captured the essence of longing as well as Jackson's debut feature, WITHOUT, does in both its form and content. The film's economy of means helps to deliver a rare truth throughout its beautiful images, precise framing, quiet tone, & the mesmerizing introduction to star Josyln Jensen. Long after it has ended, even long after having watched it, WITHOUT still resonates: did we just live a love song, a ghost story, or a quiet thriller? Jackson delivers with his first outing what filmmakers strive for decades to obtain: the realest of real, the beauty of beauty, & the sweet pain of a never-ending early love. What more could one want?
There are few times when you can recount "I was there when", but I do think you will want to say it about this trio of talents, collaborating so well, and presenting it at this citadel of cinema, Lincoln Center. The fact that they will inaugurate this new series, which will bring you the faithful, the latest of the greatest of true indie work, is just more icing on the cake. When the lights come on, we will discuss the work with them, and then celebrate with drink and more discussion. Seriously, vote with your dollars for the culture you want. This is it. Trust me. Occupy the seats. Don't settle for pale corporate approximation. This is where cinema lives, survives and thrives. For real cinema, truly free film, is a dialogue with the audience, a pledge by the community, and a reminder that we won't settle for culture that doesn't reach higher, speak truth, innovate form and process, and deliver us honest and original beauty. WITHOUT honors us with all of this and more.
Check out all the great reviews and awards at: www.rightonredfilms.com
Order tickets now at: www.filmlinc.com/films/on-sale/without
And please come see the film Tuesday March 6th at 8P at the Film Society of Lincoln Center, and then stay as I moderate a discussion with the filmmakers.
Follow the film on Twitter @withoutmovie.
And follow DP/Producer @jessicadimmock and star @joslynjensen on Twitter.
Thanks for coming. Vote with your dollars for the culture you want. We can build it better together. We have to support the things we love. The future is up to us.
Ted