X
Looks like you are a new visitor to this site. Hello!
Welcome to Hope For Film! Come participate in the discussion, and I encourage you to enter your email address in the sidebar and subscribe. It's free! And easy! If you have any suggestions on how to improve this website or suggestions for topics please don't hesitate to write in to any of the blogs.
You can also follow me on Twitter or Facebook.
(If you keep getting this message, you probably have cookies turned off.)
At the Toronto International Film Festival this year I had the privilege of being asked to partake in their "Moguls" talk. Anthony Kaufman interviewed me. I think I set a record taking up the first sixteen minutes or so with my first answer. Granted it was about how MARTHA MARCY MAY MARLENE and DARK HORSE came together, and neither one was a simple story — but then never are, are they? Well, it does boil down in each instance to making the movie for less than what the apparent value is, but that's the film business today, isn't it?
Just in case you are wondering, the class that I mention isn't happening when I said it was. It's happening soon though, and we will announce it sooner.
I talk about SUPER around the 35 minute mark.
41 Min: budget agnostic, genre agnostic, medium agnostic, platform agnostic. First and foremost, I want….
42 Min: What makes a good film?
43 Min: When I was falling in love with my wife Vanessa…
44 Min: That list is this one.
45:50 Reverse engineering of Film
46:45 How can film mirror free will?
47:30 The End Of The Auteur Era Of Film
54:30 "Making Independent Films is a crime."
57:20 "There's never been a better time to shoot celluloid than there is today."
58:10 "Independent Film is a luxury good."
If you want to help me index this further, I would appreciate it.
Tweet

Play Festival Films is an iPad App to digitally distribute exclusive and independent shorts and feature films across the world.
The following is taken from their press materials.
It used to behese films can only be watched at elite film festivals or through purchased DVDs. Play Festival Films elevates the existing digital distribution of your film by adding a new digital distribution channel on their platform and connecting filmmakers directly with their audience.
Check out the FREE iPad APP on iTunes
Further, you can enjoy and watch the free trailers, check the nominations and awards that each film earned at the various film festivals and read the biography and filmography of each film director. You can recommend the film to your friends by email from the APP itself. Each short film is offered at US$1.99. You can stream the film (using WiFi network connection) and/or download it to your iPad and watch the film anytime, anywhere. There is no expiration date for these films. Fans or film enthusiasts can watch upcoming free trailers and also interact with the film directors directly on Facebook.
Our special thanks to Sandrine F. Cassidy, Director of Festivals and Distribution at University of Southern California, School of Cinematic Arts for licensing the very good USC films for the worldwide digital distribution, exclusively on this APP. And thanks to the all the filmmakers on board and to the filmmaker, Michael Tringe, for selecting the good quality content and leading the communication efforts with all the filmmakers.
Mohit Mahajan, founder of 2wayTV said "On our platform, the independent filmmakers can build their worldwide target audience, monetize their digital content through electronic sell-through and get the feedback from their audience. Moving ahead, we will be adding at least one film each week and continue to grow our film catalog with only premium quality content, selected from the various film festivals around the world. In the coming weeks, we will be releasing the next version of the iPad APP with enhanced functionality and cool GUI interfaces."
Consumer Reviews
Passionate for Shorts
"Artistically interesting and amazing quality!"
"I was really impressed with the variety, artistic merit, and overall quality of these short films, many of which come from the best filmmakers at the top film school in the US, the University of Southern California. Also really appreciated being able to watch each trailer before I bought the film, and liked being able to sort according to so many categories. The film downloaded so quickly that I could watch instantly, and I even enjoyed sharing the films to some my friends sitting close by. I highly recommend it!"
About 2wayTV
Founded by Mohit Mahajan, 2wayTV is an international digital distributor of independent films. We license the digital films (exclusive digital sell-through via the APP only) and distribute them worldwide on the mobile devices such iPad and iPhone. Our "Play Festival Films" platform connects filmmakers directly with their target audience, monetizes their premium content and provides the analytics back to the filmmakers.
Website: www.2waytvllc.com
Founder's Profile: www.linkedin.com/mohitmah
Twitter: InteractiveTV, 2wayTV
Play Festival Films
Website: www.playfestivalsfilms.com
Facebook: www.facebook.com/pages/Play-Festival-Films
Twitter: www.twitter.com/playfestfilms
Tweet

This is how I do it, generally speaking.
Or rather, this is how I try to do it. There really is no template; I have to adjust the plan for each project. And it doesn't always work. Sometimes I fail (at least to some degree).
And yes, I have left out the details. After all, that is where the art, experience, & innovation is. And of course as this is a collaborative endeavor, there is always — and thankfully — that "other" factor.
1. Maintain wonder & love for the world & most/some of the people.
2. Recognize the barriers & be empowered by my desire for change.
3. Find an inspiring idea & the correct collaborator for it.
4. Maintain love & respect for the film industry.
5. Develop script.
6. Fall in love with project.
7. Get non-financier, non-buyer industry types to give feedback on script.
8. Maintain wonder & love for the process.
9. Further develop script.
10. Maintain respect for collaborator(s).
11. Identify audience & market for project.
12. Enhance my enthusiasm for potential of the results of audience engagement with ambitious cinema.
13. Develop additional materials to properly contextualize project, like image books (aka look books), reference material, blog posts, etc.
14. Try to locate audience and key influencers for the project.
15. Develop transmedia extensions (I know I should do this earlier).
16. Encourage Filmmaker to engage with True Fans (i.e. build community).
17. Strategize production process.
18. Ballpark budget.
19. Evaluate potential cast for project.
20. Consider possible shooting locations.
21. Introduce Writer/Director to US Talent Agencies if necessary.
22. Have Director meet wide range of actors.
23. Strategize financing.
24. Strategize casting process.
25. Develop financing plan.
26. Execute casting process strategy.
27. Attach lead actor.
28. Attach another actor (or two).
29. Revise financing plan as necessary.
30. Revise script as necessary.
31. Estimate possible profit & losses.
32. Revise financing plan as necessary.
33. Approach sales agents.
34. Get foreign sales estimates & foreign sales deal terms.
35. Revise financing plan.
36. Budget, ideally in multiple variations.
37. Approach private equity.
38. Revise financing plan.
39. Revise script as necessary.
40. Get verbal commitments from private equity.
41. Determine most appropriate & then secure sales agent.
42. Continue to source additional financing.
43. Revise financing plan.
44. Revise script as necessary.
45. Develop initial outreach, engagement, awareness strategy.
46. Consider and possibly secure a presale or three.
47. Revise financing plan.
48. Revise script as necessary.
49. Revise Budget.
50. Consider and possibly secure gap & mezzanine financing if necessary.
51. Finalize financing structure & partners
52. Consider & secure key crew collaborators.
53. Scout primary location.
54. Revise script as necessary.
55. Revise Budget.
56. Secure tax credit/rebate.
57. Lock all financing.
58. Lock talent deals.
59. Lock Location.
60. Revise script as necessary.
61. Revise & Lock Budget.
62. Revise initial outreach, engagement, & awareness strategies.
63. Prep.
64. Revise script as necessary.
65. Initiate initial outreach, engagement, & awareness strategies.
66. Shoot.
67. Celebrate completion of shoot.
68. Wrap production.
69. Ponder the big picture.
70. Edit.
71. Revise outreach, engagement, & awareness strategies.
72. Initiate revised outreach, engagement, & awareness strategies.
73. Build awareness.
74. Ponder the big picture.
75. Complete "Movie".
76. Wrap post.
77. Further revise outreach, engagement, & awareness strategies.
78. Take to festivals.
79. Win awards.
80. Celebrate.
81. Further revise & implement outreach, engagement, & awareness strategies.
82. Sell & license "movie".
83. Celebrate some more.
84. Deliver "movie" to licensors.
85. Further revise & implement outreach, engagement, & awareness strategies.
86. Market some more.
87. Screen, screen, screen.
88. Publicize.
89. Market some more.
90. Distribute.
91. Harvest, aggregate, & analyze, data.
92. Ponder the big picture.
93. Share the knowledge with the community.
94. Win more awards.
95. Collect profits.
96. Share the wealth the partners.
97. Ponder the big picture.
98. Plan the next one.
99. Do it all over again, but do it a little bit differently.
We make films to have a dialogue with our audience & communities. Our viewers, and how we connect with them, is such a bit part of the equation, that we spend a TREMENDOUS amount of time discussing the business: how do we discover films? how do we aggregate audiences? how do we achieve a sustainable career? And so on and so on and so on.

The answer always remains the question of "How do we make better films?". I am a big believer that all filmmakers need to know what they love (and how to strive to achieve it). I am also a believer that audiences benefit from the same knowledge. I know we don't discuss this enough. It's personal. It is difficult to articulate. But we must make the effort. It's worth it. We can build it better together. Thankfully Kevin Shah has stepped forward; someone always needs to get on the dance floor first!
Making a Contemporary American Art Film
Although what constitutes the 'success' of any artistic endeavor is entirely subjective, there are some fundamentals that I believe great art films can share. Ted and I briefly lamented that there are few videos on the internet about 'making an art film', or aesthetics of cinema and it's process, or personal attempts to explore Transcendence on screen from a director's perspective. This is my attempt at scratching the surface through our own experiment called White Knuckles – a feature film by sabi.
Art films often have characters with complex or even unclear motivations, and especially in scenes that don't depict the characters moving toward a specific goal. Often these scenes are artistic, moody and beautiful — but despite this, we've learned often these scenes end up edited out of the final film. An art film's effect doesn't stem from specific moments — it stems from how the viewer feels about the journey the character's take throughout the entire experience (and its resolution). If the scene must say something unique and honest between the lines on the page to foster deep empathy within our audience, then we must get to the heart of what the scene is about (what our character's central driving motivation is) and communicate it to the cast and crew precisely in order to execute. Only then, can the collaborative team organically shape what springs forth: by being in-the-moment and present to what is happening around them on set, and remaining open to explore surprises or subtlety as it happens.
Directing this experiment was about bringing a well-defined shell of a character to an actor to make their own, and then re-defining the entire story for that specific actor. And together, taking the emerging character on a more authentic journey than scripted to discover greater questions about life, love, and forgiveness. Directing the improvisation throughout this story was more of a spiritual practice than a craft with steadfast rules. Dramatic improv is about collaborating with your actor to find the character's voice in a safe, family-like atmosphere. It's not about collecting 'off-script' options for the editor.
In order to survive, genuine collaboration is a need in all artistic feature film endeavors today. I truly prefer not to see my vision exactly as it appears in my head (I already have that vision of the story and it's fine the way it is). When embarking on a new film, I want to work with our team to make something more powerful than anyone could achieve alone. Something that can only be called an "Interdependent Film" because of the family that worked together to make both the process and the result of the experience unique and meaningful.
As White Knuckles enters the world and finds its audience (recently picked up by Vanguard Cinema) we hope it will continue to spark discussion and debate about this parable of forgiveness that ends in a moment of transcendence, captured as honestly as it happened. This 'making-of' video contains creative lessons we definitely intend to bring to more 'genre' endeavors, and shares our experience to inspire you to take your own artistic journey.
Learn more about The Sabi Company's artistic & commercial endeavors at www.thesabicompany.com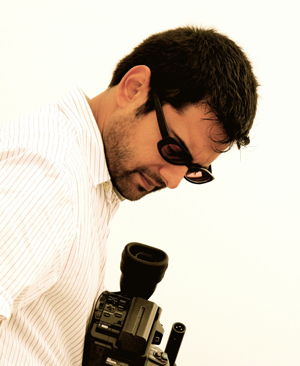 Kevin K. Shah is a creative artist-entrepreneur / 'interdependent storyteller' with several feature films, shorts & documentaries he's written, directed, produced or been an integral part of. He's also worked with several studios on high-profile transmedia campaigns including special concepts, webisodes, behind the scenes, mobile content & interactive games. With the feature 'White Knuckles', Kevin wanted to experiment with an immersive collaborative experience in order achieve honesty and authenticity in character and emotion. He is presently CEO of The Sabi Company and is currently packaging 'A Falling Rock' a thriller & and is in post on 'Lucid' a horror-drama he directed. Kevin begins production on 'Down and Dangerous' with director Zak Forsman this fall. Found on Twitter @kevinkshah, or www.kevinshah.com or www.thesabicomapny.comTweet

I don't know about you, but I am pretty astounded by all the opportunities before us for Direct Distribution. If you recall, I have listed 32 different Platforms and Tools that filmmakers can now utilize. One such tool is the MoPix.
I am excited that the Truly Free Film Community is coming together to try inform each other of what works (or doesn't) in this plethora of riches. Today, one of the producers from the great experiment in both Free & Crowdfunding, The Tunnel, is here to tell you about the mobile & tablet App building tool MoPix. Ladies & Gentlemen, Enzo Tedeschi:
Distributing The Tunnel as an iPad app using MoPix.
In making and distributing The Tunnel, my co-producer Julian Harvey and I have broken a few traditions. In fact we kinda threw out the playbook, from crowdfunding by selling off the frames of the film, to direct-distributing as much as possible, as globally as possible, and as close to a day-and-date release as possible. Our theory was simple – if our audience could find our film simultaneously on as many platforms as we could muster, the film would have its best chance at success. And one global platform that seems to be growing in audience at a rapid rate is the iPad.
Pricing up the development of a custom mobile app in Australia was discouraging. At $10,000 – $20,000 AUD to get it done properly, that was simply not going to happen on our paltry budget.
We were only a few weeks out from release when we heard about MoPix – and we got excited. These guys had built a platform for iPad, iPhone, and Android that would enable us to create an app to distribute The Tunnel directly via the App Store.
Talking to Ryan Stoner at MoPix, we were able to get in during their beta stage, and in a matter of weeks we had a custom-branded app that did everything we needed it to. The Tunnel was now going to be the first Australian film ever to be , and we were going to be able to do it alongside our other release platforms.
The process from our end was actually quite painless, and involved cropping a few images to size and sending those and the video assets over to MoPix. An iPad app came out the other side.
The benefits for us seemed obvious – the film was presented in a very slick way, completely branded so that it felt like OUR product, not theirs, and we could circumvent the pain that just about every indie filmmaker knows – trying to get our film into the iTunes store. The feature set was simple, but had everything it needed to feature an equivalent to our DVD extras. It also let us add a really slick behind-the-scenes photo gallery, which gave us a point of difference from all the other avenues in which the film was available.
If you think about the marketing and distribution of your film in the long term – which we always try to – App updates also create a way for you to keep your audience active. Soon, we'll be updating the Tunnel app to include in-app purchases. This feature is great for two reasons. First, it enables us to keep selling content to our audience who have already purchased the app. Someone who has already put money on the table for your film is far more likely to keep buying, than someone who hasn't invested at all. Secondly, when we push out the update, the act of downloading it to see what features have been added creates another interaction with our audience. It's another small part of the ongoing conversation we've been having with our fans since the beginning – even before we had a film.
And while we're on the subject of marketing – another thing that an app can do for you brilliantly is combine your marketing and distribution into one.
For our next project, we'll be going back to MoPix to create an app that, unlike The Tunnel, is free to download. The audience will still need to buy the film in order to watch it, but we will create a free app with compelling media-rich content which basically serves as marketing material for the film, which will then be accessible via the in-app purchasing mechanism. Once again, if you can get your audience engaging with your 'brand' – your film – they are much more likely to part with their hard-earned.
I will say though, that being in the beta stage, it's not a perfect solution just yet. It would be cool to see some more platforms integrated, like logging into GetGlue while they are watching The Tunnel on their iPad. But knowing how switched on the guys over at MoPix are, I'm sure they're working on it. For now the ability to tweet a photo from the gallery, for example, or post it on Facebook directly from the app works great.
MoPix are currently still looking for films for their beta slate – and even though we haven't set the world on fire with sales of our app just yet, we've sold more than enough units for the endeavour to have paid for itself. All in all it has been very worthwhile.
You can learn more about The Tunnel at www.thetunnelmovie.net
The Tunnel App Store link – itunes.apple.com
Facebook – www.facebook.com/thetunnelmovie
Twitter – @thetunnelmovie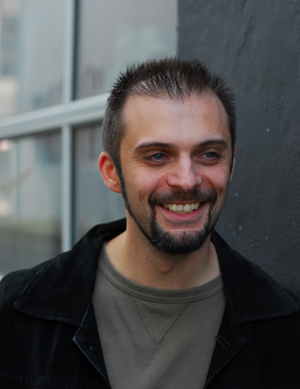 Enzo Tedeschi is co-founder of Distracted Media along with Julian Harvey. Together they wrote, produced and edited The Tunnel – a project whose innovative approach has seen it hit international cinema screens despite being crowdfunded and given away for free online.

Before Distracted Media, Enzo co-produced and edited the controversial independent feature documentary Food Matters in 2008, a film which is still enjoying success around the globe, having now sold over 200,000 DVDs. He produced and cut the epic World War 1 period film Ghosts of War, and the award-winning short The Last One with director Carlo Ledesma.

As an ASE Award nominated editor, Enzo has worked on numerous television series, documentaries and award-winning short films. Recently he edited and oversaw the post-production path on Channel Nine's observational documentary series AFP for Zapruder's Other Films.
I gave this interview for the film "PressPausePlay" a couple of years back. It premiered at SxSW earlier this year. I would say it a bit differently today, but the sentiment and bullet points remain the same. I must admit I am a bit surprised, but how much I still say is exactly the same today.
We are still looking for an audience-friendly term for immersive transmedia cross-platform creation. I remain restless to abandon this single product impulse-buy centered entertainment economy.
It's a short clip. I rev up as it goes on, so give it the time to reach the end. I feel it grows quite hopeful. Good work will come out of today's problems.
I look forward to watching all the PressPausePlay clips they have put on YouTube.Tweet

This past Wednesday I screened Andrew Haigh's WEEKEND for my HopeForFilm/Goldcrest Screening Series. It is a truly romantic film. It may be a gay love story, but in it's tale of a one night stand that could become something more, Haigh's has tapped into a longing and hope that I never feel in any corporate filmmaking and is entirely universal. It makes me wonder if when creators are forced to think first about the market, if their work will be deprived of love and romance.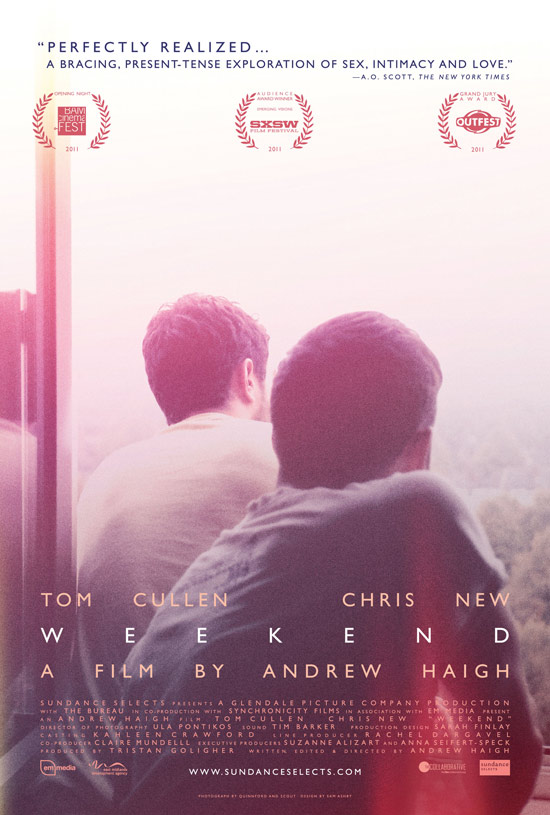 When I select films for my screening series, I write a letter to everyone on my invite list trying to explain why I selected the film. This is that letter and why I think you should go see WEEKEND this very weekend.
Dear film fans,
What is romance really? Where does life differ from what the movies offer us? Can romance ever be depicted honestly on screen? If the screenwriter or director's hand is too obvious we see the mechanics of the film and it can't be trusted. Hollywood has relied for a century on the beauty and notoriety of its stars for audiences to make the leap. In the indie world, we rely often on the dialogue, the ideas, the wit to seduce us along with the characters. Sometimes I think it never is honest, but then sometimes a movie comes along and convinces me otherwise.
And what about sex? You can't really have honest romance in a contemporary film without also having sex portrayed on screen; it is part of the equation after all. How can sex be positioned in an honest way so that we don't feel taken out of the fiction we are following, and then start wondering what the filmmakers are really trying to say with the way they are portraying it. Representation and signification take away much of the immediacy, and thus the pleasure. I have given up hope that sex and cinema can truthfully collaborate more than once, but fortunately a film occasionally graces us and that proves it can be done.
At the end of the day, what I am talking about is the challenge of portraying emotional truth through physical action and the challenges of story construction on screen. And let me tell you, I know firsthand: it ain't easy.
It is so refreshing when a filmmaker seems to come out of nowhere, deprived of funding, working truly out of the system and off the grid, challenging themselves, the audience, even the entire system as it is currently structured and delivers something, that despite all the limits and challenges they faced, soars beyond what the corporate or government-supported industry is able to produce. Andrew Haigh has done that with his film WEEKEND. Don't be fooled, he may make it look easy, he may make it look simple, but this is not that at all. It is a work where everyone is working at their peak, sharing the vision, reaching and striving — and hitting the mark.
Folks often say that a great deal of directing is casting (I don't fully agree with that) but clearly Andrew has benefited by his choices. The two leads are as natural in their roles as Haigh is in how he uses the camera. All throughout the movie,I forever believed I was watching life as it is led . I don't think this phenomenon is due just to the high level of acting or the precise casting. It comes from trust, and a three way trust at that: the director with his actors, the actors with their director, and the actors with each other. Whether it is a lack of judgement, or a clear-hearted love, an openness or an understanding, there is an incredible honesty happening between all up on the screen. When one recognizes it, one also recognizes how incredibly rare it is.
WEEKEND is the story of a one night stand that might grow into something more. It happens to also be a gay story, and one that doesn't shy away or try to play it straight. In doing so, not being shy about the people, the world, and what they do, Haigh aslo captures the depth of its story in a way everyone should be able to relate to. If life is often the challenge of reducing the space between who you want to be and who you are right now — the gulf often between thought and expression — then in choosing to have one character still not fully accepting who he really is, Haigh has tapped into the universality of the specific world he has chosen.
WEEKEND is nothing less than both challenging and refreshing cinema, and it is also a whole lot more.Tweet