X
Looks like you are a new visitor to this site. Hello!
Welcome to Hope For Film! Come participate in the discussion, and I encourage you to enter your email address in the sidebar and subscribe. It's free! And easy! If you have any suggestions on how to improve this website or suggestions for topics please don't hesitate to write in to any of the blogs.
You can also follow me on Twitter or Facebook.
(If you keep getting this message, you probably have cookies turned off.)
I want you to see my films. Both DARK HORSE and MARTHA MARCY MAY MARLENE will be in Toronto. But I am excited to see so many others too.
Already I have been so moved and impressed by THE SKIN I LIVE IN, THE KID WITH THE BIKE, and MELANCHOLIA. But there is so much more to check out. It looks like a good fall for cinema.
If I had a universal queue, tops on my list for Toronto would be (in alphabetical order):
360 — Fernando Meirelles
The Aritst — Michel Hazanavicius
Drive — Nicolas Winding Refn
Jeff, Who Lives At Home — Duplas Brothers
Like Crazy — Drake Doremus
Take Shelter — Jeff Nichols
Trishna — Michael Winterbottom
Twixt — Francis Ford Coppola
Tyrannosaur — Paddy Considine
We Need To Talk About Kevin — Lynne RamsayTweet

Is there a place in the Indie Film Eco-system for a good story well told? Artist strive for this goal, but can audiences unite around something not built around a big concept, big cast, or controversial element? Perhaps the bigger question is can a filmmaker even take the risk of trying to answer this question?
TRUE ADOLESCENTS (starring Mark Duplass & Melissa Leo — two of the most watchable folks out there) opens today in NYC and got a good NY Times Review to boost it. Writer/Director Craig Johnson guests today about why and how he took that dare.
In her SXSW festival review of my first feature film, TRUE ADOLESCENTS, starring Mark Duplass, critic Karina Longworth said:



"In recent years, there's been a vast gulf at SXSW between the tiny films critics and bloggers love and champion throughout the year (as in, virtually every other film Mark Duplass has been involved with) and the big movies that studios introduce to the audience in Austin which then become certifiable hits (as in, Knocked Up, or last year's SXSW opening night film and eventual sleeper blockbuster 21). In scale and intention, True Adolescents feels squarely in the middle of those poles. I'm interested to see what its future brings, if it ends up drifting to one camp or another, or if it actually manages to bring the disparate fates together."



Two years later, as my film is finally being released to the world, that "vast gulf" between SXSW indies and big studio comedies seems as vast as ever–and I don't believe that TRUE ADOLESCENTS ever found footing in either camp. Which I think is a good thing.



You see, I made a "tweener" film. By that I mean I made a film that has the story and structure of a Hollywood dude-coming-of-age comedy but the look and feel of a scrappier, more naturalistic character portrait. It's a marriage that I believe works, and the critics almost universally agreed. But it did render TRUE ADOLESCENTS an ungainly creature in terms of finding it a home. Beyond the misfortune of debuting in 2009, the year EW critic Owen Glieberman referred to as the "nadir" for Sundance indie film distribution, it boasted no A-list stars (Melissa Leo had not yet blasted into the Oscar stratosphere) rendering it too small for the studios. But it also didn't have the kind of micro-budget, buzz-worthy "under-dog" status of many of the tiny indies championed by critics at SXSW.



So here we were, with a film about adolescence, that was kind of awkward itself: too small for some, too big for others. After many false starts, dead ends and "almost" situations with distribution we eventually found a home with the newly-minted Flatiron Films arm of NY-based distro company New Video. But over the 2 years it took to find distribution, I had many opportunities to reflect on what exactly the film was and what it said about me as a filmmaker.



I grew up in the 80s, a child of Spielberg and Lucas. My film universe was a literal universe populated by aliens, Jedis, gremlins, poltergeists, ghostbusters and the occasional band of Goonies. These were the only films that mattered to me as a kid. I knew my parents saw other stuff (something where guys in white shorts ran along the beach set to triumphant synth music) but I couldn't care less. Then my mother brought home a rented VHS copy of Lasse Hallstrom's MY LIFE AS A DOG and my little movie world was blown open. The Swedish coming-of-age classic about a young boy who spends a summer with his eccentric relatives in the Swedish countryside was like nothing I'd ever seen before. Strange, haunting, naturalistic, funny but dark, with a frank depiction of childhood sexuality, it opened my eyes to what a movie could be. Not to mention it was subtitled. From that point on I was officially a movie buff.



I ended up going to grad film school at NYU where I became obsessed with all the usual suspects: Renoir, Vigo, Demy, Welles, Ashby, Altman, Forman. I struggled to get into Bresson and Tarkovsky but dammit I respected them. I ripped-off my favorite directors in my short films and wrote a couple genre screenplays for practice. For the TRUE ADOLESCENTS script, however, I drew on my personal life and, for the first time I felt I had written something that really was my sensibility; a fusion of my interest in honest, natural, character observation (an interest picked up later in my film-obsessed life) fused with a classic coming-of-age narrative (drawing on my childhood love of Hollywood and genre). I wanted to make it, and through a mixture of hard work, luck, collaboration, a little bit of talent and a lot of good timing I managed to do it. It got into SXSW and we were, as my pragmatic dad would say, "hoping for the best & preparing for the worst". While the worst certainly never manifested, neither did the best. And it became reality-check time.



Whether we admit it or not, every first-time film director secretly thinks our film will set the world on fire. The reality is, maybe two films per year actually do. Even though I was vaguely aware of this reality, I thought I would be the exception–it's human nature. So when you find yourself in the position I'd read about often in Filmmaker magazine (the frustrated indie director who made a good feature but is struggling with distribution) you find yourself saying "sheesh, am I that guy?". And the cold, hard answer is: yes. I am. But so is everyone in this game. Even Todd Solondz. The trick is to know yourself, to remain true to your instincts and to stand by your work. As for how your work is perceived, I take my cue from the Sondheim tune "Move On" from SUNDAY IN THE PARK WITH GEORGE:



"Stop worrying if your vision is new. Let others make that decision, they usually do. You keep moving on."



I am deeply proud of TRUE ADOLESCENTS. It perfectly captures my sensibility which I believe does straddle an indie and Hollywood world. And what's wrong with that? My favorite directors work within the studio system and yet maintain their distinct voice, filmmakers like Alexander Payne, Alfonso Cuaron, Gus van Sant and Ang Lee. This balance between commercial instinct and personal vision is what I aspire to in my own career.



Though it's taken two years to distribute TRUE ADOLESCENTS, the film kick-started my career immediately. I got a manager and agent directly after SXSW and just last week I moved from NYC to LA to write for 20th Century Fox. I am also cobbling together financing for my second indie feature as director. If my film hadn't been such a "tweener" I'm not sure I would have been in this position. So here's to the "tweener" film. May it help usher in an era where the lines between Hollywood and indie filmmaking become a little blurrier. I swear it can happen. It did, once upon a time. Lest we forget, MCCABE AND MRS. MILLER is a Warner Brothers film.



TRUE ADOLESCENTS premieres July 29th at the reRun theater in Brooklyn and runs through August 4th. Star Mark Duplass will be at both the 7pm and 10pm screening on the 29th along with director Craig Johnson and producer Thomas Woodrow. You can buy tickets HERE.



www.trueadolescents.com



TRUE ADOLESCENTS TRAILER: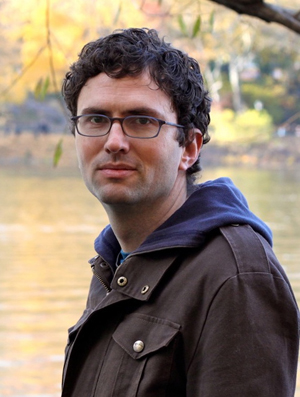 TRUE ADOLESCENTS marks Craig Johnson's feature film writing and directing debut. He is currently writing a project for 20th Century Fox and preparing his second feature as director, THE SKELETON TWINS, which he co-wrote with Mark Heyman (BLACK SWAN). He holds an MFA from New York University's graduate film program, where he was awarded a Clive Davis Award for Excellence in Music in Film.
How do we truly think about film? Do we ignore the truth even when it is right before our eyes? Are we sometimes willing to compromise our ethics in order to achieve our creative goal? Would we be willing to defer that goal in order to maintain the ethical standards that we otherwise embrace?
I named David Geertz as one of Hope For Film's Brave Thinkers (2009 Edition) for a new start up he had then. That venture may now be gone, but David is still very much a Brave Thinker, as his guest post below, and his commitment to more, attests.
So you're planning on producing an independent film — good for you, join the club. You are now officially a Slave Driver.
Before I begin this post I'd like to state that this post is mainly precursor of a series of posts to come for filmmakers and backers who see film as both an art form and an enterprise. An enterprise that pays skilled people a living wage, and provides an opportunity for those who fund those endeavors a chance at seeking a return on their money, while providing the needed funding for best and the brightest to continue to push boundaries within the moving image.
Let's play a numbers game first before we dive into this post. Here are some assumptions that I am going to make on your behalf about your unmade film stuck in development hell.
1. # of pages in my script – 90

2. # of characters in my film – 10

3. # of days on average that my talent will be on set – 7

4. # of people on my crew – 20

5. # of days I need to prep – 6

6. average # of crew during prep – 8

7. # of days I need to production – 15

8. average # of crew during production – 20

9. # of days I need to post – 30

10. average # of crew during post – 6

11. # of hours a day in production – 12
Using these tidbits you can get a rough idea of what it will cost you in labor to produce your film. All you need to do now is to assign each member of your crew an average dollar per hour for all their hard work. Here are some results.
2 bucks per hour $14,352

5 bucks per hour $35,880

10 bucks per hour $71,760

25 bucks per hour $179,400

40 bucks per hour $287,040

70 bucks per hour $502,320
Never before has it become so easy to access technology to make and deliver these cultural snippets that are part of the every day fabric of modern storytelling. I mean all you have to do is buy a cheap camera and some editing software and BLAMMO you are now a full on filmmaker!
The question is: Are you a slave driver?
Never mind about all the marketing, publicity, travel, deliverables, legal, accounting and banking mumbo jumbo….lets just get the film done.
And lets also forget about all the services like food, hair and make up, gear, locations, wardrobe, props, permits, insurance, hard drives, etc etc….
Lets focus on the people and assume that they will make up the majority and the rest you can do for a paltry 50K.
So….whether or not the people working for you feel like….well…slaves….here are a few more questions.
1. Where are you going to find the money?

2. What are you going to offer in return?
Perhaps before you try and answer those questions it's a good idea to think about the people who are funding you and what their needs are. I think it's a good idea knowing where your backers 'donor fatigue threshold' is as well as their 'opportunity threshold'. There are two things that will make it easier for you to obtain this said funding (providing that you have all the creative, technical and management issues ironed out in your package but I'm not here to talk about that) and these are those things::
1. Provide easy access for people to fund you.

2. Provide an even easier method for those same people to recover.
Seems simple, but how do you do this without having to jump through the regulatory hoops, hire for a bunch of underwriters and lawyers? Even if you do this properly how do you ensure that the people who helped you out are going to have the best chance for a return on their money, or that your true fans get to see your film in the best light without having to wait for it to come out on Netflix?
Over the coming weeks I'm going to be writing a series of blog posts here. These posts will cover a range of topics mainly dealing with aspects of these subject matters.
— enterprise and/or hybrid crowdfunding

— theatrical and online digital distribution of your indie film

— building a promoter mindset inside the film community

— learning how to accurately find and engage your audience prior to a funding campaign

— how to put a fair pre-funding valuation on your film prior to approaching people.
I hope you'll join me and clobber me with all your questions and concerns regarding all of these issues as we try and find a happy middle ground not only for producers, but for crews, backers and consumers of independent film.
Join me and find out if you are indeed – a slave driver.
"You're unhappy. I'm unhappy too. Have you heard of Henry Clay? He was the Great Compromiser. A good compromise is when both parties are dissatisfied, and I think that's what we have here." — Larry David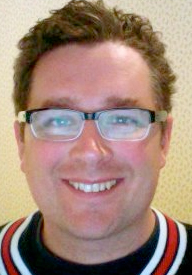 David Geertz has worked in the film business since 1992 and is a partner in Binoir Media, a diversified holding company that has a focus in the content sector and is heavily engaged in building social utilities for the producers to assist them in funding, marketing, distribution and audience participation of independent media based projects. David's work currently focuses on finding the new sweet spot for ensuring a balanced approach to funding and profiting in the content sector through his newest technology company SoKap.

Tweet

Spike, Lisa, and I got to have a great conversation at The Cleveland Public Library early this year, and a great crowd came. An official video was shot of the proceedings and hopefully will be available shortly, but this one came from the crowd, and is a nice little nugget to wet your appetite.Tweet

We are really in this together. As never before, we know no barriers. I met Mihar Desai virtually, over the internet, and have been impressed with his passion, innovative ways, commitment, and collaborative instincts. Possessed with such qualities, it is no surprise that he has come up with a simple solution to solve some problems.
I am very interested how the issues of micro-budgeted filmmaking are being addressed around the world. We face a set of common problems. Solutions will come from all over. Adopting transparency and openness, a commitment to share, we will make better films. With his first guest post here, Mihar is stepping forward and offering some solutions. Who will be next?
You must have heard of the phrase "Filmmaking is a collaborative process." Does that apply to every kind of filmmaker? What about DIY filmmakers who probably just make films with a two to three person crew? It becomes really difficult to manage a lot of things when making a DIY film: Skeleton crew, constrained budget, lack of equipments and definitely no studio backing!
We may have our scripts ready, DSLRs set up with no lights to shoot with but what about sound equipment? One of the few drawbacks of shooting with DSLRs is lack of great sound. You can't really monitor sound, visually or with headphones. There are no XLR inputs in the camera to record sound directly. Your best bet would be to invest in an additional piece of equipment like the Zoom H4N or else rely on post to improve sound. The latter is what most low budget filmmakers do. We try our best to clean up or use sound effects (SFX) to figure out a way to enhance the emotions in our films.
I've always believed that sound design is the third dimension in films. It's very crucial to have good sound design. Even if we use silence a good ambient noise helps add a lot of depth. 2001: A Space Odyssey and the recent Sundance winner Ballast are great examples when it comes to use of silence in films. As mentioned earlier most DIY filmmakers don't even have great equipment to wait for an extra 30mins after the shoot to record sounds. Unless you are in film school where you don't have to pay for equipment and you can just download sounds from the school's SFX library.
Times have changed, we are always on the Internet and don't have to be physically available everywhere to collaborate. The internet has now become a very important resource for filmmakers. New media tools and various free websites have made it so easy to create, share and promote!
Taking this into account, through my DIY production company Auteur Mark (@AuteurMark) I've started the Auteur Mark Sound Bank. It is India's first free SFX library. During the past couple of months in Chicago, along with my editor friend, Vernon McCombs, I decided to dedicate some time recording SFX. This includes wind, train, waves, beach ambience, birds, stove, water dripping, shower curtain, footsteps and various other diagetic and non-diagetic SFX. These are all universal and not really country specific. Footsteps, wind, traffic sounds, for example are similar everywhere. The sole purpose of this endeavor is to offer sound resources for filmmakers to use in an unrestricted manner. Other than helping filmmakers enhance the quality of their films with better sound effects, our idea is to create a community of like minded film people who believe in creating, sharing and cross promoting each other's work. It is our duty as DIY filmmakers to help this community grow. Imagine the creative possibilities if ten filmmakers the world over started a similar resourceful platform for other filmmakers to use. Best part about new media tools like YouTube, Vimeo, Sound Cloud, DropBox is that there is no financial investment. I can sign up for free, upload media for free and let others download the same for free!
"Auteur Mark Sound Bank" is free as well. You don't need to register to download SFX. Just visit our Sound Cloud page: www.soundcloud.com/auteurmarksoundbank search for the SFX you are looking for and click download! These are listed under Creative Commons. All we ask for is an on screen credit. The Auteur Mark Sound Bank will always grow. We plan to record SFX every few weeks and upload. We also invite other filmmakers to submit SFX of their choice. Just email a high quality WAV or AIFF file to contactus@auteurmark.com and we'll upload it for you. Once again, all credit will be given to the creator.
That's how easy collaboration is now. As a progressive step forward we at "Auteur Mark" plan to start a stock footage library as well. If incorporated in the story wisely one can use footage from overseas without even traveling all the way, yet increasing the production value of the film.
DIY filmmaking and distribution is slowly becoming a global movement and the only way I see it succeeding is if we contribute to build a strong community. We still get to tell the story we want to without compromising on quality. There is an audience for the kind of films we make and building the community will only help this audience base grow wider and eventually global.
Filmmaking still is a collaborative process and will always remain that way. How we collaborate will continue to change, we must embrace change and experiment with new forms and styles. Now that the Internet has made things so much easier for us, who knows, there will come a time, when the end credits of films will display the crew's Twitter handles!
- Mihir Desai
auteurmark.com
filmblog.autermark.com
Interview in the Sunday Guardian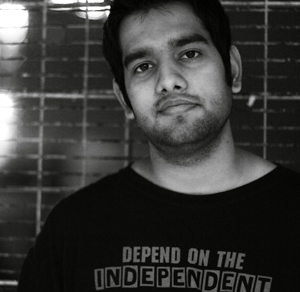 Born and raised in India, filmmaker Mihir Desai got his undergraduate degree at Columbia College Chicago. Right out of college Mihir started his own production company Auteur Mark which is India's first DIY production company. Mihir believes in keeping an individual identity by not compromising on the creativity and hopes to create a similar environment for fellow DIY filmmakers in India. He is currently editing his documentary Common Thread.Tweet

Times HAVE changed. In many, many ways. But what we call Indie Film is an era gone by. The opportunity to create and connect has never been greater — and it means other changes are afoot. Jason Brubaker reached out to me with what I felt was an important idea, but like many I encounter, I was too busy to participate unfortunately.
Jason recognizes that filmmakers no longer need "discriminatory distribution" and can reach audiences with their work in new and different ways. But Jason also recognizes we need to share the info on how we do it. Most importantly, he recognizes this is a community effort. He has done a great service to our community and deserves our thanks. But I am going to let him tell you all about it with a guest post. Thanks Jason!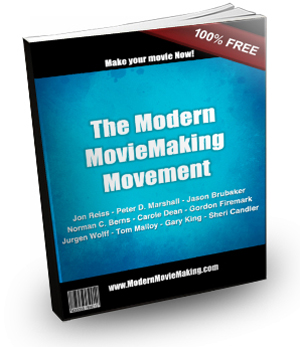 When I started out, getting a movie made seemed super impossible. Like
most independent filmmakers, I was inspired by the news of Kevin
Smith, Ed Burns and the other indie filmmakers who were finding
innovative ways to get movies made, seen and sold. These guys inspired
me to take action and gain experience. But instead of staring my
career in Los Angeles or New York City, I decided to produce a short
film in my hometown of York, Pennsylvania.
To accomplish this, I saved up all summer and bought a used Arri BL
16mm camera and a few rolls of film. I spent an entire weekend
producing my movie. And after buying some beer for the wrap party, I
promptly ran out of money. So for the next six months I worked to save
enough money to process the film and transfer it to video. I remember
coming home each night and gazing lovingly at three 400' rolls of
exposed 16mm film presently collecting dust on my bedroom floor. This
was proof that I was indeed a filmmaker.
While I did eventually get the movie processed, transferred and edited
– I couldn't help but feel a little disheartened. I mean, if it took
me a year just to finish a short, how long would it take to get a
feature made? To answer this question, I moved to New York City, where
I ended up working alongside the (then) twenty-something year old
entrepreneurial producer, Seth Carmichael. With Seth, I learned what
it took to make features. But I also learned of the next hurdle –
discriminatory distribution.
This was a time when most independent feature filmmakers based their
business on the Sundance Dream. "I'm going to make the movie, sell it
at Sundance and live happily ever after." But the reality was, very
few filmmakers realized this dream. Instead, most traveled the
festival circuit to exhaustion. And in place of a dream distribution
deal, many of these filmmakers forwent money and relinquished their
rights for the mere validation that comes from seeing their titles on
the shelves at local video stores. "At least my movie made it to
Blockbuster."
I eventually transferred to Los Angeles, where my team and I produced
our first feature, a silly zombie movie. As expected many traditional
distributors contacted us, offering crappy deals. And just prior to
losing all hope of income, we decided to set up shop in Amazon. At
first, none of the producers liked the idea. I mean, aren't we
conditioned to believe that self-distribution sucks? But then we made
our first sale. We thought this was an anomaly. We had no movie stars,
our production value left a lot to be desired and most people on earth
had never heard of our title (including you.) But then we made another
sale… And then a dozen…
That was five years ago.
Since that time, it has become widely accepted that HDSLR camera
technology, crowdfunding and internet movie distribution marks the
democratization of independent filmmaking. But in order to prosper,
modern moviemakers must now master a whole new set of skills revolving
around audience engagement and one-off sales. And this creates some
questions. Namely, how the heck do filmmakers source a paying audience
large enough to justify a movie budget?
To help the answer these questions, I reached out to TEN of the most
inventive filmmaker thought leaders in the world and asked them to
share their best practices on how to survive and thrive. Suffice it to
say, the responses were overwhelming. I didn't just receive a few
bullet-points, but I got over 100 pages of extremely NEW and extremely
valuable filmmaking information!
In organizing the material, I realized that what we had was more than
just another how-to filmmaking book. I mean, while many fundamentals
such as screenwriting, production and film finance obviously remain
essential to getting a movie made, the material also emphasizes new
strategies, like how to create a crowdfunding campaign, how to
leverage social media and how to sell your movie without the
middle-man. Because the information is useful, timely and modern, we
simply called it, The Modern MovieMaking Movement.
And this begs a new question: What does it mean to be a "Modern MovieMaker?"
While the philosophy is evolving, Modern MovieMaking is defined by an
era of entrepreneurial filmmakers who do not ask permission to make,
market or sell movies. Instead of making movies and hoping the movie
will get seen, picked up and sold through traditional distribution
channels, the modern moviemaker makes movies, directly engages with
the audience and builds community around his or her movie titles. In
releasing The Modern MovieMaking Movement, we also decided to do
something else revolutionary – the contributors all agreed to give the
material away, for FREE!
So if YOU would like to download a copy of The Modern MovieMaking
Movement, you can do so by visiting the official site:
www.ModernMovieMaking.com
Wishing you all the Modern MovieMaking success in the world!
—
Jason Brubaker is a Hollywood based Independent Motion Picture
Producer and an expert in internet movie distribution. He is focused
on helping YOU sell movies more easily by growing your fan base,
building buzz and creating community around your title. For more info,
check out Filmmaking Stuff, at: www.FilmmakingStuff.com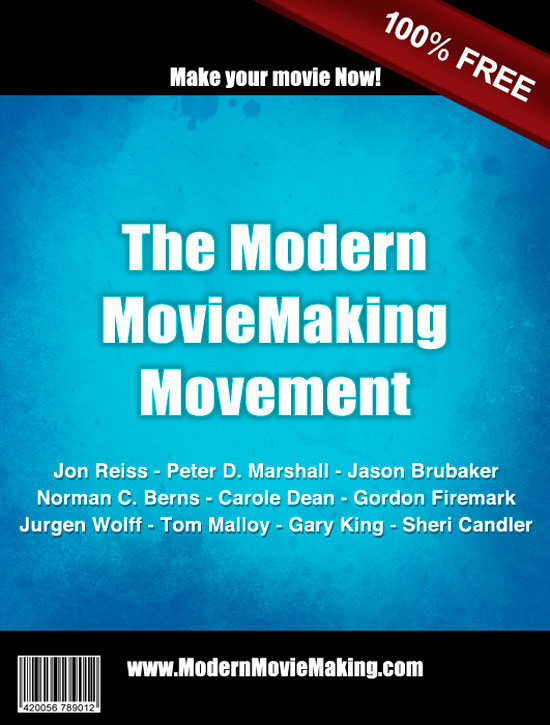 Tweet

Continuing on with my crowdsourcing of blog posts for you, I followed up my tweet of "What's the first best lesson you learned about the film business" with one about what was your favorite quote. I didn't get anywhere near as many suggestions, but the results are good. More suggestions are welcome.
Billie Burke On Hollywood: "To survive there, you need the ambition of a Latin-American revolutionary, the ego of a grand opera tenor, and the physical stamina of a cow pony." – (via Randy Finch)
Brian De Palma: "The camera lies all the time; lies 24 times/second. " (via @rudra_banerji Rudra Banerji)
Werner Herzog: "You want to make a film, steal a camera, steal film stock, sneak in to a lab and do it. – from Werner Herzog Eats His Shoe (via @wvfilmmaker Jason Brown)
Alfred Hitchcock: ""A lot of movies are about life, mine are like a slice of cake." (via @rudra_banerji Rudra Banerji)
paraphrasing Mike Nichols: "Directing is like sex. You don't usually get to watch other people doing it, so you are never sure you are doing it right." (via @catsolen)
Graham Taylor: "What's not boring is making shit happen." (via dantherriault Dan Therriault )
Orson Welles: "A writer needs a pen, an artist needs a brush, but a filmmaker needs an army." (via TS86142 TAKAE)
Orson Welles: "I do try to keep the screen as rich as possible, because I never forget that film itself is a dead thing, for me at least — the illusion of life fades very quickly when the texture is thin." (via @catsolen)
"Waste everything except Time" 1 of my carpentry mentors. (via @davepowersNYC Dave Powers)
Tweet