X
Looks like you are a new visitor to this site. Hello!
Welcome to Hope For Film! Come participate in the discussion, and I encourage you to enter your email address in the sidebar and subscribe. It's free! And easy! If you have any suggestions on how to improve this website or suggestions for topics please don't hesitate to write in to any of the blogs.
You can also follow me on Twitter or Facebook.
(If you keep getting this message, you probably have cookies turned off.)
I am not going to go to Sundance this year.  I need a break.  Consider it an experiment: what will I do if I skip that convention this year?  It long ago stopped being a film festival for me.  I only got to spend about 20% of my time seeing movies when I went.  I ended up doing meetings after meetings.
But that was when I was addicted to producing films. Now that I have kicked that habit, maybe I could return and just be there to enjoy the bounty.  But I don't think so.  
If I attended Sundance, I would feel too tempted to "develop opportunities" (aka take meetings) and catch up with old friends and cohorts. And as a result I would probably miss the films I would most love.  As it is, that happens far too much at festivals now; I often get caught up with the buzz and see the popular films — and those aren't what I personally love most. How do we make sure the undersung films get seen more?
One of the big failures I see in #IndieFilm these days is the lack of real peer review and support.  There are some nice exceptions, like Paul Thomas Anderson's support of BREAKFASTS WITH CURTIS. But more of us need to champion the work we love of others.  We are in this all together and we have to reach beyond our personal boundaries. I want to help change that. So… [...]
Reprinted from blog.vhx.tv 
We looked at data for artists on VHX and found that adding subtitles means more sales. Why? More traffic + a higher conversion rate.
More people can see your film.
At the most basic level, subtitles allow you to reach a wider audience. Because, language! You spent all this time on your creative work, and now you want fans to see it. Subtitles open the door to your potential audience, who are in many countries and speak many languages. On the VHX platform, 48% of sales come from outside the US.
Subtitles also increase the traffic driven to your site from associated countries. Fans in Japan, watching your movie with Japanese subtitles, tell their friends about your movie. That added community immediately grows the potential buzz and social media reach of your content, as fans bring fans to your site. Our data shows that films and video content with subtitles consistently outperform those without subtitles. [...]
Previously: Music for Movies, Expert Tips, Part II of II
Blockbuster Trends
At its peak in 2004, Blockbuster had 9000 stores worldwide. All but 50 of the remaining 350 stores will close by next year. 2004 was a peak year for DVD revenues — close to $30 billion globally. In 2014 it'll be less than $16 billion and falling fast — certainly VoD has yet to make up the difference. Our investor projections — culled from disparate sources — predict worldwide VoD sales hitting $40 billion by 2024, with DVD (Blu-ray, Ultra HD, etc.) still alive but shrunk to maybe $2-3 billion. Who knows…ten years is a long time, but for sure VoD will have long eclipsed DVD. This is good news for indie filmmakers for the simple reason that those 9,000 Blockbuster stores had limited shelf space, with very little reserved for independent titles. Whereas VoD platforms have, essentially, unlimited shelf space. Meaning more — even most — indie films will [...]
Below is the first of two excerpts from Filmmaking, the Hard Way by Josh Folan. A cynical case study of the feature film production of All God's Creatures, Filmmaking, the Hard Way puts low budget filmmaking under the microscope by analyzing the process of making a film from top to bottom.  
Effect:
All God's Creatures, with no "stars", created by "unknown" filmmakers, and produced with less than $25k to work with is picked up for distribution in late 2011.  By May 2012 it can be purchased through the biggest retailer in the known universe (Walmart) and numerous other retail outlets.
Cause:
:: Make a movie. Preferably a good one with a unique and interesting story, compelling characters, and a few commercial sales tools (sex, nudity, gore, comedy, super heroes – that sort of thing).  Seems an obvious step, yet it is quite often overlooked.  Particularly the "good" part.I hear inexperienced producer say things akin to "it's a so-so horror script, but I just want to get a feature made" with alarming frequency, and it's no surprise at all how much unwatchable schlock ends up getting made as a result of that lackluster intention.  If you don't have something unique about your film to passionately pitch to distributors when you finally get a few to listen to you, why the hell would they invest their time and money trying to create an audience for it?
:: Formulate a pitch. An airtight one that doesn't sound like anything you've read anywhere else, and DEFINITELY not any of that "Terminator meets Christmas Vacation" shit. If you get an acquisitions executive on the phone and you sputter out one of those for your little movie – that does not have a Schwarzenegger, Chevy Chase, or even an Uncle Eddie – it will be the last time you speak with that particular individual.  My pitch with AGC was that "it boiled down to a dark, twisted love story between these two really fucked up people – a serial killer and a prostitute. And while a story like this would typically zero in on those elements, the killing and the sex, ours aims to make those things ancillary because of the focus on the love story."  Yes, you will get very sick of hearing yourself repeat your airtight pitch…over and over and over and over.  And over.And…over.  That is, if you do the amount of legwork that will be required to actually convince a distribution professional that investing in your little film is worthwhile.
:: Make a pretty PDF.A press kit.  These days this means an EPK (Electronic Press Kit), of which your pretty PDF will be a part of.  The EPK will contain the numerous clever/mysterious/hilarious teasers and trailers that you have created to market your film with, your jaw-dropping original key art, any press interview video clips you had the foresight to arrange while filming the movie, any press clippings/screenshots that pertain to the film, the countless production stills, as well as the press kit PDF itself.  Try to streamline all your marketing tools with the same look and feel – brand awareness and recognition is marketing 101. [...]
by Stephen Eyer
For the past five years, my wife and producing partner, Daneen Akers, and I have been working full-time on a social documentary film called Seventh-Gay Adventists (http://www.sgamovie.com) about three gay and lesbian members of a conservative church and their challenge to reconcile their faith and sexuality. We spent the last year on the road traveling with the film in the U.S., Canada, and Australia at film festivals, churches, and community centers. Our last major festival screening will be on Dec. 5th as part of Frameline's Encore series (http://www.frameline.org/now-showing/events/frameline-encore-seventh-gay-adventists) in San Francisco. Although we've been asked at filmmaker gatherings before if we're selling marijuana on the side to make rent, we've actually been making enough to both pay for our expenses and fund the film primarily through cultivating an engaged and motivated grassroots community that believe in this film.
The following are 10 things we learned about how to sustain yourself as a filmmaker while making films that can have a positive impact on the world. [...]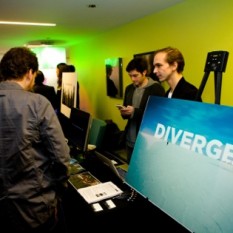 By James Belfer
Hello and welcome to Dogfish Accelerator's Demo Day 2013.  My name is James Belfer and I'm excited to present the 8 companies of our inaugural Dogfish Accelerator program. These teams have spent the last three months laying the foundation for the opportunities they are presenting today and I can't wait for you to see what they've put […]